The apple of my PIE! Thanksgiving is coming up and what is more American than apple pie!? So this week, I finally caked up the Apple Pie Mega Cake I've been meaning to make for years and believe me when I say these flavors will have you drooling for days!
This Apple Pie Mega Cake combines all the deliciousness of a pie with the deliciousness of a cake! With layers of vanilla spice cake stacked with homemade pie crusts and crumbles as well as sauteed apples and not to mention the cinnamon buttercream, this is the ultimate Thanksgiving dessert… are you drooling yet?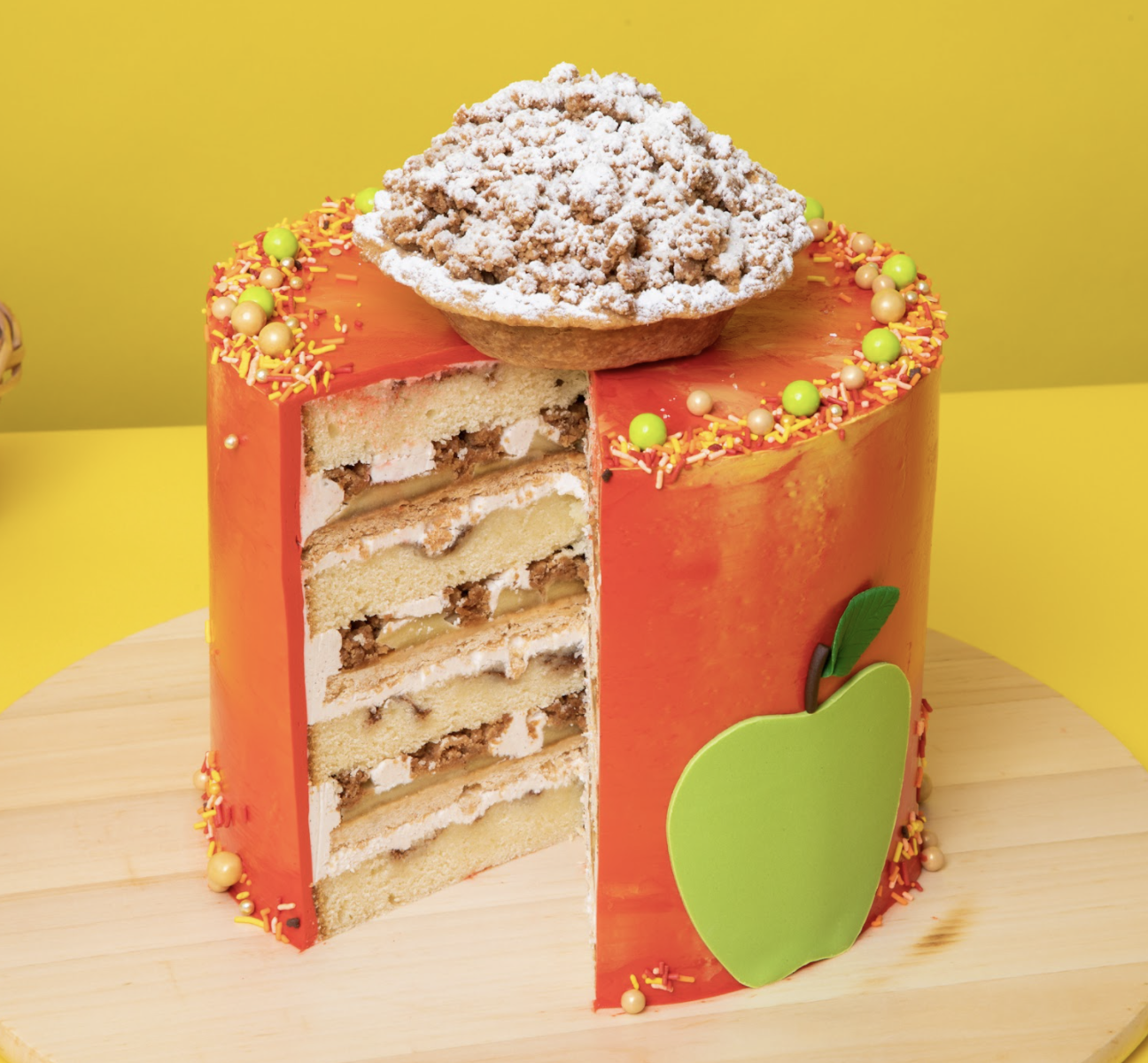 ---
7.5lbs of Yo's Ultimate Vanilla Spice Cake
8 Granny Smith Apples (or Tart Apples)
2 batches of Pie Dough
1 batch of Crumble
1 egg
1 batch of Simple Syrup
1 batch of Italian Meringue Buttercream
1 batch of Whole Egg Buttercream
½ cup Raw Turbinado Sugar
Cinnamon
Prepare one batch of my crumble recipe then crumble it onto 2 baking trays lined with parchment paper or a silicone mat. Bake at 350 degrees Fahrenheit for 15-20 minutes - stirring with a wooden spoon halfway through. You want it to be crispy, crunchy little bits.

Prepare 2 batches of my pie dough recipe then divide it into 4 equal parts and chill it for 20 minutes. Roll each part into discs then cut them into perfect circles using an upside down 7" round cake pan as your guide (or any circle smaller than 8"). Play on a tray lined with parchment paper or a silicone mat then prick it with a fork. Place another circle of parchment paper on top and add cake pans filled with pie weights or dry beans on top. Bake each for 20 minutes at 350 degrees Fahrenheit.

Once you remove your pie down from the oven, brush the surfaces with a beaten egg and sprinkle them with turbinado sugar. Bake for another 5-10 minutes or until golden.

Roll out your dough and place a small pie plate on top. Trim away any excess then pinch the edges and prick the bottom with a fork. Place parchment on top and another pie plate then flip both pans over. Place a cake pan filled with pie weights on top then bake for 15 minutes at 350 degrees Fahrenheit.

Once you remove it from the oven, remove the cake pan and flip it over then remove the other pie pan and parchment paper. Bake for another 5-10 minutes or until golden.

Line your pans with parchment paper and preheat your oven to 350 degrees Fahrenheit. Prepare 7.5lbs of vanilla spice cake batter then divide evenly into your three 8" round cake pans and bake each for 1 hour and 20 minutes.

Level all your cakes then layer each into two layers for a total of 6 cakes. Leave all of the caramelization.

Use Sir Squeeze A Lot to soak all of your cake layers with simple syrup then let them sit for a couple minutes to absorb.

Add cinnamon to your Italian meringue buttercream until you are happy with the taste.

Peel and core your apples then cut each apple into 16 wedges. Saute them in butter on both sides to caramelize. Allow to cool.

Sautee more apples (for the mini pie) but this time, add some turbinado sugar and cinnamon. Saute until the sugar dissolves then allow to cool.

Stack your cake from the bottom up as follows:

Cake layer
Cinnamon IMBC
Pie crust disc
Cooked apples
Pipe rings of cinnamon IMBC
Sprinkle on crumble
Cake layer

Repeat this pattern until you are out of cake layers.

Crumb coat your entire cake with cinnamon Italian meringue buttercream then let it chill until firm in the fridge.

Color 4 cups of your whole egg buttercream red then color the remaining 1 cup yellow.

Ice your cake with red buttercream using a bench scraper to smooth out the edges then let it chill until firm in the fridge.

Add patches of yellow buttercream to the cake then scrape it around.

Assemble your mini pie using the baked mini crust, cooled cooked apples, and crumble, then dust it with icing sugar.

Roll out some green fondant then cut out an apple. Roll out a darker green then cut out leaves, add texture, then pinch the ends. Roll out a bit of brown fondant into a little cord then cut it into a stem.

Add the fondant apple to the side of the cake then place the mini pie on top and voila! You're done!
#howtocakeit
Sunday,Monday,Tuesday,Wednesday,Thursday,Friday,Saturday
January,February,March,April,May,June,July,August,September,October,November,December
Not enough items available. Only [max] left.
Add to Wishlist
Browse Wishlist
Remove Wishlist