These cookies are absolute showstoppers. Megan's break down of each step really simplifies these complex designs, so they don't seem quite so overwhelming. I loved having the option for both advanced & more beginner level designs. Also, Megan's royal icing & sugar cookie recipes are the absolute best! Since I first tried them, I won't use any other recipe.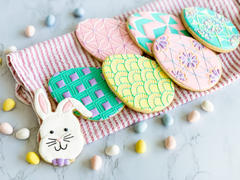 Sunday,Monday,Tuesday,Wednesday,Thursday,Friday,Saturday
January,February,March,April,May,June,July,August,September,October,November,December
Not enough items available. Only [max] left.
Add to Wishlist
Browse Wishlist
Remove Wishlist