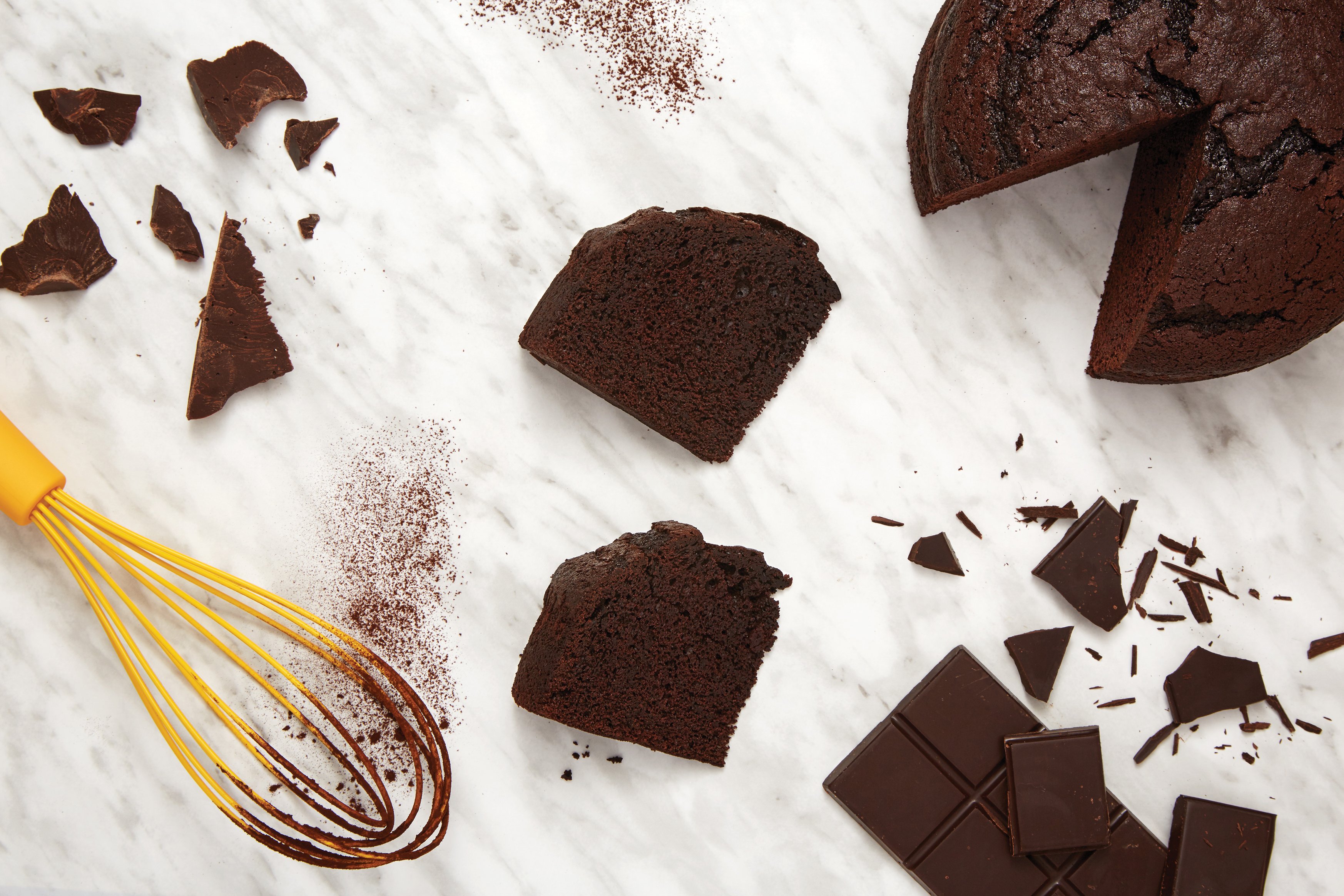 ---
2 ¾ cups All Purpose Flour
2 tsp Baking Powder
1 ½ tsp Baking Soda
1 tsp Table Salt
1 cup Dutch-processed Cocoa Powder
1 cup (2 sticks) Unsalted Butter, at Room Temperature
2 ½ cups Sugar
4 Large Eggs, at Room Temperature
Make sure your cocoa and water mixture is still hot when adding to the batter! It results in a more moist cake.

Preheat the oven to 350°F. Line the bottom of each cake pan with parchment paper.

Sift the flour, baking powder, baking soda, and salt into a medium bowl and whisk together. Set aside.

Put the cocoa powder in a medium heatproof bowl. Bring 3 cups of water to a boil, then carefully measure exactly 2 cups and pour over the cocoa powder and whisk until completely smooth. Set aside to cool slightly.

In the bowl of a stand mixer fitted with the paddle attachment, beat the butter and sugar of medium speed until light and fluffy, about 8 minutes.

Add the eggs, two at a time, beating until each addition is incorporated before adding the next. Scrape down the sides of the bowl with a spatula when necessary.

Add the flour mixture in flour parts, alternating with the warm cocoa mixture in three parts, beating just until each addition is incorporated before adding the next; do not overmix.

Pour the batter into the prepared pan or pans. Bake until a toothpick inserted in the center comes out clean, about 45 minutes for the 9 x 13-inch pan or 55 minutes for the 8-inch pans, rotating the pan(s) halfway through.

Transfer to a wire rack and let cool completely in the pan(s). Cover tightly with plastic wrap and refrigerate overnight. Loosen the edges with a straight spatula, invert the pan(s) to remove the cake, and peel off the parchment.
#howtocakeit
Sunday,Monday,Tuesday,Wednesday,Thursday,Friday,Saturday
January,February,March,April,May,June,July,August,September,October,November,December
Not enough items available. Only [max] left.
Add to Wishlist
Browse Wishlist
Remove Wishlist