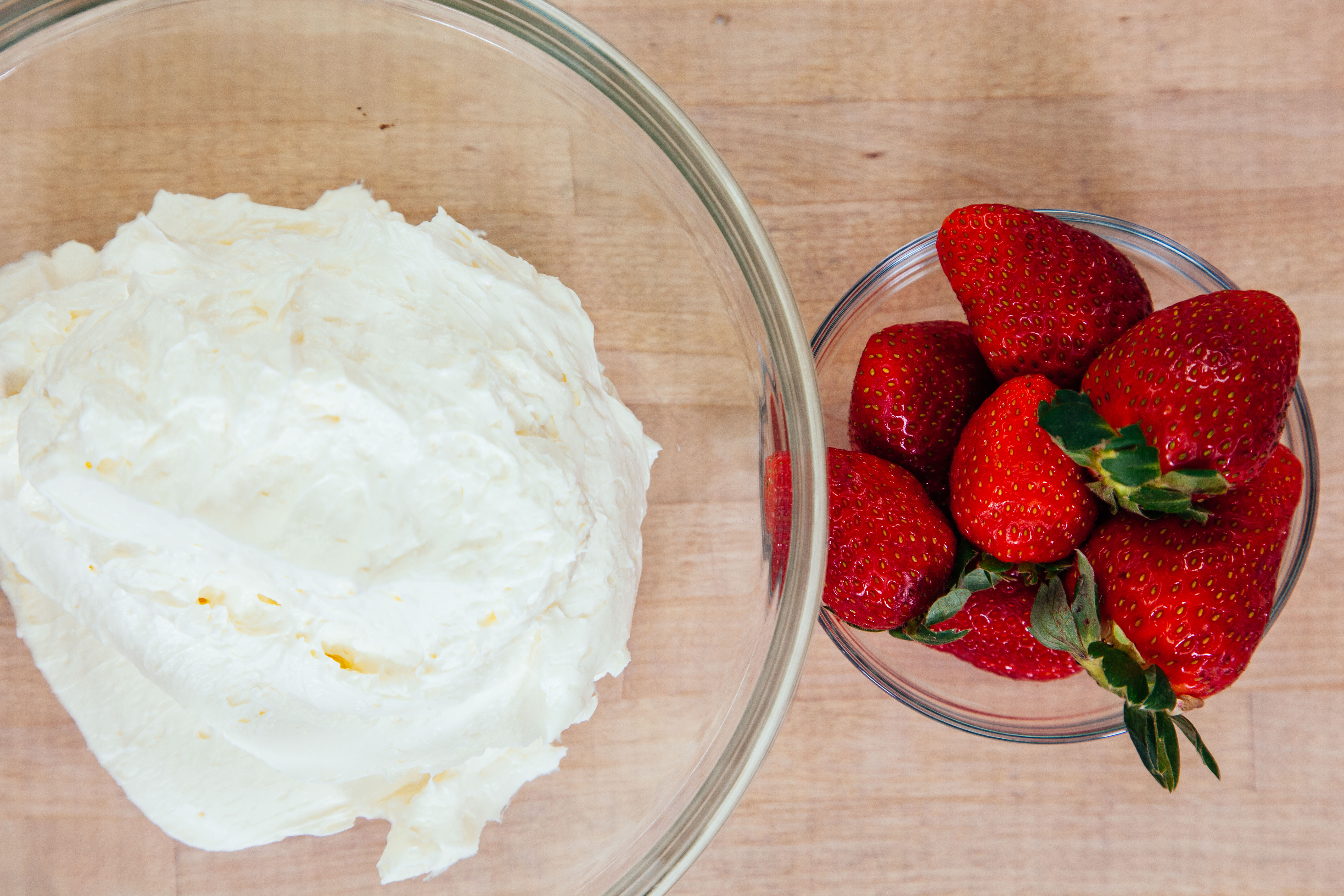 ---
400g of Granulated Sugar (approx 1 3/4 cups)
1/2 cup Water
8 large Egg Whites
1 lbs (454g) Unsalted Butter, room temperature
1 teaspoon Pure Vanilla Extract
½ cup of Strawberries (Washed and Dried)
In a small saucepan over medium heat, bring sugar and cup water to a boil.

While your sugar mixture is heating, place egg whites in the bowl of a standing mixer fitted with the whisk attachment.

When your sugar reaches 230 degrees on the candy thermometer, begin to whip eggs whites at medium-high speed until stiff.

When sugar reaches 240 degrees, remove it from heat immediately, and with the mixer running, add it to your egg whites in a stream and beat on high speed.

Whip your meringue until no heat remains. Place your hands along the sides of the bowl to check.

With the mixer still running, add your butter bit by bit, beating until spreadable, 3 to 5 minutes; then, beat in vanilla.

Dice cup of strawberries. Cut the skin off of 3-4 strawberries, dicing as finely as possible to create a paste.

Divide out 2 cups of your buttercream and fold the diced strawberries and paste into the buttercream. Continue folding in gently until all of the liquid is absorbed.
#howtocakeit
Sunday,Monday,Tuesday,Wednesday,Thursday,Friday,Saturday
January,February,March,April,May,June,July,August,September,October,November,December
Not enough items available. Only [max] left.
Add to Wishlist
Browse Wishlist
Remove Wishlist