This recipe is probably best known as the base for my Watermelon Cake, but it also would make a bright and poppy base for any cake. Unlike, traditional red velvet batter, my Pink Velvet does not contain cocoa because the cocoa powder will overpower the pink food colouring. So lets get started!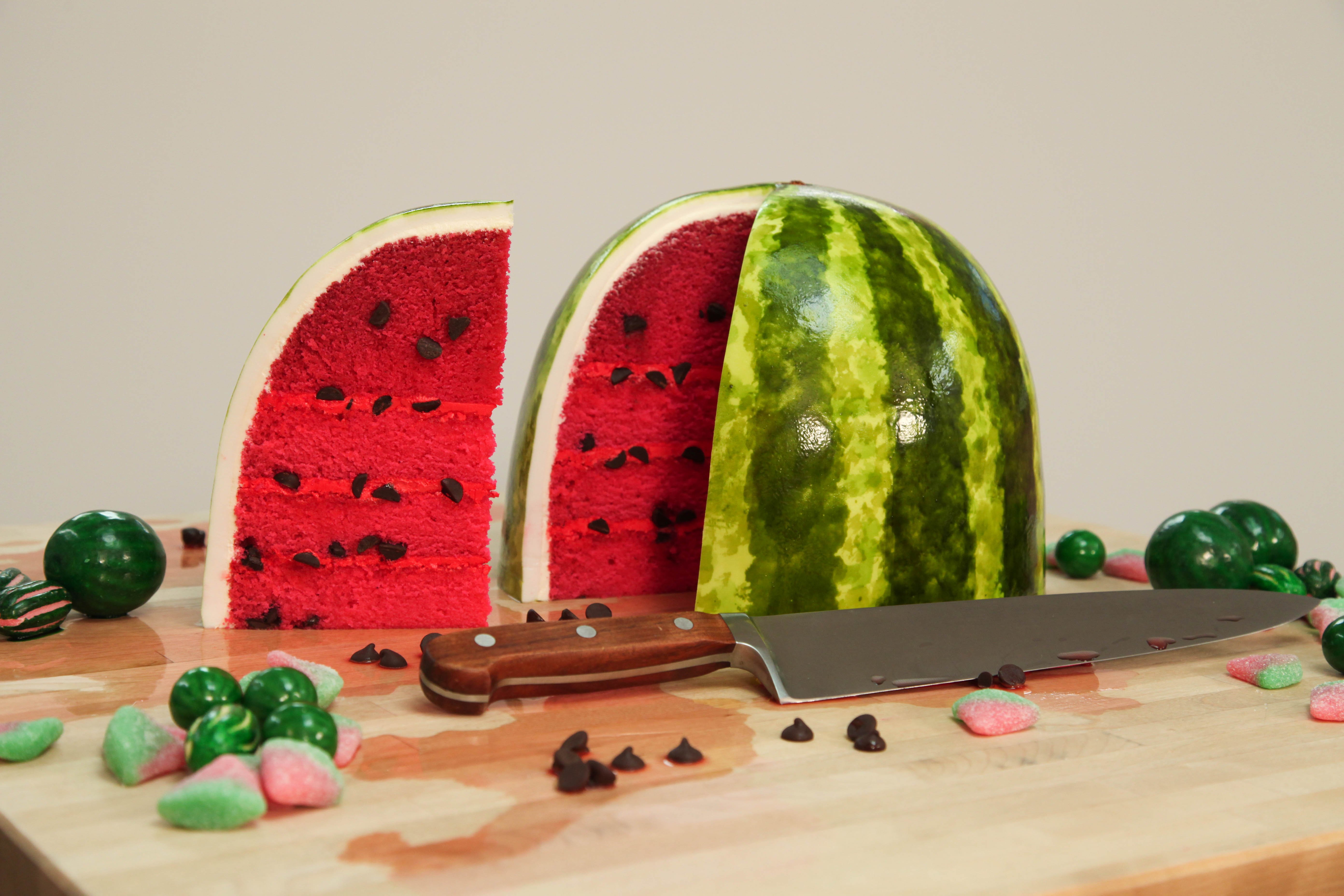 ---
4 Cups All-Purpose Flour
2 Teaspoons Table Salt
1 Cup Unsalted Butter, room temperature
1/3 Cup Vegetable Oil
3 Cups Sugar
1 1/2 Teaspoons Pure Vanilla Extract
4 Large Eggs, room temperature
2 Cups Buttermilk, room temperature **see tip in step 6 for substitution
2 Teaspoons Baking Soda
2 Teaspoons Cider Vinegar
Gel food colouring: rose and red
Preheat oven to 350 degrees. Line the bottom of your cake pans and your stainless steel bowl with parchment.

Sift flour and salt into a medium bowl and whisk together. Set aside

In the bowl of a stand mixer fitted with the paddle attachment, beat the butter, oil, sugar, and vanilla on medium speed until well combined. About 5 minutes.

Add 1 tablespoon rose and 1/2 teaspoon red food colouring and beat until the batter is evenly coloured. Scrape the sides and bottom of the bowl to make sure all of the mixture is coloured.

Add the eggs, two at a time, beating until each addition is incorporated before adding the next. Scrape down the sides of the bowl with a spatula when necessary.

Add the flour mixture in four parts, alternating with the buttermilk in three parts, beating just until each addition is incorporated before adding the next; do not over mix.

TIP: If you don't have buttermilk, stir 2 teaspoons of cider vinegar into 2 cups room-temperature whole milk and let stand foe 10-15 minutes, until the milk has thickened slightly.

In a small cup, combine the baking soda and vinegar. With the mixer running, immediately add the mixture to the batter. Beat for 10 seconds

Scrape the batter into prepared pans, and spread it so that it is smooth. Bake until a toothpick inserted comes out clean- about 45 minutes for the 9x13" pan or 55 minutes for 8" pans. Rotate your cakes half way through baking.

Once done baking, transfer to a wire rack and let your cakes cool completely in their pans before removing.
#howtocakeit
Sunday,Monday,Tuesday,Wednesday,Thursday,Friday,Saturday
January,February,March,April,May,June,July,August,September,October,November,December
Not enough items available. Only [max] left.
Add to Wishlist
Browse Wishlist
Remove Wishlist