Now, you know this island girl loves coconut. So when I thought about making a Giant Coconut Donut Cake, I just knew it needed a rich creamy filling. Donut let me discourage you from incorporating this filling into other recipes - this Coconut Cream Filling is a great baking go-to. So think outside the donut box. ;)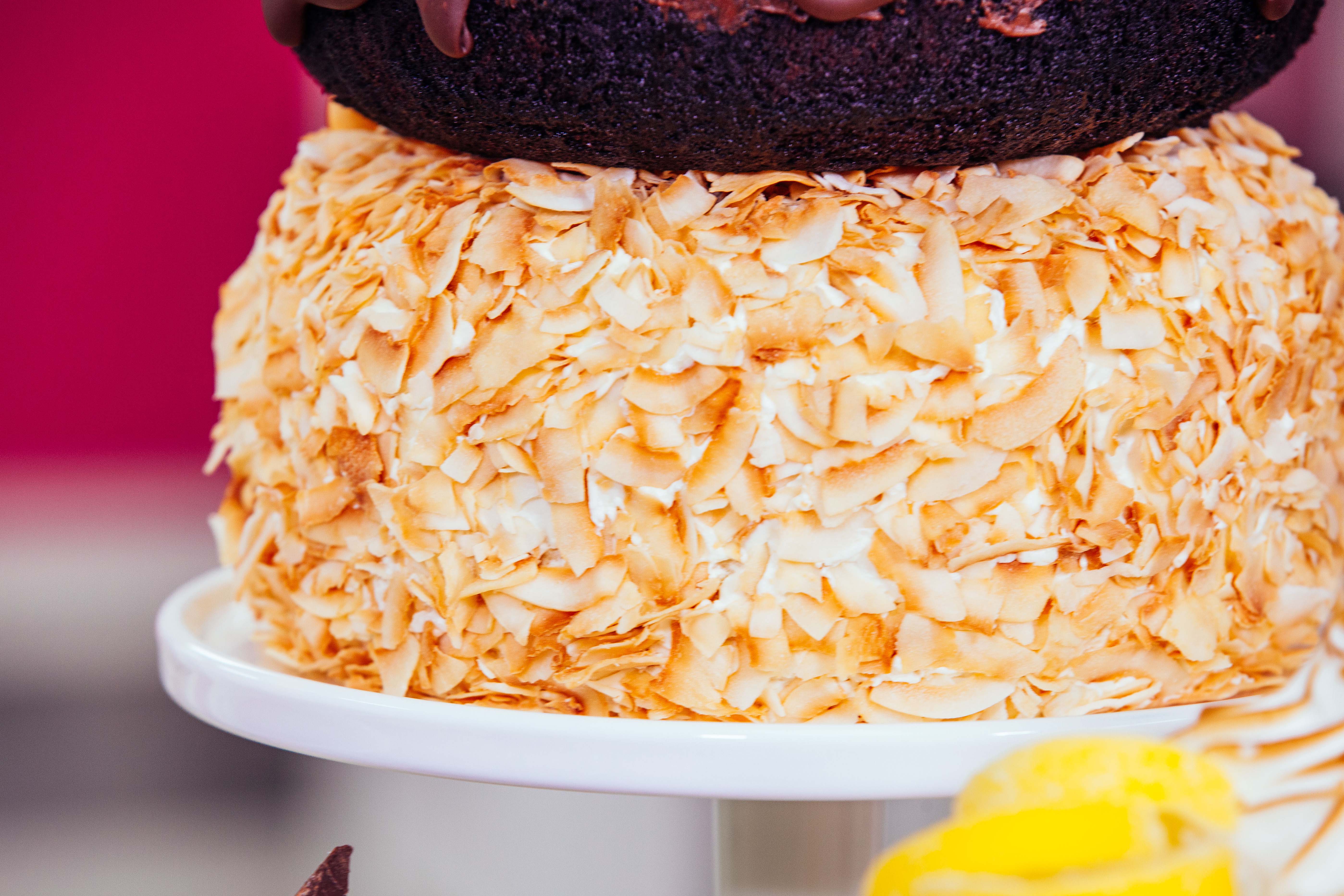 ---
4 Egg Yolks
¼ cup Sugar
2 tablespoons Cornstarch
½ teaspoon Vanilla
1 ½ cups Coconut Milk
NOTES
To give this recipe plenty of time to chill, I would recommend making it the day before filling your bakes.
This recipe isn't suitable for stacking your cakes with, and should ONLY be used as a filling. Nobody likes a sloppy mess ;)
To keep my bowl steady I like to place a damp cloth underneath tucked around the bottom edges. This stops it from moving around on the counter while so you can concentrate on pouring and whisking steadily.

Whisk the egg yolks and sugar together in a bowl until they thicken slightly and become a pale yellow colour. Add the cornstarch and vanilla, whisk until combined.

Place the coconut milk in a pot over medium-high heat to boil. Once it reaches boil, pour the milk into your egg yolk mixture whisking quickly. Do not pour all the coconut milk into your egg yolks at once!

Pour the entire mixture back into the pot. Cook over medium heat, stirring with a wooden spoon. Let it boil for 3-4 minutes and continue stirring.

Pour your coconut filling through sieve and into a clean bowl. Let it cool and place a layer of plastic wrap directly on the surface of the filling. Let chill.
#howtocakeit
Sunday,Monday,Tuesday,Wednesday,Thursday,Friday,Saturday
January,February,March,April,May,June,July,August,September,October,November,December
Not enough items available. Only [max] left.
Add to Wishlist
Browse Wishlist
Remove Wishlist