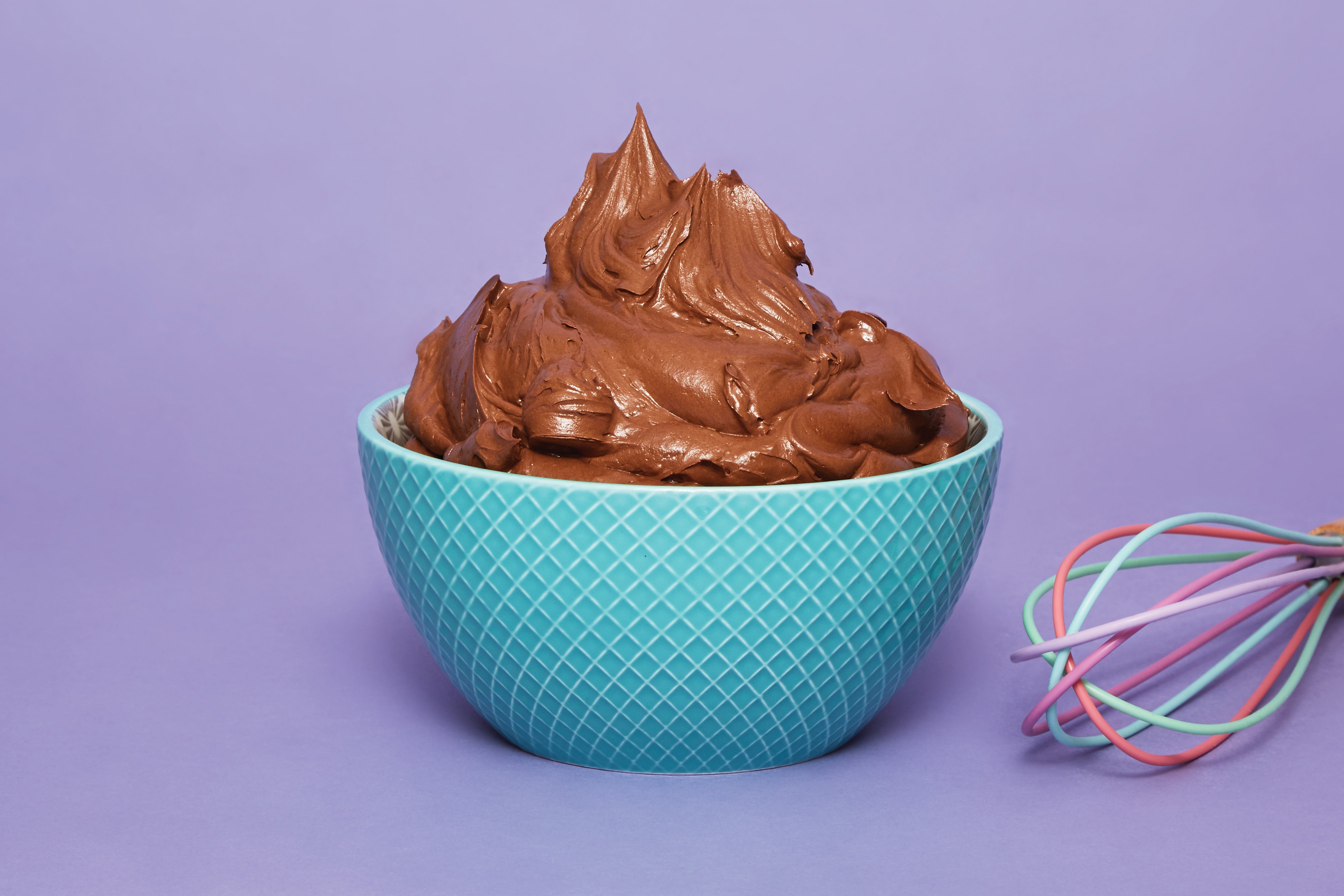 ---
18 oz of Good-quality Dark Chocolate (I use between 56% and 72%)
1 cup of White Granulated Sugar
¼ tsp Table Salt
⅛ tsp Cream of Tartar
4 Large Egg Whites
2 cups Unsalted Butter, cut into tablespoon size pieces, at room temperature
Before using frozen buttercream, let it thaw in the fridge overnight, and then sit at room temperature for 2 to 4 hours. Stir well before using. If you feel like your buttercream is still too cold, you can place it in the bowl of a stand mixer fitted with a whisk attachment, wrap a hot towel around the bowl, and whip at high speed until it reaches room temperature.

Chop the chocolate as finely as you can, and place into a heatproof bowl. Set the bowl over a pot of lightly simmering water (do not let the bowl touch the water). Melt the chocolate, stirring until smooth, then remove the bowl from the saucepan and set aside to cool while you prepare the buttercream. Leave the pan of water on the stove, as you will need it shortly.

In the bowl of a stand mixer, whisk the sugar, salt, and cream of tartar. Whisk in the egg whites until thoroughly combined.

Place the bowl with the egg whites over the pan of simmer water (again, do not let the bowl touch the water). Heat the mixture, whisking frequently, until it's warm but not hot to the touch, and the sugar is mostly dissolved. You should feel just a little grittiness when you rub a bit of the mixture between your fingertips, about 2 to 5 minutes.

Transfer the bowl to the stand mixer and fit the mixer with the whisk attachment. Whip at high speed until thick and glossy and the bowl is no longer warm on the outside, about 5 minutes.

With the mixer running, add the butter, a piece at a time, whipping until each piece is fully incorporated before adding the next. Scrape down the sides of the bowl with a spatula occasionally.

After all of the butter has been added, continue to whip the buttercream until it is thick and smooth, about 3 to 5 minutes.

Check the melted chocolate: it should be soft and liquid, not firm; if it's completely cooled and thickened, set the bowl over the still-hot water in the saucepan for just a few seconds and stir until it is soft but not warm. Scrape the chocolate into the buttercream and whip on high speed until fully incorporated.
#howtocakeit
Sunday,Monday,Tuesday,Wednesday,Thursday,Friday,Saturday
January,February,March,April,May,June,July,August,September,October,November,December
Not enough items available. Only [max] left.
Add to Wishlist
Browse Wishlist
Remove Wishlist