This buttercream will having you singing all your fave Christmas carols while you wear your ugliest Christmas sweater around the kitchen. It features chopped up candy canes and white chocolate - yum!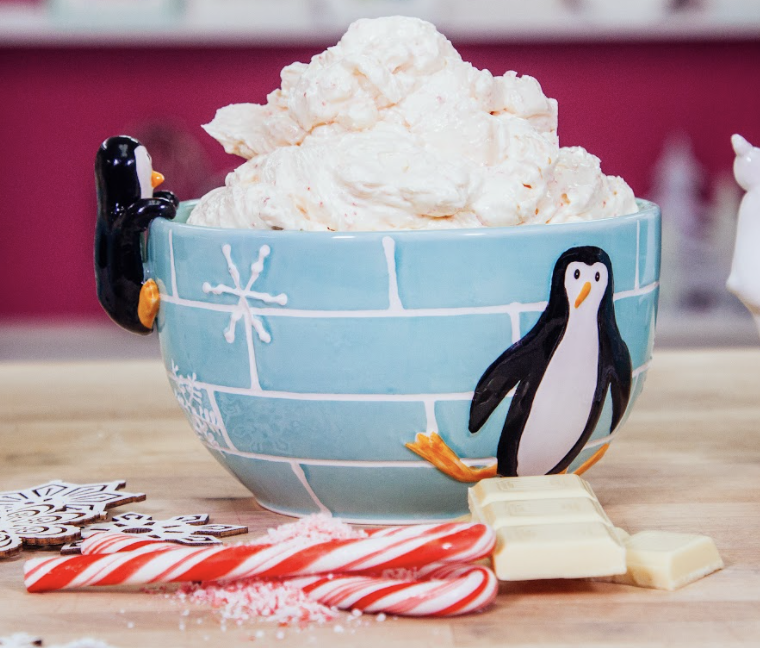 ---
1 batch Yo's Famous Italian Meringue Buttercream
¾ cups Crushed Candy Canes
12 oz. White Chocolate
Prepare one batch of Yo's Famous Italian Meringue Buttercream. Set aside.

Crush your candy canes using a food processor and set aside. You can also crush your candy canes by placing them in a Ziploc bag and use a rolling pin to break them down!

Melt your white chocolate in a microwave safe bowl, and microwave in 20-second increments. Make sure to stir your white chocolate in between each increment. Set aside to cool. It must be pourable but completely cool before adding to your buttercream.

Using a rubber spatula, gently fold your crushed candy canes and cooled white chocolate into the buttercream.

Use immediately or transfer to an airtight container and store in the refrigerator for up to 1 week or the freezer for up to 2 months. Before using refrigerated or frozen buttercream, let it warm up to room temperature and stir to smooth it out.
#howtocakeit
Sunday,Monday,Tuesday,Wednesday,Thursday,Friday,Saturday
January,February,March,April,May,June,July,August,September,October,November,December
Not enough items available. Only [max] left.
Add to Wishlist
Browse Wishlist
Remove Wishlist