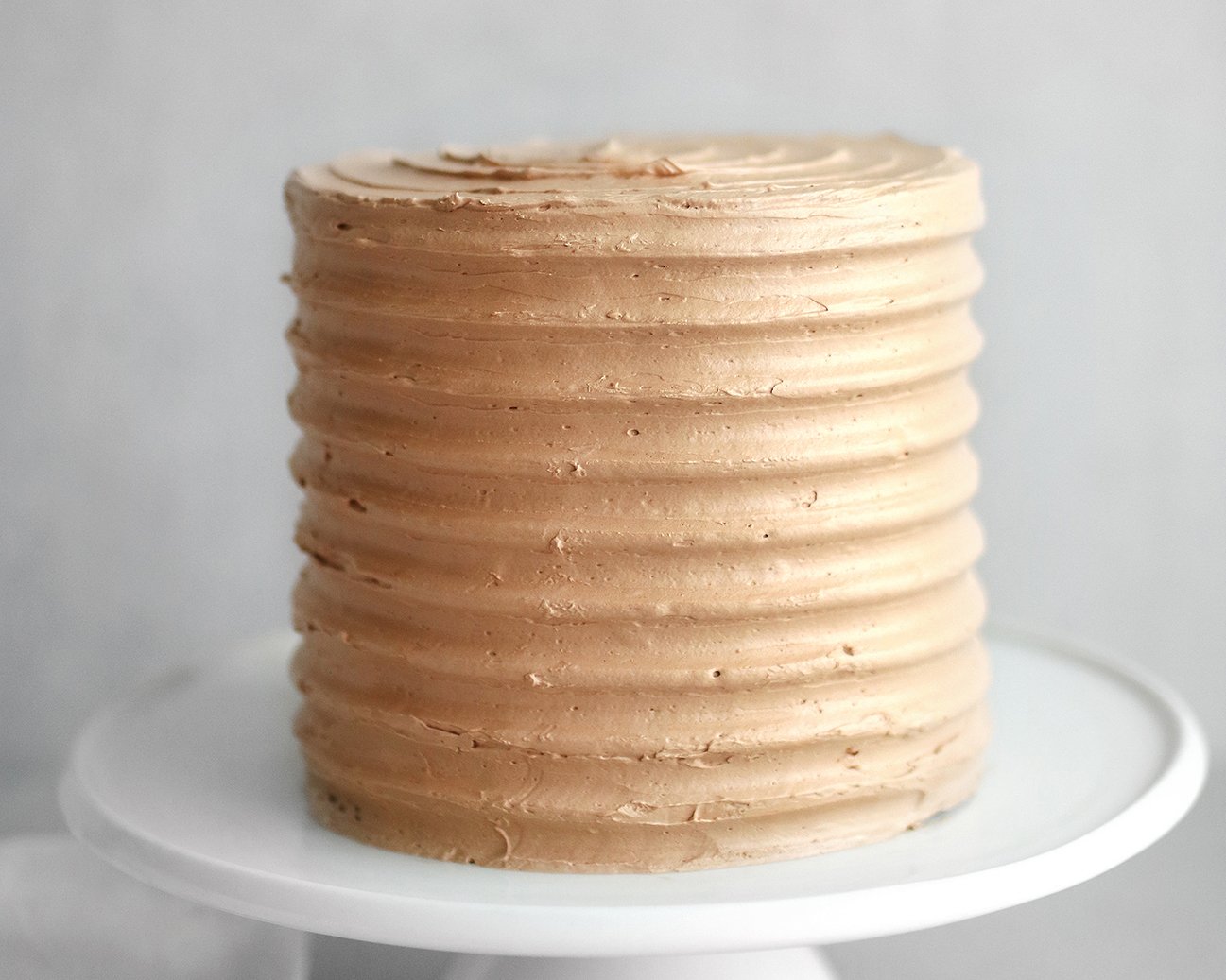 ---
5.5 oz. of dairy-free dark chocolate
1 ¼ cups of chickpea brine (aquafaba)
1 ¾ cups of white granulated sugar
½ cup of water
1 teaspoon of cream of tartar
1 ½ cups of dairy-free butter
This reicpe pairs well with our Vegan Ultimate Chocolate Cake and Vegan Banana Cake!

Place the chocolate into a heatproof bowl and set the bowl over a pan of lightly simmering water (do not let the bowl touch the water).

Melt the chocolate, stirring until smooth, then remove the bowl from the saucepan and set aside to cool while you prepare the buttercream.

Place the chickpea brine (aquafaba) into a small saucepan and place onto the stove over medium heat. Allow to reduce to half of the original mixture. Check if you have the right amount by pouring it into a bowl over some scales, you want 150g of reduced aquafaba. Once ready, remove from the heat and set aside to cool.

Add 1 ½ cups of the sugar and all the water into a small saucepan, place onto the stove over medium heat and allow it to simmer. The mixture will be ready when 240°F. This will take around 10 minutes.

In the meantime, pour the reduced aquafaba into a clean bowl and add in the cream of tartar. Whisk on high for 5-8 minutes until soft peaks form. You can use a stand mixer with a whisk attachment but an electric hand whisk works great too.

Add in the remaining ¼ cup of sugar, continuing to whisk until it turns glossy.

When the sugar syrup has reached its temperature, slowly drizzle it into the bowl and whip until incorporated. You'll want to whisk the aquafaba mixture until the sugar syrup has cooled down (this will take about 10 minutes).

Add in the dairy-free butter, little chunks at a time until it's all in the bowl. Once all the butter has been added the mixture be thick like buttercream, continue to whisk on low for 5 minutes.

Drizzle the cooled down melted chocolate into the buttercream and whip on high to fully incorporate.

Use immediately or transfer to an airtight container and store in the refrigerator for up to 1 week or the freezer for up to 2 months.

Before using frozen buttercream, let it thaw in the fridge overnight, and then sit at room temperature for 2 to 4 hours. Stir well before using. If you feel like your buttercream is still too cold, you can place it in the bowl of a stand mixer fitted with a whisk attachment, wrap a hot towel around the bowl, and whip at high speed until it reaches room temperature.
#howtocakeit
Sunday,Monday,Tuesday,Wednesday,Thursday,Friday,Saturday
January,February,March,April,May,June,July,August,September,October,November,December
Not enough items available. Only [max] left.
Add to Wishlist
Browse Wishlist
Remove Wishlist