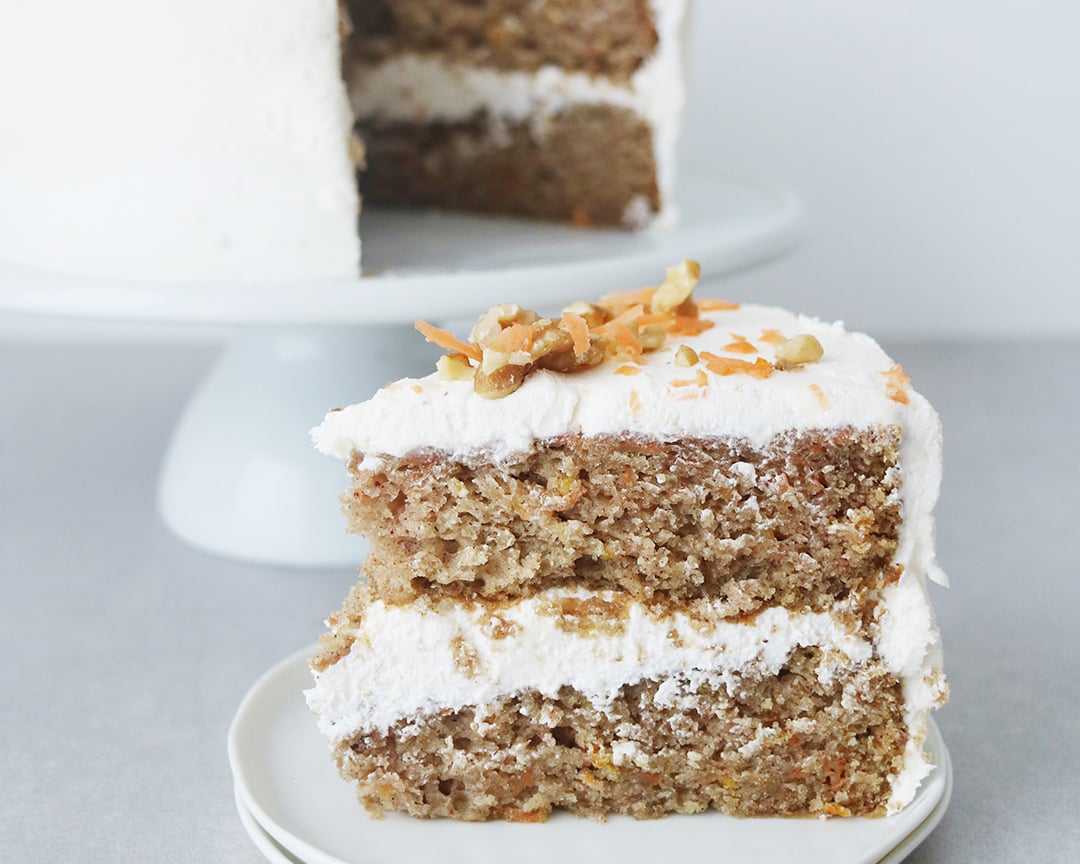 ---
2 cups of dairy-free milk
2 teaspoons of apple cider vinegar
3 cups of self raising flour
2 cups + 3 Tbsp of white granulated sugar
1 teaspoon of baking powder
1 teaspoon of baking soda
1 tablespoon of ground cinnamon
1 teaspoon of ground nutmeg
1/2 teaspoon of salt
1 ½ cups of grated carrot
1 large orange (zest)
½ cup of vegetable oil
This recipe pairs well with our Vegan Cream Cheese Frosting!

Preheat the oven to 350°F and line two 8-inch round cake pans with parchment paper. Set aside.

In a bowl, combine the dairy-free milk with the apple cider vinegar and whisk until fully combined. Set aside for 10 minutes to curdle. This creates a vegan 'buttermilk'.

In a large mixing bowl, sift the flour, sugar, baking powder, baking soda, ground cinnamon, ground nutmeg, salt, grated carrot and orange zest. Mix well to combine.

Add the oil into the 'buttermilk' and whisk to combine.

Add the wet ingredients into the dry ingredients and mix.

Pour equal amounts of batter into the lined cake tins. Tap the pans on the counter to remove any air bubbles.

Place the cakes into the centre of the preheated oven and bake for 45 minutes. You will know they are done when you put a knife or skewer in and it comes out clean and they are springy to the touch.

Once baked and ready, place the cakes on a cooling rack and allow to cool fully before frosting.
#howtocakeit
Sunday,Monday,Tuesday,Wednesday,Thursday,Friday,Saturday
January,February,March,April,May,June,July,August,September,October,November,December
Not enough items available. Only [max] left.
Add to Wishlist
Browse Wishlist
Remove Wishlist