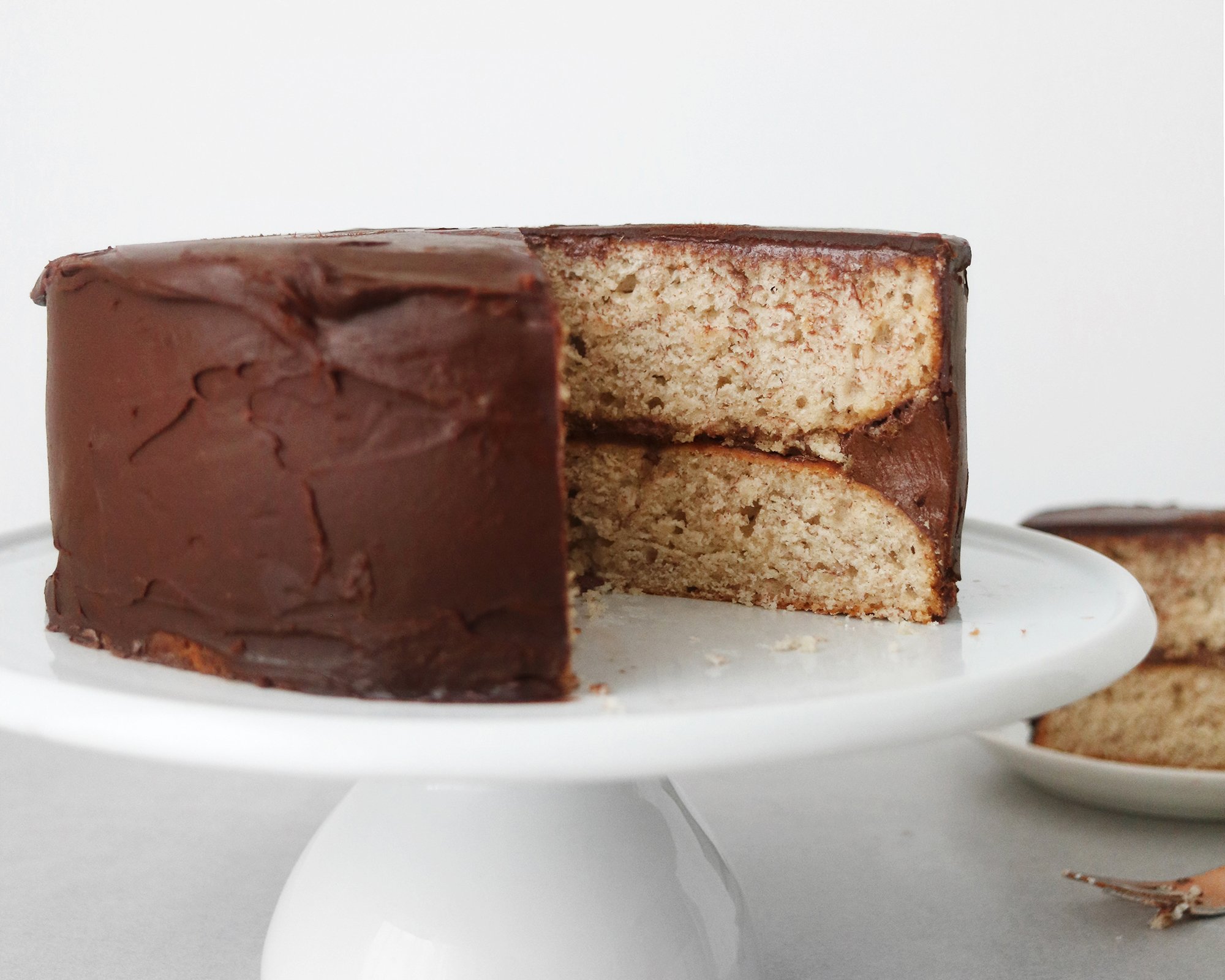 ---
1 ¼ cups of bananas (approx 3 medium bananas)
¾ cups of white granulated sugar
2 teaspoons apple cider vinegar
1 teaspoon of good quality vanilla extract
⅓ cup of dairy-free dairy milk
½ cup of vegetable oil
1/4 teaspoon of salt
3 ¼ cups of all purpose flour
1 teaspoon baking soda
1/2 teaspoon of baking powder
This recipe pairs well with both our Vegan Chocolate Swiss Meringue Buttercream or Vegan Dark Chocolate Ganache!

Preheat oven to 350°F and grease two 8 inch cake pans and line with parchment paper. Set aside.

Peel the bananas and put them in a large bowl. Mash them up really well until they're a smooth puree.

Add the sugar, apple cider vinegar, vanilla extract, dairy-free milk, oil and salt to the pureed bananas and whisk well until combined.

Sift the flour, baking soda and baking powder to the wet ingredients and mix to combine. Stop as soon as there is no more dry flour visible.

Divide the batter between the two cake tins and level with a spatula or back of a spoon.

Bake for approximately 35-40 minutes, or until golden brown. They are ready when you insert a skewer/toothpick into the middle of the cake and it comes out clean.

Allow the cakes to cool fully before frosting.
#howtocakeit
Sunday,Monday,Tuesday,Wednesday,Thursday,Friday,Saturday
January,February,March,April,May,June,July,August,September,October,November,December
Not enough items available. Only [max] left.
Add to Wishlist
Browse Wishlist
Remove Wishlist