Lots of Treats with a side of Tricks. Get ready for the sweetest treat of all - this Trick or Treat mega cake has all your Halloween candy and snack favorites but beware… there may even be a surprise trick ;).
This Trick or Treat Mega Cake is the best treat anyone could get for Halloween! I started with layers of bright orange vanilla cake marbled with black chocolate cake - classic spooky colors. I dedicated each layer of this mega cake to a Halloween candy, so I stacked it up with chopped up Mr. Big, skittles, buttered popcorn, salted chips, and Crispy Crunch (my personal favorite). But this wouldn't be a true Trick or Treat cake without a trick… So I also filled the secret chamber with the most horrific thing that could happen on Halloween… raisins! I iced the entire cake in a Frankenstein green buttercream, added a black chocolate ganache cake drip, and decorated it in all the Halloween candy possible!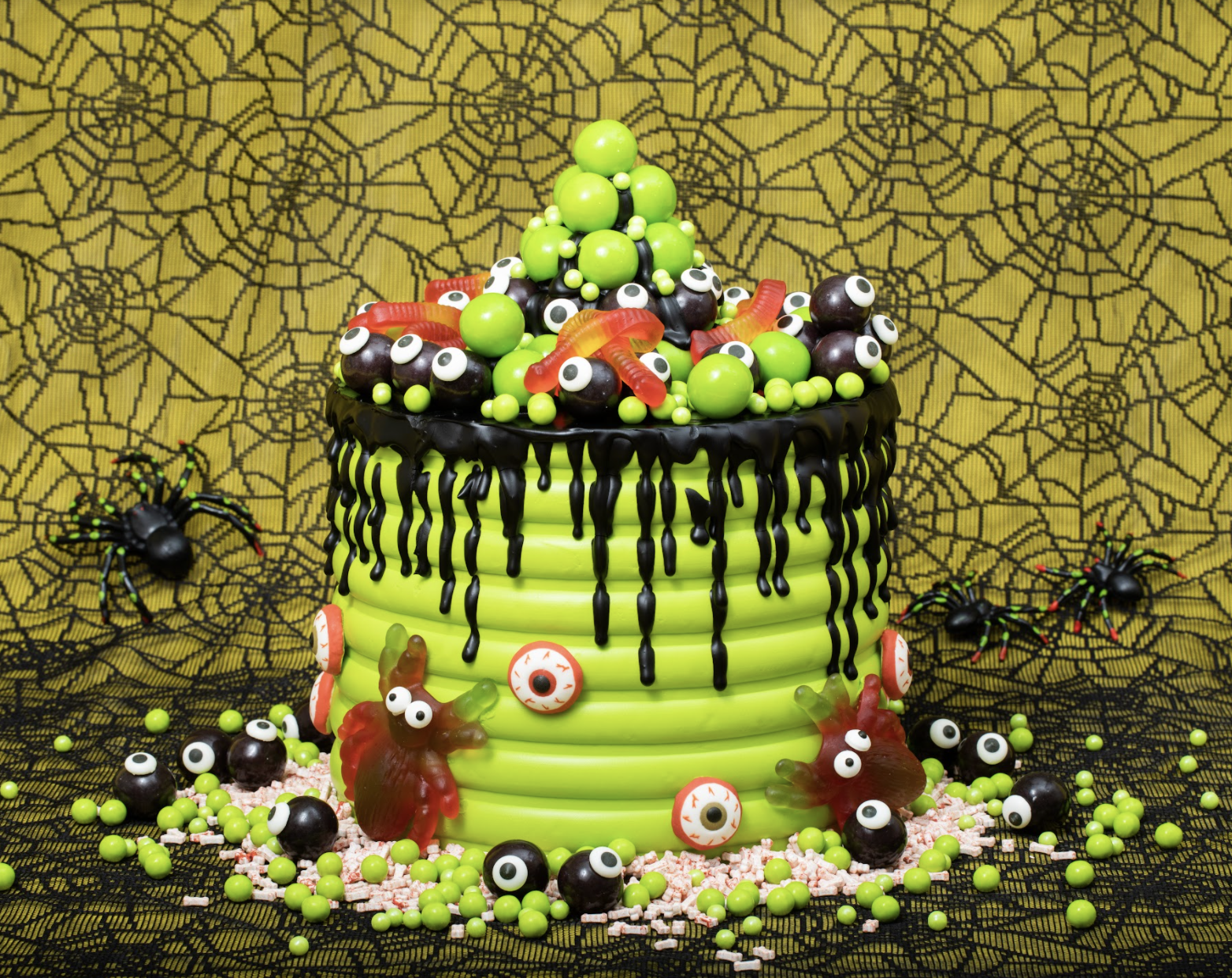 ---
6lbs Yo's Ultimate Vanilla Cake
2lbs Yo's Ultimate Chocolate Cake
1 batch of simple syrup
2 batches of Italian meringue buttercream
½ recipe of black ganache
Raisins
All your fave goodies (I used Mr. Big, Crispy Crunch, Popcorn, Chips, and Skittles)
Black gumballs
Green gumballs
Green sixlets
Green dragees
Royal icing eyes (in different sizes)
Gummy worms
Gummy spiders
Skull sprinkles
Bloody bone sprinkles
Neon green gel food coloring
Neon yellow gel food coloring
Line your pans with parchment paper and preheat the oven to 350 degrees Fahrenheit. Prepare 6lbs of vanilla cake batter then dye it orange. Prepare 2lbs of chocolate cake and dye it black. To get the marbled effect, put your black chocolate cake batter into a squeeze bottle and squeeze it into your orange vanilla batter then bake as follows:




8" round cake pan → 2lbs orange vanilla cake batter with black batter marble → 60 minutes

8" round cake pan → 2lbs orange vanilla cake batter with black batter marble → 60 minutes

8" round cake pan → 1lb orange vanilla cake batter with black batter marble → 40 minutes

Remove your cakes from their pans then level each one and remove the caramelization from the bottoms.

Layer your two thicker cakes into 2 - creating a total of 5 layers.

Use Sir Squeeze A Lot to soak each of your cake layers with simple syrup then set them aside for a couple of minutes to absorb.

Use a circle cutter to cut out a secret chamber from the center for 3 cake layers.

Place a full cake layer down then place the circle cutter - the same one that you used to cut the secret chambers out, into the center of the cake layer - to protect the chamber. Add your IMBC to a piping bag and pipe it around the cutter then spread it out into an even layer. Chop up a Mr. Big bar into little bits then sprinkle them on top of the IMBC. Pipe more dots of IMBC on top then add on a secret chamber layer of cake. Repeat the same steps but fill each layer with different treats. Before you get to the top layer, fill the secret chamber with raisins (the horror!!) then top it off with the final layer.




TIP: if you find that your buttercream has gaps around the side (due to the stacked up treats), pipe on more buttercream around the edges to fill them in then smooth it out with an offset spatula.

Crumb coat your cake with IMBC then chill in the fridge until firm - about 20 minutes.

Color your remaining IMBC a bright lime green.

Ice your cake again but this time with the lime green IMBC and a scalloped cake comb to create grooves around the cake. Smooth out the top of your cake then chill it once again until firm.

Prepare half a batch of chocolate ganache and while it's still hot, add in some really dark black food coloring and mix. Once it's cooled down, pour your black ganache into a squeeze bottle and create a drip effect on the top of the cake. Once you are done with the first layer, add a second layer of drip to create a bubbling over double drip look! Squeeze some more ganache onto the top of the cake then smooth it out - covering the green.

It's time to have fun! Add on a mountain of gumballs then stick eyeballs onto each gumball using royal icing as glue. Add on sixlets, dragees, worms, gummy spiders, large eyeballs, and whatever else you want! You can make this cake as spooktacular as you'd like!
#howtocakeit
Sunday,Monday,Tuesday,Wednesday,Thursday,Friday,Saturday
January,February,March,April,May,June,July,August,September,October,November,December
Not enough items available. Only [max] left.
Add to Wishlist
Browse Wishlist
Remove Wishlist