I roll with these cakes! I love sushi. I always have, but when I visited Tokyo in 2009 I really fell in love with it. Not only do I love the way sushi tastes, I love the way it looks! Neat little parcels, filled with different textures and flavours. Im going to make my sushi cakes keeping that in mind. Im using a bunch of different candies to top of my maki: coconut jelly beans for rice, Turkish delight chopped up like raw fish, and puff pastry for my deep fried soft shell crab. I am also making fresh fondant fish to place on my coconut jelly bean rice beds. This is going to be so kawaii!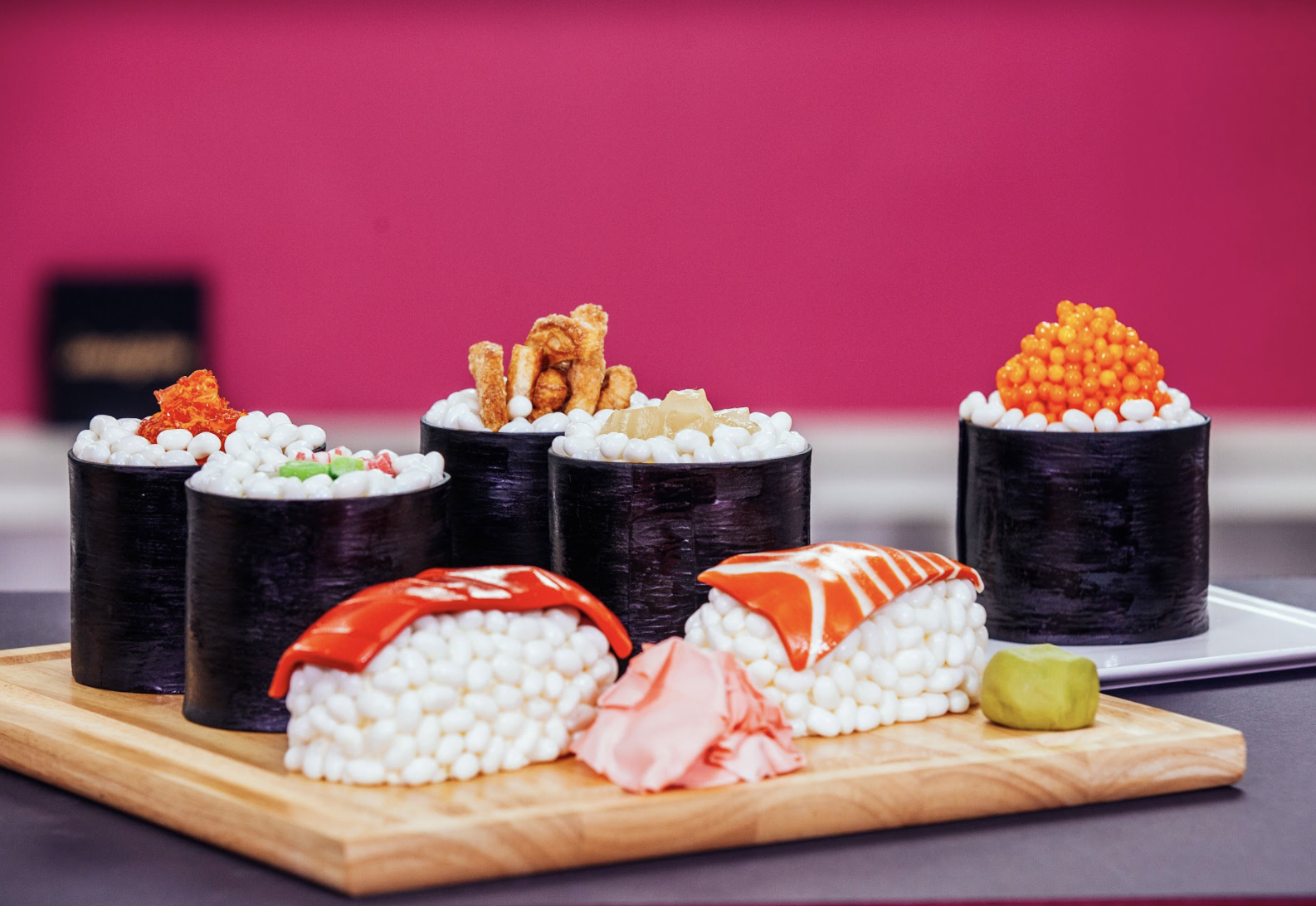 ---
2lbs Yo's Ultimate Vanilla Cake Recipe
Yo's Chocolate Jelly Roll Sponge Recipe
Italian Meringue Buttercream
Ginger Jam
Simple Syrup
1 lbs Black Fondant
2 oz White Fondant
2oz Gumpaste
½ cup Chocolate Cookie Crumbs
Clear Food Grade Alcohol (Like Vodka, White Rum, or even Sake)
Icing Sugar
2 lbs Coconut Jelly Bellies
Watermelon Gummies
Strawberry Gummy Sticks
Turkish Delight in white and rose/pink
Red Sugar
Orange Sugar Pearls or sixlets
Puff Pastry Cookies
Apricot Jam, strained through a sieve
Gel food coloring: orange, red, black, pink, golden yellow, avocado, moss green
Red powder food coloring
Prepare your 2lb portion of Yos Ultimate Vanilla Cake batter, and pour into 6 round cake pan. Bake at 350 degrees for 40 minutes, or until a cake tester comes out completely clean. Let cool completely in pan.

Prepare Yos Chocolate Jelly Roll Sponge Cake. Let cool completely in pan.

Prepare the Italian Meringue Buttercream. Dye 2 cups a light pink hue to resemble pickled ginger. Fill your piping bag with some ginger jam.

Unroll your full chilled chocolate jelly roll cake and place it on a fresh piece of parchment paper.

Prepare the Simple Syrup, and soak the cake. Pipe the ginger jam into the curled edge of the jelly roll cake. Spread the pink buttercream across the remaining exposed cake.

Roll the jelly roll cake back up. The parchment paper should remain on the outside this time. Place on a tray and chill for 20 minutes.

Carve the 6 round vanilla cake into two sushi cake bases. Carve two long rectangles with very round edges. Cut each cake in half horizontally. Soak with simple syrup.

Mix a bit of ginger jam into cup of Italian meringue buttercream and fill each cake. Place the top layer back on each cake, crumb coat and chill.

Remove your chocolate jelly roll cake from the fridge and trim off the ends. Using a ruler, mark the cake every 4, and cut into even rounds.

Stand each cake upright onto a cake board. Use a 3 round cutter to help trim the edge off the cakes.

Crumb coat all five cakes and chill them. Ice all the cakes one more time.

Knead the Moss Green colour into your black fondant to give it a green hue. Then knead in the chocolate cookie crumbs to create texture. Knead in vegetable shortening to help soften the fondant.

Measure the five maki cakes and roll the fondant into 5 strips that are long enough to wrap around each cake. Add texture to each strip of fondant with the fabric texture rolling pin.

Trim the strips to the right width and length to wrap around each cake perfectly. The fondant should be taller than your cakes to act as a fence and youre your candy inside.

Dilute the Black and Moss Green food colouring with some alcohol. Use this to paint around the outside of all the cakes, and the inside of top edge. Chill until the paint is dry to the touch.

Use Coconut jelly beans in all of the roll cakes to resemble white rice.

To recreate a California roll slice green portions of watermelon gummies to resemble cucumber. Slice strawberry gummy sticks to resemble crab, and use fondant as an avocado slice.

To recreate a whitefish roll rinse and chop white turkish delight.

To recreate a spicy salmon roll, rinse and chop pink Turkish delight, mix orange buttercream with red sugar to resemble spicy sauce.

To recreate a roe roll toss orange sugar pearls with apricot jam.

To recreate a deep fried soft shell crab place puff pastry cookies on top.

Ice both sushi cakes again, and press coconut jelly beans on the whole cake.

Dye 3 oz of fondant with red and pink to create a tuna colour, and 3 oz with pink and orange to create a salmon colour.

Roll out the tuna coloured fondant to look like a slice of fish. Make a few indents for texture, then brush with apricot jam and lay on the rice bed.

For the salmon, roll the fondant to 1/8 thick, and roll 1 oz of white fondant to the same thickness. Lay the white fondant on top of the salmon fondant, and cut it into strips. Line the strips up on their sides, so that the pink and white alternate.

Roll the fondant out again to 1/8 thick, flip it over, and the salmon pattern will be revealed. Brush on the apricot jam and lay it on the second sushi bed.

Knead your gumpaste with the leftover salmon coloured fondant. Roll a little at a time as thinly as you possibly can. Create natural shapes that will resemble pickled ginger.

Lightly brush the edges of each piece with red powdered food colouring. Then crumple all the pieces together to create a pile.

Dye 12oz of fondant with green and yellow. Slightly water it down to create a paste like wasabi.
#howtocakeit
Sunday,Monday,Tuesday,Wednesday,Thursday,Friday,Saturday
January,February,March,April,May,June,July,August,September,October,November,December
Not enough items available. Only [max] left.
Add to Wishlist
Browse Wishlist
Remove Wishlist