Crunchy, crispy cookie fries! This recipe combines two things that I love - french fries and baking! There isnt much more to say, other than these sweet fries are delicious. With a little bit of luster dust to mimic that golden brown goodness of freshly baked french fries, these sugar cook fries are a delicious side to a Hamburger Cake or topped with maple caramel gravy for a sweet Poutine Cake!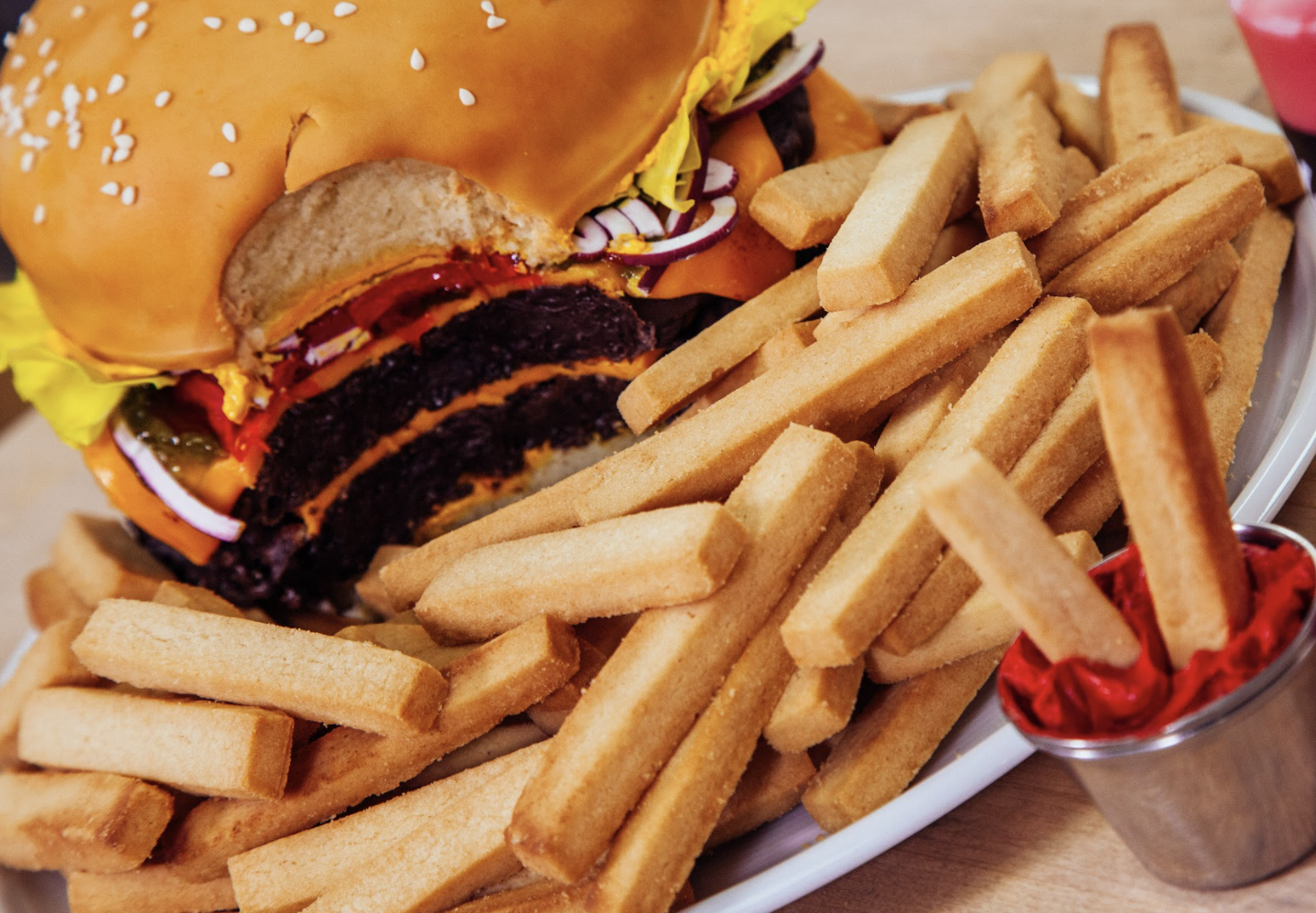 ---
1 cup Butter, room temperature
1 cup Sugar
1 teaspoon vanilla
1/8 teaspoon Wilton Ivory Icing Colour
1 egg
2 cups Flour
1/4 teaspoon Baking Powder
1/4 teaspoon salt
Golden Red Color Dust
Wilton Brown Color Dust
Place flour, baking powder, and salt in a bowl. Whisk to combine.

Cream the butter, sugar, and vanilla on medium speed for 3-5 minutes. Add the food colouring and stir on low speed to combine.

Scrape down the sides of your bowl and add the egg. Mix until combined.

Add your flour mixture and turn the mixer off once it is combined.

Pour your dough out onto your work surface and knead with your hands. Roll the dough into a ball and flatten it slightly into a rectangular shape.

Place the dough onto your non stick baking mat, with a sheet of parchment paper on top, and roll to thick.

Leaving the parchment paper on top, place your cookie dough into the fridge to chill. Chill for at least 3 hours.

Cut your chilled cookie dough into thick strips.

Using your paring knife, cut each strip into random french fry lengths.

Lay your french fries onto your prepared baking trays. Chill for 1 hour.

Bake at 350 degrees for 10-12 minutes, until they are golden at the edges.

Mix equal parts of Wilton Golden Red and Brown Color Dust. Lightly brush the mixture along your fries.
#howtocakeit
Sunday,Monday,Tuesday,Wednesday,Thursday,Friday,Saturday
January,February,March,April,May,June,July,August,September,October,November,December
Not enough items available. Only [max] left.
Add to Wishlist
Browse Wishlist
Remove Wishlist