Berry season is in full swing and we are celebrating with fresh strawberry cupcakes! Jyoti (@thepurplecupcake_)'s Strawberry Cupcakes are a perfect treat for berry season! These cupcakes are rich with sour cream and a delicious vanilla bean paste then swirled with a homemade strawberry sauce!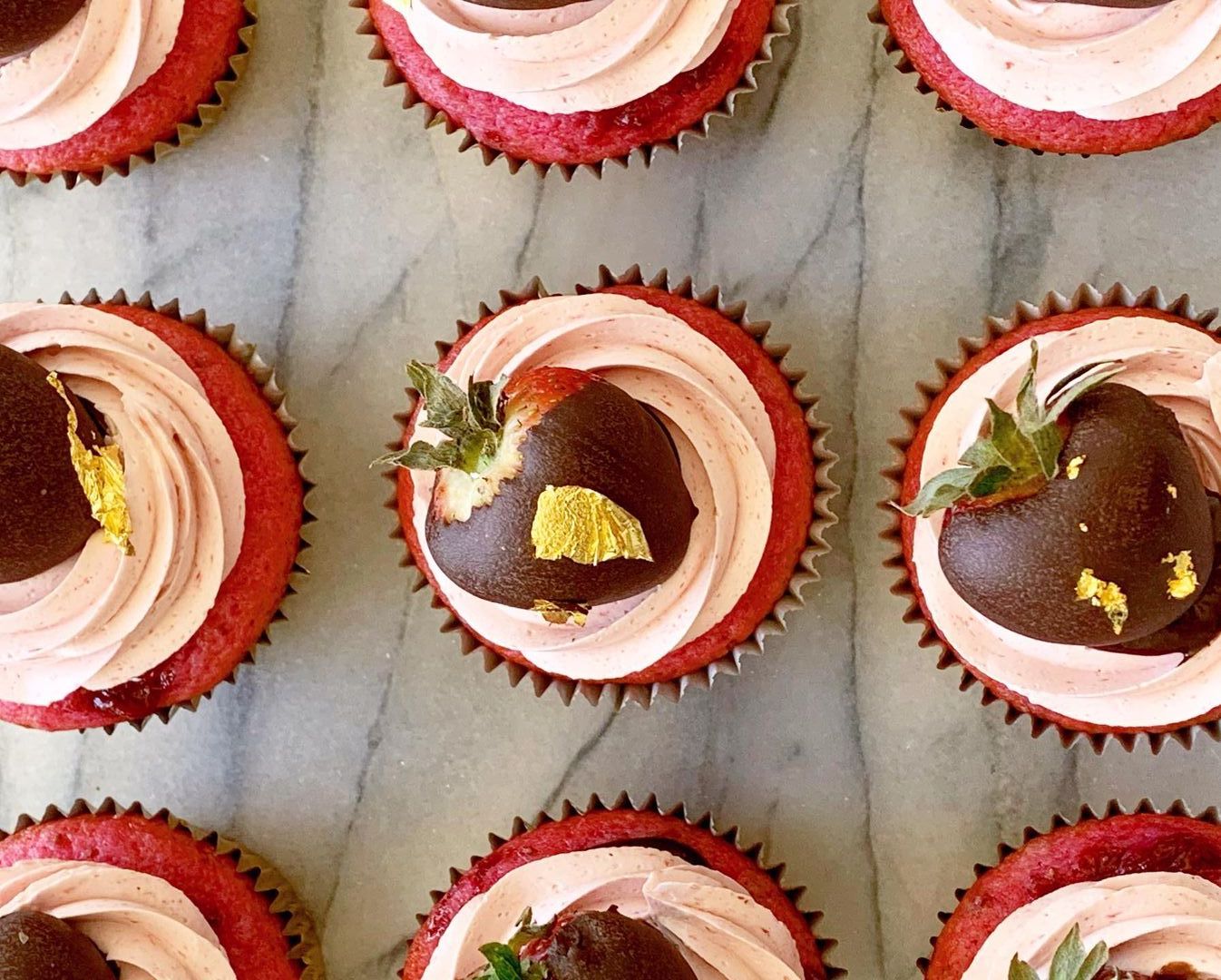 ---
160 g All Purpose Flour
150 g Granulated Sugar
½ tsp Baking Soda
1 tsp Baking Powder
½ tsp Salt
1 Egg, room temperature
½ cup Canola Oil OR ¼ cup Canola Oil + 56 g Melted Butter
85 g Sour Cream
2 tsp Vanilla Extract OR Vanilla Bean Paste
½ Buttermilk
325 g Strawberries
50 g Granulated Sugar
1 tbsp Lemon Juice
Combine your strawberries, sugar, and lemon sugar in a medium saucepan. Cook on medium heat until the berries release tons of water, and then cook down and form a thick sauce. Pour sauce over a fine mesh sieve into a bowl. Keep the thicker mix for the cupcakes, and the thinner, smooth sauce for SMBC.

Preheat your oven to 325 degrees Fahrenheit and line your cupcake trays with paper liners.

In a bowl, whisk together all dry ingredients and set aside.

Measure out ½ canola oil. To the measuring cup add sour cream, vanilla, and one egg.

With your whisk, add your wet ingredients to your dry ingredients and incorporate. Your batter will be very thick.

Slowly pour in the buttermilk and whisk to fully incorporate.

Add in half of your reserved strawberry sauce, and a tiny dab of pink food coloring.

Pour into your cupcake liner lined tin, Fill each cup just over halfway full.

Swirl in a tiny bit of the other half of your sauce on top of the cupcakes.

Bake cupcakes for 25 minutes. Do not open the oven door while baking, as this can cause the cupcakes to sink!
#howtocakeit
Sunday,Monday,Tuesday,Wednesday,Thursday,Friday,Saturday
January,February,March,April,May,June,July,August,September,October,November,December
Not enough items available. Only [max] left.
Add to Wishlist
Browse Wishlist
Remove Wishlist