These are the yummiest and prettiest cinnamon rolls you'll ever eat! Cinnamon rolls are such a classic morning treat and Jyoti's rendition of the classic buns is sure to get everyone out of bed! They say breakfast is the most important meal of the day and these colorful rolls - filled with a delicious cinnamon spread and topped with an ooey-gooey cream cheese frosting, prove this to be true!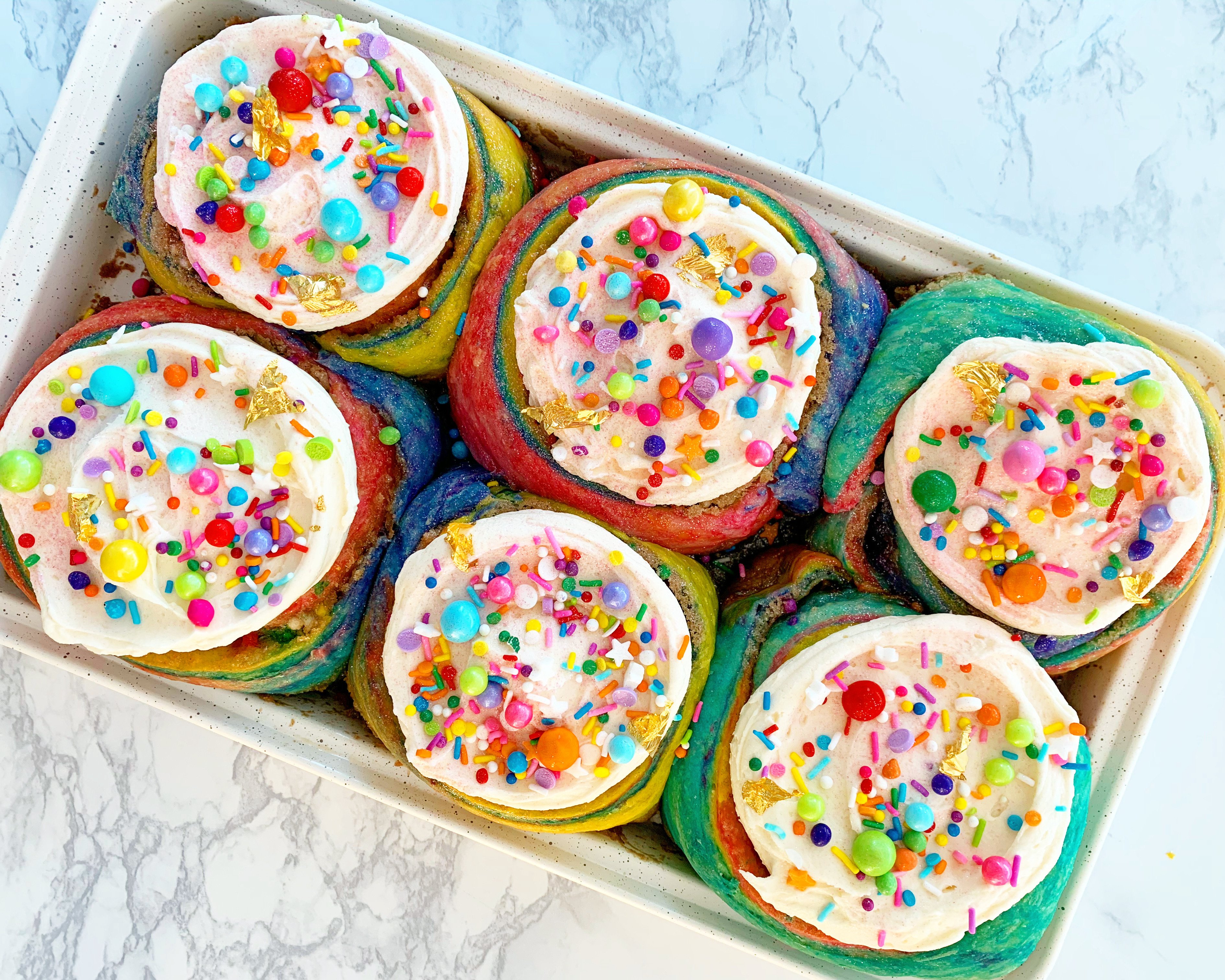 ---
500 gr All Purpose Flour
100 gr Granulated White Sugar
75 gr Unsalted Butter, room temperature
2 Large eggs
10 gr Instant Yeast
¾ cup Warm Milk (not hot)
1 tsp Salt
Gel food colors
75 gr Unsalted Butter, softened
200 gr Brown Sugar
25 gr Cinnamon
1 tsp Vanilla Extract
250 gr Cream Cheese, room temperature
65 gr Unsalted Butter, room temperature
250 gr Icing Sugar
Pinch of Salt
1 tsp Vanilla Extract
1 Tbsp Milk or Heavy Cream
To your warm milk, add yeast and a tsp of sugar. Stir to combine and set aside to let the yeast boom.
In a large bowl, combine flour, salt, and sugar. Whisk together.
Add eggs and butter to your flour mix. Work the eggs and butter into your dough until a crumbly mixture has formed. Butter and eggs should be well dispersed throughout.
To the dry mix add your yeast + milk mixture, and form a loose dough.
Divide your dough into 5 different portions, and add a different color of gel food coloring to each piece, kneading for a further 2-3 minutes. It should lose its stickiness and come together into a smooth ball.
Further break your colored dough down into small pieces, and pile them together alternating colors - this will create a rainbow tie-dye effect when we roll the dough out later!
Cover dough and let it rise for an hour to an hour and a half.
Preheat the oven to 225°F and turn it off, leaving the door closed. This will be your proofer for your rolled out dough.
When the dough has risen, roll out onto a lightly floured surface. Roll dough about a ¼" thin.
Spread the cinnamon filling onto the rolled out dough. Ensure to get a nice thin layer all over the dough.
Start rolling from one end slowly to the other.
Once rolled, use dental floss or thread to cut into even rolls - do this by tucking the thread underneath the rolled dough, cross over the two ends of thread and pull to cut into rounds.
Place the rolls onto a gently greased pan (or two, if you like!). Cover the pans and place in your warm oven to rise for 30 minutes.
Bake your rolls for 20 minutes in a preheat 325°F oven.
When your rolls have baked, pull them out of the oven and let them cool for 5 minutes before slathering with cream cheese icing!
Let the icing set and serve immediately!




In the bowl of your stand mixer, combine brown sugar, cinnamon, and vanilla extract
With the paddle attachment, beat together the filling. It should get light and be thoroughly combined. Transfer to a small bowl until ready to use.



In a medium sized bowl, combine cream cheese and butter. Beat until they are mixed and light in color.
Start adding your icing sugar a few spoonfuls at a time.
Once all of the sugar has been incorporated, add your vanilla extract, salt, and milk. Whip until combined, then transfer to a separate bowl until ready to use.



#howtocakeit
Sunday,Monday,Tuesday,Wednesday,Thursday,Friday,Saturday
January,February,March,April,May,June,July,August,September,October,November,December
Not enough items available. Only [max] left.
Add to Wishlist
Browse Wishlist
Remove Wishlist