Lava Cakes for ✌️ (because no one should have to share a dessert this good).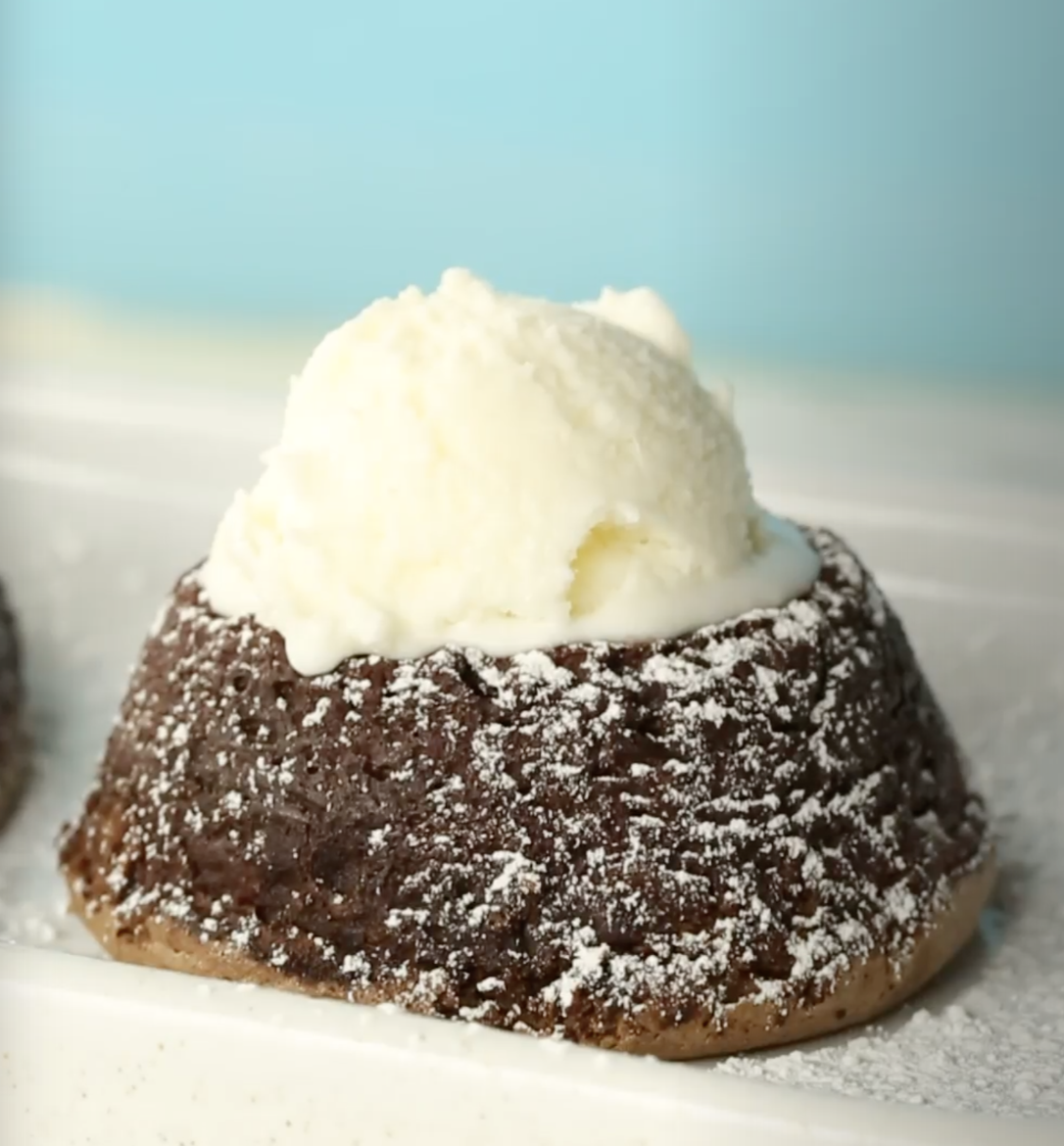 ---
1 tbsp All-Purpose Flour
2 tsp Cocoa Powder, plus extra for dusting
2.5 ounces Semi-Sweet Chocolate
2 1/2 tbsp Unsalted Butter
1/4 tsp Vanilla Extract
1/8th tsp Salt
1 egg + 1 Egg yolk
2 1/2 tbsp Granulated Sugar
Optional: Top with vanilla ice cream
Preheat your oven to 425ºF then grease 2 cups of your muffin tin with butter. Dust each greased muffin cup with 1 tsp of cocoa powder then gently tap and shake the muffin tin to coat all sides of the cup. Tap out any excess cocoa powder.

Place butter and chocolate in a microwave safe bowl and microwave in 30 second increments. Stir the mixture well after every 30 seconds until fully melted.

In a medium bowl beat together egg, egg yolk, vanilla, salt and sugar until slightly pale in color and grown in volume (3-4 minutes). Slowly pour in your melted chocolate/butter mixture and mix until combined. Sprinkle your flour and cocoa powder over the mixture and mix until just combined and no floury streaks remain.

Portion the batter between the two muffin cups, filling until the top.

Bake for 7-9 minutes until the top is set but cake still jiggles in the middle. Remove from the oven and let the cakes cool on a wire rack for 1 minute.

Run a sharp knife along the sides of each cake then carefully (while wearing oven mitts!) invert the muffin tin onto a plate by placing a plate upside down on top of the tin. Flip the tin so that the plate is on the bottom and muffin tin is upside down on top. Leave it for 20 seconds, give the bottom of the muffin tin a couple of pats and then lift it straight up.

Dust with powdered sugar or a plate with a scoop of vanilla ice cream on top and enjoy!
#howtocakeit
Sunday,Monday,Tuesday,Wednesday,Thursday,Friday,Saturday
January,February,March,April,May,June,July,August,September,October,November,December
Not enough items available. Only [max] left.
Add to Wishlist
Browse Wishlist
Remove Wishlist