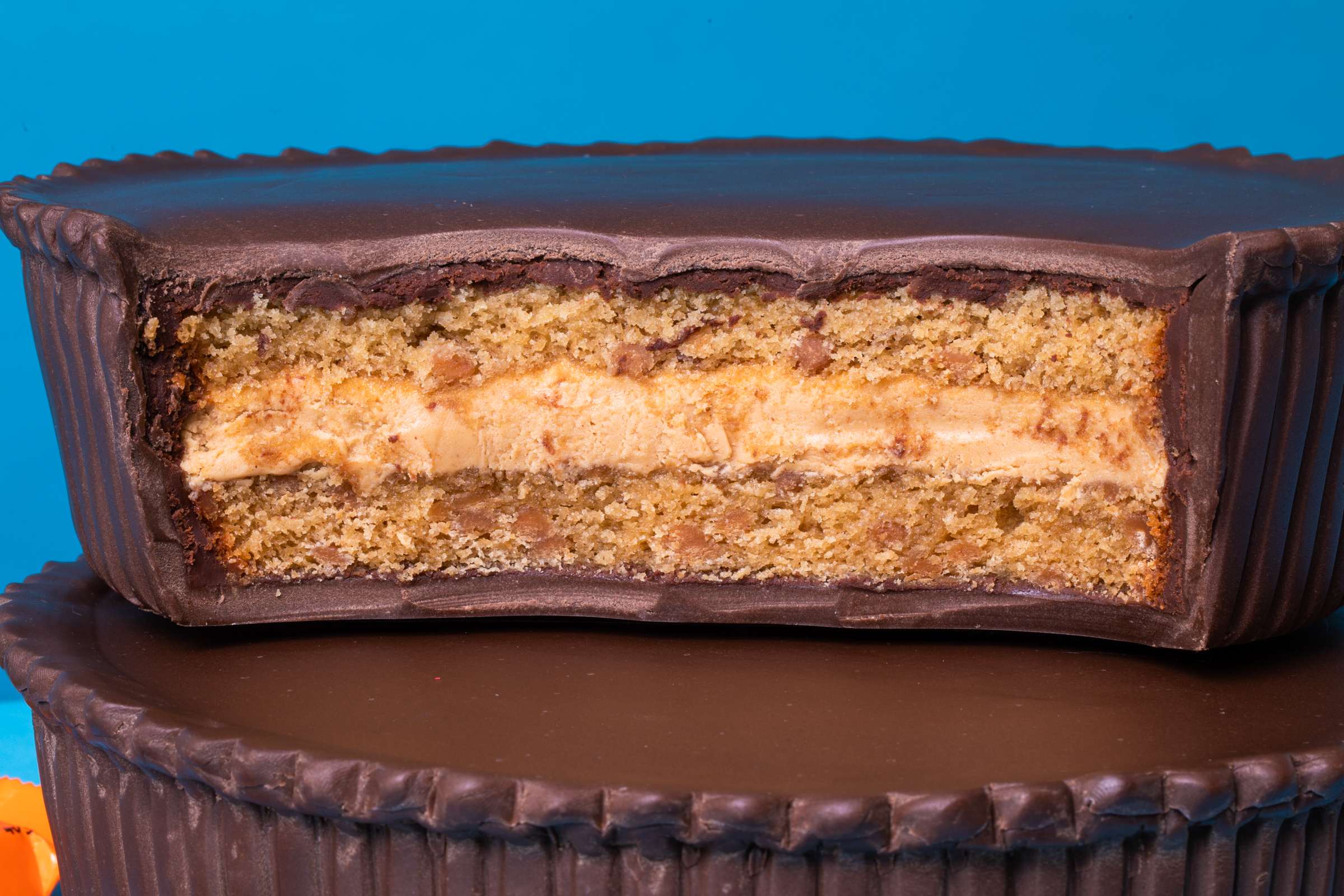 ---
½ cup Unsalted Butter, room temperature
½ cup Vegetable Oil
1 cup Smooth Peanut Butter
2 cups Brown Sugar
4 tsp Vanilla Extract
4 Large Eggs, room temperature
2 cups Buttermilk, room temperature
3 ½ cups All Purpose Flour
1 Tbsp + 1 tsp Baking Powder
1 tsp Baking Soda
1 tsp Salt
2 cups Peanut Butter Chips (or chocolate chips!)
If you don't have buttermilk, combine 2 cups of room temperature milk with 2 Tbsp lemon juice. Let rest for 5-10 minutes until it slightly curdles. You've got buttermilk!

Preheat the oven to 350°F and line the bottom of each cake pan with parchment paper.

In the bowl of a stand mixer fitted with the paddle attachment, cream your butter, oil, peanut butter, brown sugar and vanilla until light and fluffy.

Add in the eggs, two at a time, beating until each addition is incorporated before adding the next. Scrape down the sides of the bowl with a spatula when necessary.

Mix all the dry ingredients together and add them to the batter alternating with the buttermilk. Stir in the peanut butter chips. Be careful not to overmix!

Scrape the batter in the prepared pan or pans and spread it so that it is smooth in the pan(s). Bake until a toothpick inserted in the center comes out clean, about 50 minutes for a 9x13-inch or 45 minutes for the 8-inch pans, rotating the pan(s) halfway through. Every oven is different, so it's important to test your cakes and not rely on the times listed!

Transfer to a wire rack and let cool completely in the pan(s). Cover tightly with plastic wrap and refrigerate overnight. Loosen the edges with a straight spatula, invert the pan(s) to remove the cake, and peel off the parchment.
#howtocakeit
Sunday,Monday,Tuesday,Wednesday,Thursday,Friday,Saturday
January,February,March,April,May,June,July,August,September,October,November,December
Not enough items available. Only [max] left.
Add to Wishlist
Browse Wishlist
Remove Wishlist