Pretty bright colours, gloss and electricity are the theme with these bubblegum cupcakes! And they have a surprise bubblegum goo centre!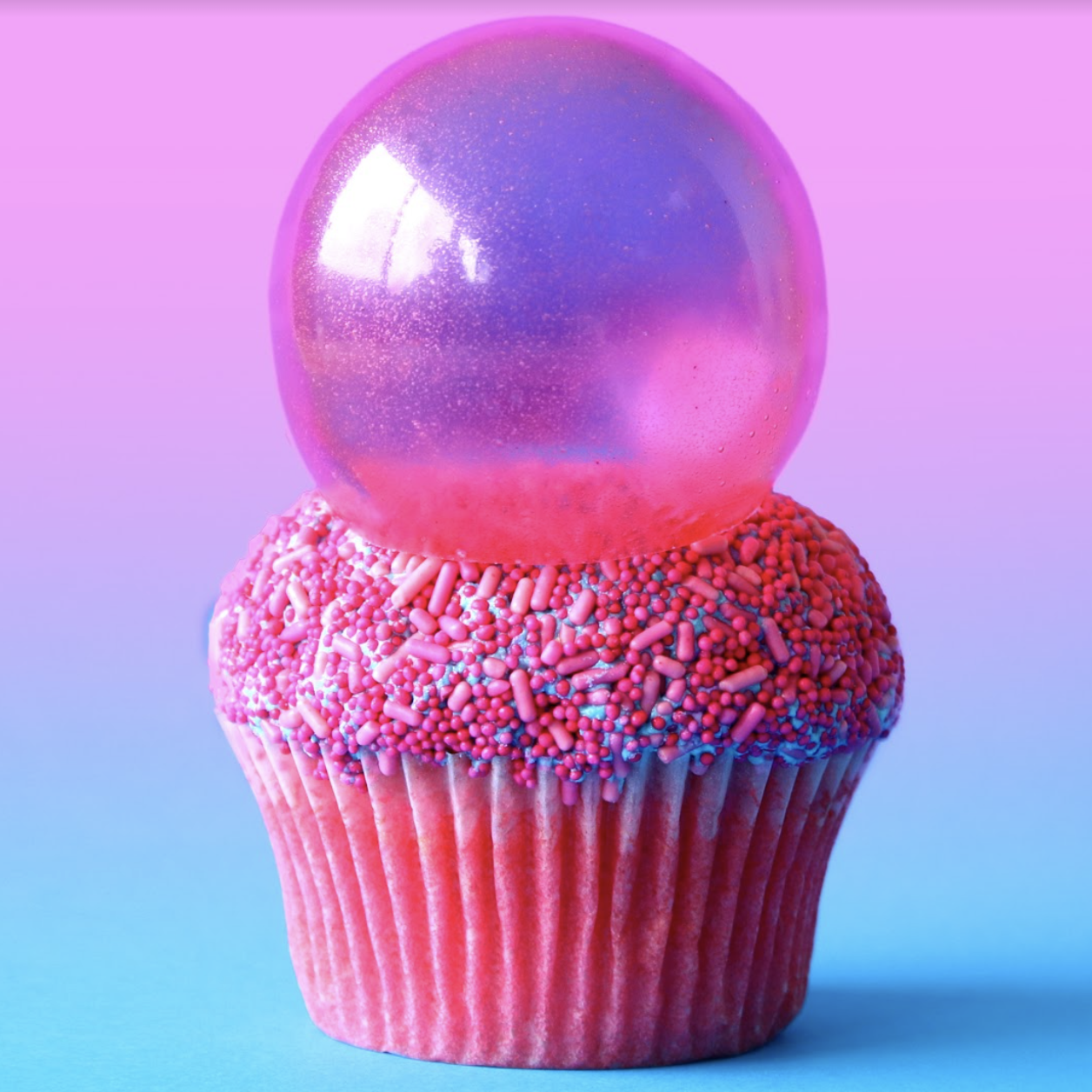 ---
429g all-purpose flour
265g caster (superfine) sugar
1/2 tsp salt
3 tsp baking powder
375ml of milk
125ml vegetable oil
125g unsalted butter, softened
2 tbsp Greek yogurt (can substitute with sour cream)
1 tsp vanilla extract
2 large eggs
1 tsp bubblegum essence (see notes)
3 drops 'deep pink' food gel
Mixed pink sprinkles. Anything you can find. The more the different kinds the better!
Small balloons
28g powdered gelatin
1 or 2 drops Americolour Deep Pink gel colour
8 tablespoons cold water
250g white cooking chocolate
250ml thickened cream (at least 35% fat content)
1 tsp bubblegum or strawberry essence
1 drop 'sky blue' food gel
1 batch fluffy vanilla buttercream frosting
1-2 drops 'sky blue' food gel
1 tsp bubblegum or strawberry essence
STORAGE: store in an airtight container for up to 3 days (refrigerated or unrefrigerated).

CAKE: Recipe can be used for two 8" cake tin - adjust baking time to 30-40 min and bake on 180C

EQUIPMENT: Can be made using a hand mixer (always mix on lowest speed) or a hand whisk. Take care not to over mix the batter.

OVEN TEMPERATURE: If you're baking at home set your fan forced oven to 160C (320F).

BAKING TIME: These cupcakes typically bake on a lower temp and for a little longer than regular cupcake recipes. That's what helps get that gorgeous even dome shape on top. The cupcakes don't dry out. Bake your cupcakes for 20 min. If you insert a skewer and it comes out with wet batter, bake for an extra 5 min until a skewer inserted into the center comes out with moist crumbs.

BUBBLEGUM ESSENCE: Can be purchased from your local cake supply store or on Amazon.com

Attach blown up balloons to paper straw or cake pop sticks with tape. Gently coat each balloon with a little oil spray over each balloon and wipe it down with a paper towel.




Add water and gelatin to a microwave sage bowl. Mix until well combined. Allow it to bloom (rest) for 5 min before you place it in the microwave for 10-15 seconds, or until melted. Add pink food gel and mix until well combined.




Dip balloons into gelatin liquid making sure they're coated evenly leaving the bit where the balloon meets the stick free of gelatin. You may want to coat these twice. Let the gelatin set on the first coat for 5 min, and then coat again. If the gelatin stiffens you can melt again in the microwave for 10 seconds.




Place the coated balloons standing upright in a cup or in a styrofoam block and allow to dry completely- about 24 hours.




To remove balloon, cut away from the stick and pull the balloon out from the bubble. You'll need to cut away the bottom of the bubbles so they sit evenly on top of the cupcake. You can do this using a pair of scissors.

Preheat a fan-forced oven to 180C (356F) or 160C (320F) for a fan forced oven. Line a cupcake tin with cupcake liners.

In the bowl of a stand mixer fitted with the paddle attachment, add the flour, baking powder, caster sugar and salt. Turn mixer on low speed and allow it to mix for a couple minutes to help everything combine well (alternatively you may do this by sifting the ingredients together). Add the softened butter and let it mix until it resembles a fine sand like texture.

Next, add milk, eggs, yogurt, oil and vanilla extract in a large jug and whisk well.

Add wet ingredients to dry ingredients in a slow and steady stream until no dry ingredients are visible. Scrape down the bowl, add bubblegum or strawberry essence and pink food dye and mix for another 20 seconds. You will need to scrape down the bowl again and mix until the batter is evenly coloured.

Fill each cupcake liner 3/4 of the way (using an ice cream scoop to transfer the batter into the cupcake liners makes this a quick and easy process otherwise you can use two tablespoons).




Bake for 20-25 min or until a toothpick inserted comes out clean. Allow them to cool completely on a wire cooling rack before frosting.

To prepare bubblegum goo, add white choc and cream to a microwave safe bowl and microwave for 20 seconds at a time, mixing each time until smooth. Add blue food gel and flavoring and mix until well combined.

To finish off cupcakes, core the center of each one and fill with bubblegum goo. Fit the end of a piping bag with a round tip and frost your cupcakes in a flat swirl as demonstrated in the video. Coat the frosting in pink sprinkles, starting with the top of the frosting and then work your way around the sides of the frosting.

Finish off by gently placing your gelatin bubble in the frosting.
#howtocakeit
Sunday,Monday,Tuesday,Wednesday,Thursday,Friday,Saturday
January,February,March,April,May,June,July,August,September,October,November,December
Not enough items available. Only [max] left.
Add to Wishlist
Browse Wishlist
Remove Wishlist