With Sweet Tortillas, Chocolate Cake, and Buttercream Guacamole. I love nachos. The perfect combination of crunchy tortilla chips, a whole bunch of delicious toppings, and loads of cheese. Its the type of snack thats meant to be shared by friends - so you can wrestle each other for the cheesiest piece! I need to make the cake version of nachos. Sweet crispy tortillas, modeling chocolate cheese, lots of candy toppings and guacamole-tinted Italian meringue buttercream to serve on the side. Oh, and did I mention that the base is chocolate cake with cream cheese frosting? This is nacho average cake!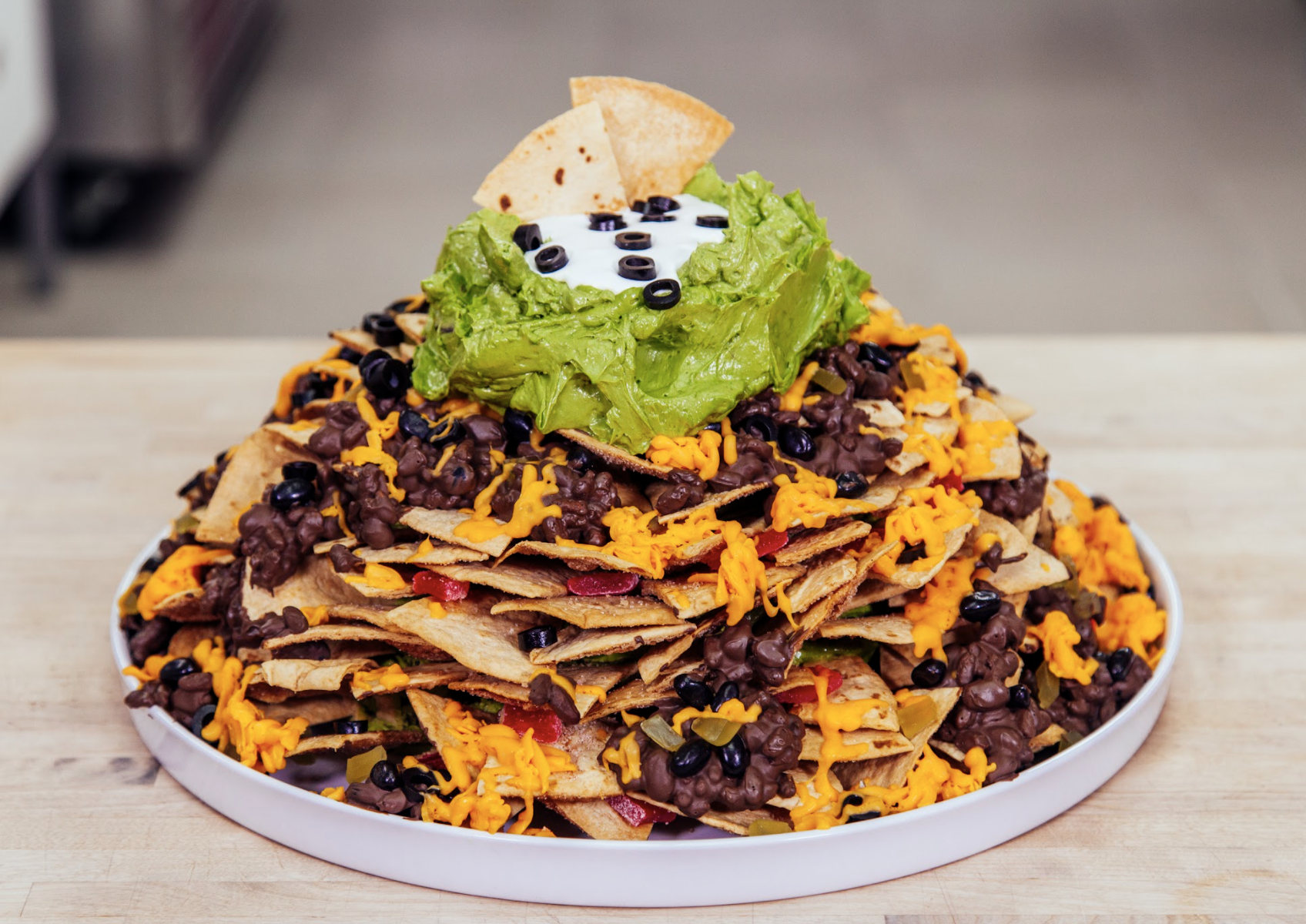 ---
1 x 6lb portion of Yo's Ultimate Chocolate Cake
2x recipe of Yo's Cream Cheese Frosting
Simple Syrup
2 cups Italian Meringue Buttercream
½ recipe of Yo's 7 Minute Frosting
½ recipe Modeling Chocolate Cheese
2 x packages of 6 Flour Tortillas (12 per package)
2 cups Sugar
2 tablespoons Cinnamon
1 teaspoon Nutmeg
½ cup melted Butter
1 teaspoon Vegetable Oil
½ cup Milk Chocolate Candy Melts
½ cup Dark Chocolate Candy Melts
1 ½ - 2 cups Cocoa Rice Puffs
½ cup Liquorice Jelly Beans
Green & Red Wine Gums
Black Liquorice
Red Cherry Slices
Gel food coloring: lemon yellow, moss green, golden yellow, buttercup yellow
Prepare your Ultimate Vanilla Cake batter. Divide evenly between the two 9 round cake pans. Bake at 350 degrees for 1 hour and 10 minutes, or until a cake tester comes out completely clean. Let cool completely in their pans.

Prepare your Italian Meringue Buttercream and Simple Syrup. Set aside.

Prepare your recipe of cream cheese frosting. Set aside.

Prepare recipe of modelling chocolate cheese. Set aside.

Stir your sugar, cinnamon and nutmeg together in a bowl. Cut your flour tortillas into 8 wedges each. Lay them onto your baking trays in a single layer. Brush some melted butter onto the top of each tortilla.

Sprinkle your sugar mixture onto the tortilla wedges in a generous layer. Repeat with your remaining tortillas. Bake at 350 for 20 minutes, rotating your trays halfway through baking.

Remove your cakes from their pans. Only level one 9 round cake, and cut both cakes in half.

Soak the layers of your cake with simple syrup, and fill them with cream cheese frosting. Chill the cake for 15 minutes.

Dye the buttercream using a combination of Wilton Moss Green, Golden Yellow, and Buttercup Yellow as well as some ChefMaster Lemon Yellow to mimic the look of Guacamole.

Carve the cake base into a nice mound. Give your cake a nice crumb coat with your coloured buttercream.

Add your tortilla chips to the cake. Ice your cake with more guacamole tinted buttercream as you go. Poke your chips into the sides of your cake, all the way around. Try not to point them all in the same direction.

Cut your green wine gums into small chunks. Cut the red wine gums into smaller chunks. Set them aside for later. For the tomatoes, slice red gummy candies in the shape of wedges.

Slice your liquorice into circles and use the #11 piping tip to cut a hole in the middle of each slice to resemble black olives.

Melt the milk and dark chocolate candy melts together, in the microwave in 20 second increments. Stir between each heating. Stir in your cocoa rice puffs, and finally of your liquorice Jelly Belly Jelly Beans.

Top your nacho cake with spoonfuls of your chocolate ground beef mixture. Then continue to top with the rest of your candy toppings.

Grate your modelling chocolate onto your nacho cake. Use your brle torch to lightly melt and brown your modeling chocolate cheese.

Spread a large pile of your guacamole buttercream onto the top of the nacho cake.
#howtocakeit
Sunday,Monday,Tuesday,Wednesday,Thursday,Friday,Saturday
January,February,March,April,May,June,July,August,September,October,November,December
Not enough items available. Only [max] left.
Add to Wishlist
Browse Wishlist
Remove Wishlist