So easter desserts are always a little…tricky. Do you make a carrot cake and hope there's no haters? Just let everyone gorge themselves on gross white chocolate?
SO this year we decided to get creative and come up with the perfect festive dessert inspo sure to be a crowd pleaser. It's totally beginner friendly, but still has big time wow factor energy. Easy enough to do with your kids, or in the few minutes between zoom calls. May we introduce you to: The Mini Egg Dip Platter!
Whether you're whipping up sweets for a gathering or just the family, turning mini eggs into a dip is the brilliant innovation of @apumpkinandaprincess. It's such a delicious little dip, we decided to create an entire dessert board around it. A super quick, super unique dessert idea that will have you hoarding mini eggs even more than usual this year. Have fun, and let us know if you have other ideas for perfect dippable treats that would pair well with this!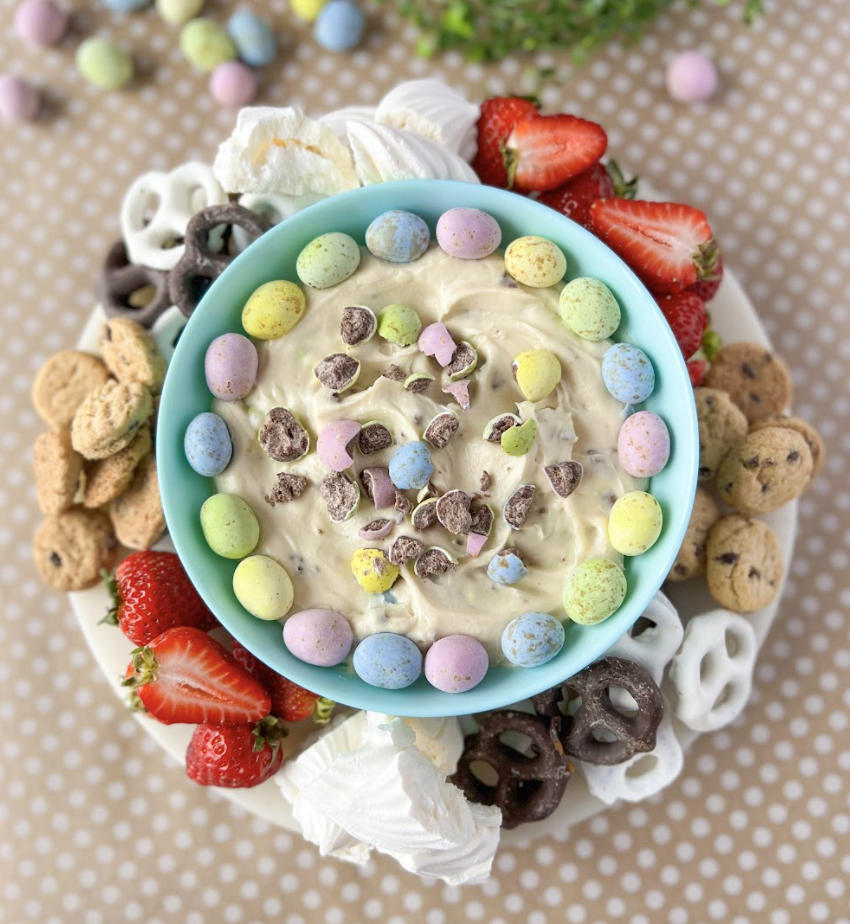 ---
8 oz cream cheese, softened
1/2 cup unsalted butter, softened
2 tbsp brown sugar
3/4 cup confectioner's sugar
1 tsp vanilla extract
1/2 cup Cadbury Mini Eggs candies, crushed, plus a few more whole for decorating

Whatever dippable treats you'd like! Sky is truly the limit- here are some ideas to get you started:
Strawberries
Meringue bites
Mini Chocolate Chip Cookies
Chocolate covered pretzels
Cake Bites on toothpicks (a great way to use up leftover scraps)
Frozen raspberries
Ruffled Potato Chips or Pretzel Sticks (for the sweet & salty lovers)

In a stand mixer beat cream cheese and butter together. You can also totally use a hand mixer and bowl.




Add brown sugar, confectioner's sugar, and vanilla until well combined.




Stir in Cadbury Mini Eggs candies with a spatula.




Transport the dip into your serving dish- you can use a fun spring pastel bowl, a beautiful glass serving dish or even a hollow chocolate bunny! But if you're bringing this somewhere- tupperware is absolutely a valid choice. No judgment! Just package up all your dippables separately and assemble when you get there.

Decorate the top of your dip with more mini eggs- try a mix of whole and crushed eggs for a dynamic design.




Store in the fridge until you're ready to serve.

Assemble your dippable treats around the dip- you can go fancy or rustic. Honestly, this dip is so good, it really doesn't matter what it looks like.

And that's it. You're welcome. Enjoy your new title as the best dessert maker of all time! Or at least of this year's Easter festivities. Take that, bunny.
#howtocakeit
Sunday,Monday,Tuesday,Wednesday,Thursday,Friday,Saturday
January,February,March,April,May,June,July,August,September,October,November,December
Not enough items available. Only [max] left.
Add to Wishlist
Browse Wishlist
Remove Wishlist