I get so excited when I spot a rainbow! It doesnt happen often but rainbows feel magical. They make me feel like a kid again.
I started to imagine how I could cake my very own rainbow. I am making 7 mini cakes, each one representing a colour of the rainbow. The cakes will be full of colour from the inside out, topped with some of my favourite candies, and filled with a rainbow surprise. This is going to be fun.
When I got the chance to decorate these rainbow cakes with my special guest, Tiffany Pratt, it was even more fun!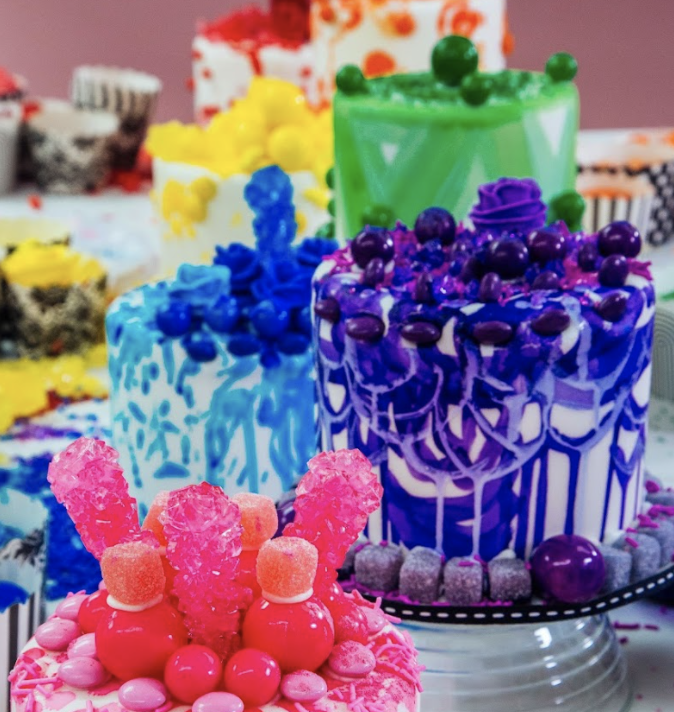 ---
6 lb portion of Yo's Ultimate Vanilla Cake
Simple Syrup
Italian Meringue Buttercream
2 1/2 lbs White Fondant
Icing Sugar & Colored Sugar
Chocolate Buttons
Sprinkles
Gumballs & Jumbo Gumballs
Sour Warheads
Banana Candies
Rock Candy Sticks
Royal Icing Flowers
Food Writer Markers
White Food Colouring
Royal Icing
Clear Piping Gel
Gel food coloring: red, yellow, orange, green, blue, purple, pink
Prepare the 6lb portion of Yos Ultimate Vanilla Cake. Divide evenly into 7 bowls (about 14 oz of batter per bowl). Dye each portion one colour of the rainbow.

Divide all of the coloured batter between your 14 prepared cake pans. Two cake pans per colour. Bake the cakes at 350 for 35-40 minutes, or until a toothpick inserted in the centre comes out clean. Let cool.

Remove the cakes from their pans, levelling them, and cutting each into two layers. Each coloured cake will be made up of four layers.

Using the 1 1/2 circle cutter, cut a hole from the centre of the two middle cake layers in each colour.

Prepare the simple syrup and soak all the cake layers.

Prepare the Italian Meringue Buttercream. To fill each cake, place one cake layer down and spread on a layer of buttercream. Then place a cake layer, with a hole cut out, on top. Use a piping bag to pipe a ring of buttercream on top of the cake and spreading it with an offset spatula.

Place the second cake layer with a hole cut out on top. Fill this secret chamber with rainbow sprinkles, filling all the way to the top. Flip the final layer of cake over and spread a layer of buttercream, flip again and place onto the cake.

Repeat this process with the remaining 6 colours of cake. Once completed, crumb coat and chill for 20 minutes.

Ice them smoothly, and chill again.

Make a mark on the bottom of the cake board to label the colour. Once they are all white, you wont be able to tell.

Cover each cake with fondant. I rolled out 3/4 lb at a time, and had 1/2 lb left over once the cake was covered.

Set up a cake decorating station, invite your friends over or decorate with your kids.

Paint your cakes using the same gel food colouring that was used to dye them. Dilute it with food grade alcohol or white food colouring to make it more opaque.

Draw on the cakes with food colouring markers. Glue candy all around with the help of royal icing. Brush on a base of clear piping gel and throw on some sprinkle and sugar.
#howtocakeit
Sunday,Monday,Tuesday,Wednesday,Thursday,Friday,Saturday
January,February,March,April,May,June,July,August,September,October,November,December
Not enough items available. Only [max] left.
Add to Wishlist
Browse Wishlist
Remove Wishlist