This mermagical vanilla cake is simply mermazing! I am so here for the mermaid trend YoYos. First of all, the beach is my favourite place to be, but all of the cool blues and bright purples mixed with all things that sparkle are just so magical. Or MER-magical I should say! There's so many different things you could cake up around this theme, but to really bake it up a notch I've made something MER-mazing!
This giant mermaid tail started off as 18lbs of my Ultimate Vanilla cake, with half the batter dyed an ocean blue and half dyed a coral pink. Stacked and filled with Italian Meringue Buttercream, the tail gets scaled up with fondant, and hit with beautiful luster dusts for a truly mermaid worthy sparkle.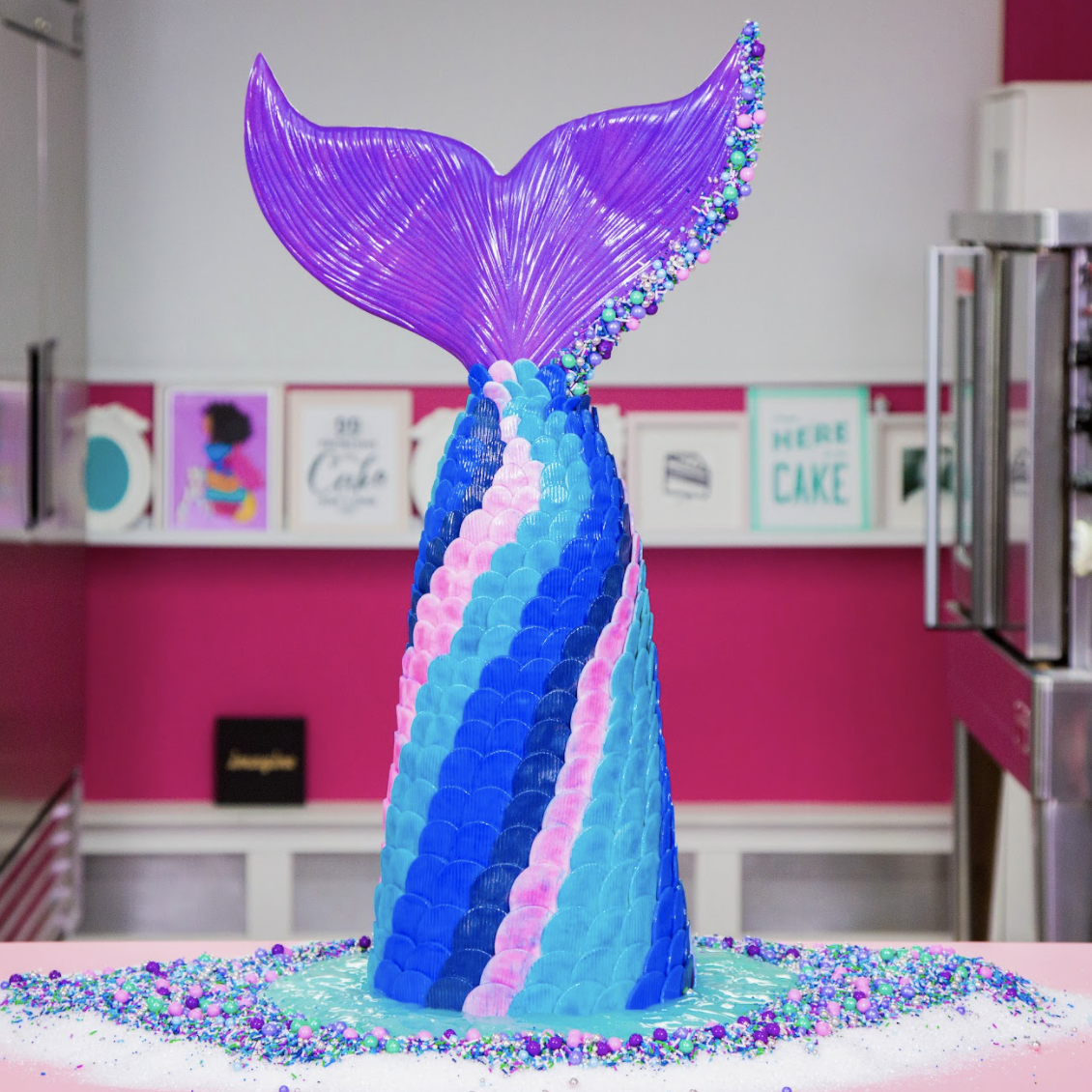 ---
18lbs Yo's Ultimate Vanilla Cake
Pink Gel Food Coloring
Blue Gel Food Coloring
3 x Yo's Famous Italian Meringue Buttercream
Simple Syrup
2lbs Blue Fondant
2 ¼ lbs Teal Fondant
1 ½ lbs Pink Fondant
½ lb Navy Fondant
Luster Dusts: teal, pink, silver, blue, purple
Shortening
Clear Food Grade Alcohol
Piping Gel
Sprinkles
Prepare 18lbs of Yo's Ultimate Vanilla Cake, dying half of your batter pink, and half blue. Make 1 set of each color, dividing your batter, and baking at 350 degress as follows:

3lbs - 9" round, 1 hr 30 min
2.5lbs- 8" round, 1 hr 25 min
2lbs- 7" round, 1 hr 20 min
1.5lbs- 6" round, 1 hr



Level all of your cakes, removing the caramelization from the bottom. Create 2 layers from each cake by cutting in half, and 3 layers from one of the blue 6" round cakes.

Shower all of your cakes with simple syrup so they stay moist through the decorating process

Stack your cake in 2 parts ( 9" & 8" together, 7" & 6" together) with Italian Meringue Buttercream, alternating colours as you go. Chill for 20 mins.

Stack your cake in 2 parts ( 9" & 8" together, 7" & 6" together) with Italian Meringue Buttercream, alternating colours as you go. Chill for 20 mins.

Insert dowels into your larger cake before placing your smaller carved cake on top

Continue carving your cake, making the 2 pieces join together seamlessly.

Crumb coat your cake with buttercream and chill for 20 mins before adding a final coat of icing, and chill once more.

Roll out your sheets of coloured fondant, and texturize with a textured rolling pin.

Use graduated oval cutters to create multiple sizes of scales in your different coloured fondants

Starting at the top of your cake, begin laying your smallest ovals in a pattern, working your way down to the bottom and up to your largest oval scales. Scales at the bottom of your cake may need to be trimmed.

With a printed mer-tail template as your guide, cut your tail out of foamboard.

Brush the entire surface of one side of your foam tail with piping gel, and cover with thinly rolled purple fondant. Flip over to trim away excess, and attach a sharpened dowel, making sure it will extend through your entire cake

Build up the front of your tail with additional pieces of fondant, making it thicker in the middle, before draping in another piece of thin purple fondant.

Use a dresden tool to create detailed lines on your tail. Mix together pink luster, clear food grade alcohol, and piping gel and brush over the surface of your tail.

While the piping gel on your tail is still wet, add a border of sprinkles up one side.

Paint the scales of your cake with coordinating luster dusts to add more sparkle and shine. I used silver on my navy scales. Paint piping gel from bottom to top to make everything glisten.

Carefully pick up your tail, and holding it mostly from the back, drive it through the top of your cake. Take your time when you get to the center board to wiggle it back and forth until it's all the way through. Add more scales to the top if necessary.
#howtocakeit
Sunday,Monday,Tuesday,Wednesday,Thursday,Friday,Saturday
January,February,March,April,May,June,July,August,September,October,November,December
Not enough items available. Only [max] left.
Add to Wishlist
Browse Wishlist
Remove Wishlist