The tortilla trend... but make it sweet! Have you guys seen the tortilla wrap hack that has been floating all around TikTok recently?! It may just be the most ingenious way to wrap a tortilla so we just had to try it out... but in true How To Cake It fashion!
Jyoti added her own twist to the trend and sweetened up the deal with a "sweet tortilla" - we're talking a sprinkled up marshmallow wrap filled with dark and milk chocolate ganache, graham cracker and oreo crumbs, and of course decorated with edible gold leaf!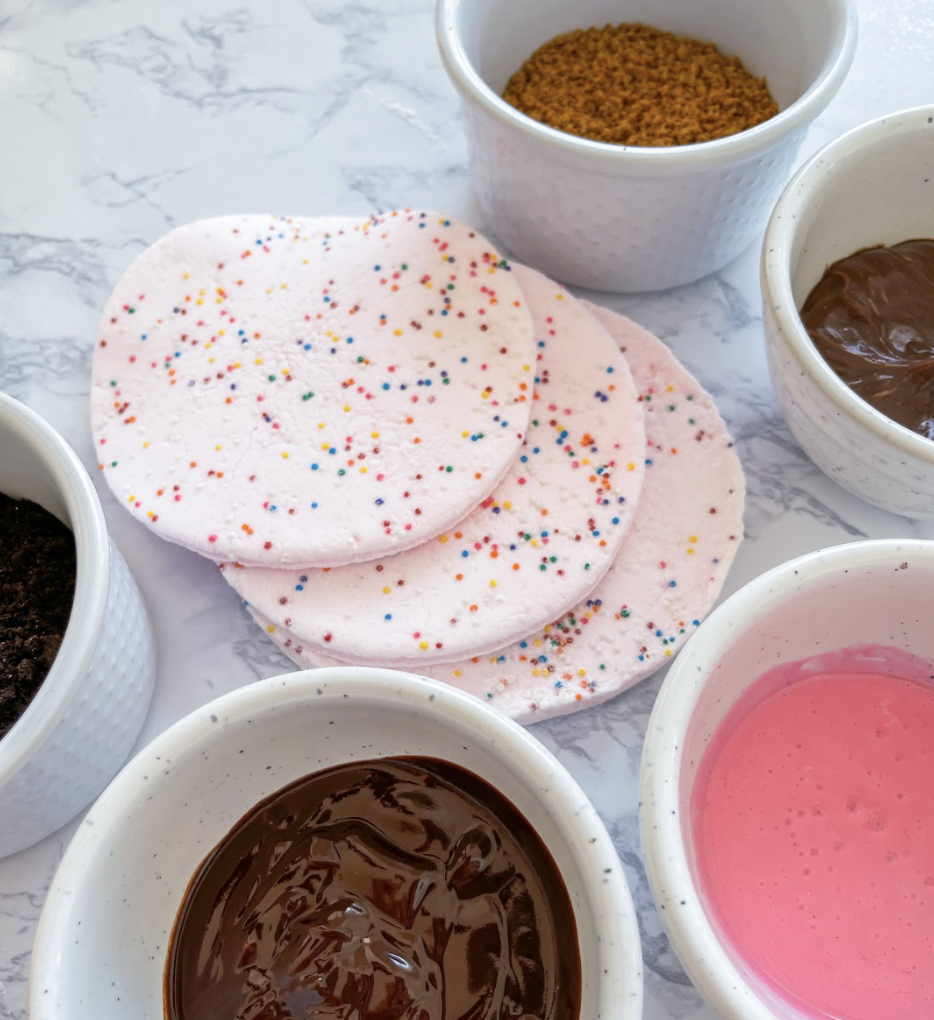 ---
200 gr Sugar
20 gr white corn syrup
9 gr gelatin (Knox brand)
32 gr egg white
Vanilla bean
¼ cup water (⅛ cup to bloom gelatin)
Gel food coloring: optional (Jyoti will be coloring her marshmallow pink)
50 gr dark chocolate
100 gr heavy cream
50 gr milk chocolate
100 gr heavy cream
Graham cracker crumbs
Oreo crumbs
Gold Leaf
Edible glitter spray
In a small bowl, place your gelatin in ⅛ cup of water and set aside to bloom.

Weigh egg whites into the bowl of your stand mixer, and start whipping gently with the whisk attachment.

In a medium saucepan, combine sugar, corn syrup, and water. Set over medium heat.

While egg whites are whipping (to soft peaks), cook sugar mixture until it reaches 240F-250F (soft ball stage). Once temperature is reached, remove from heat.

Turn mixer on low, and slowly stream in your sugar mixture

Once your sugar has been added, whip for 1 minute before adding your bloomed gelatin puck (the heat will melt it).

Add your vanilla, gel coloring, and turn mixer to medium/high and whip for 3-4 minutes until light and fluffy.

While mixture is whipping, prepare two 6" round pans by spraying with oil spray and dusting with icing sugar.

Pour mixture into your prepared pans to ½" thickness, and sprinkle on rainbow nonpareils. Cover tightly with cling film, and let set for 6-7 hours or overnight to firm up.

To prepare your two chocolate ganaches, chop your chocolate finely and place into a heat safe bowl. Heat the cream in the microwave in 30 second increments until hot, and pour over your chocolate. Gently stir with a rubber spatula until smooth. Let it sit at room temperature for a minimum of two hours to let set into a smooth, spreadable consistency.

Crush your graham crackers and oreo cookies, and set aside.

Cut a slit halfway up the marshmallow "tortilla"

Fillings

In the first quarter, spread your dark chocolate ganache
In the second quarter, apply a thin layer of dark chocolate ganache and a spoonful of graham cracker crumbs
In the third quarter, spread your milk chocolate ganache
In the fourth quarter, apply a thin layer of milk chocolate ganache and a spoonful of oreo crumbs

Starting with the bottom left hand quarter, fold it upwards onto the second, then over onto the third, and finally onto the fourth quarter. Decorate your tortilla with gold leaf and edible glitter!
#howtocakeit
Sunday,Monday,Tuesday,Wednesday,Thursday,Friday,Saturday
January,February,March,April,May,June,July,August,September,October,November,December
Not enough items available. Only [max] left.
Add to Wishlist
Browse Wishlist
Remove Wishlist