Ever wondered what to do when life gives you lemons? We got you. These citrus garnishes are the perfect addition to your favorite desserts - and not to mention a delicious sweet treat to enjoy on their own! The cherry (or should we say lemon?) on top of this super easy recipe is that you can also use it to make scented sugar and syrup for a fun twist on drinks!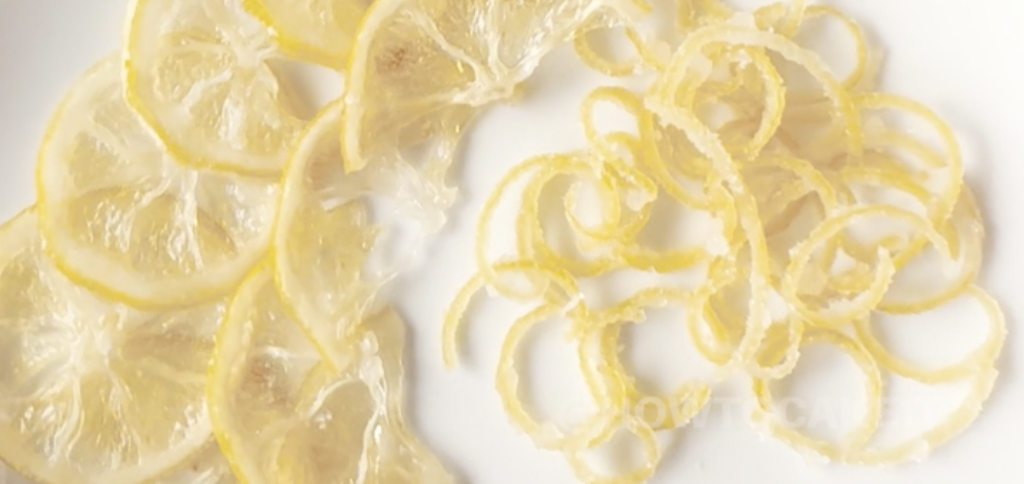 ---
1 1/2 cups water
1 1/2 cups white granulated sugar
3 Tbsp lemon juice (optional)
Once you wash and dry your lemons, use a sharp chef's knife or mandolin to carefully slice the lemons as thinly as possible. If you're opting to make zest, use a vegetable peeler to peel long strips, then use your knife to cut into slivers.

PRO-TIP Any lemon zest sliver scraps can be added to a jar of white granulated sugar to make lemon scented sugar!




In a medium pot, combine the water, sugar, and lemon juice (if you're using!), and bring to a boil.

Once the sugar is dissolved, lower the heat to medium low and add your lemon slices and/or lemon zest in a single layer.

Simmer the lemon slices and/or zest for 10-15 minutes, or until they become translucent. Feel free to flip the slices every few minutes while simmering!

PRO TIP Once you're done simmering, you can save the syrup in an airtight container in the fridge for up to 2 weeks to flavor drinks and recipes!

Carefully remove the lemon slices with a fork and transfer to a wire rack to cool.

Optional: you can dip the lemon slices and/or zest in granulated sugar after they come out of the syrup for added texture and sweetness!




Allow your lemon peels and/or zest to dry at room temperature overnight. If they're still sticky to the touch after 24 hours that's okay, as long as they're not wet. Once dry, store in an airtight container in single layers between pieces of parchment.

Add your lemon garnishes and zest to your favorite desserts and sweet treats. We won't blame you if you want to eat them on their own…they're that good!
#howtocakeit
Sunday,Monday,Tuesday,Wednesday,Thursday,Friday,Saturday
January,February,March,April,May,June,July,August,September,October,November,December
Not enough items available. Only [max] left.
Add to Wishlist
Browse Wishlist
Remove Wishlist