This is one ooey-gooey delicious vanilla cake! Father's Day is just around the corner, and nothing says "I love you Dad" like something homemade- and we all know the way to any man's heart is through his stomach, right? What dad doesn't love a hearty plate of lasagna? Well this year you can blow Dad's mind by CAKING one up!
This Italian classic starts off with 8lbs of my Ultimate Vanilla cake, Italian Meringue Buttercream ricotta cheese, and a healthy dose of red "tomato sauce". Stacked with chocolate covered rice puff "ground beef", and wavy fondant noodles, this hefty cake get its "cheese" on with a topping of grated white chocolate!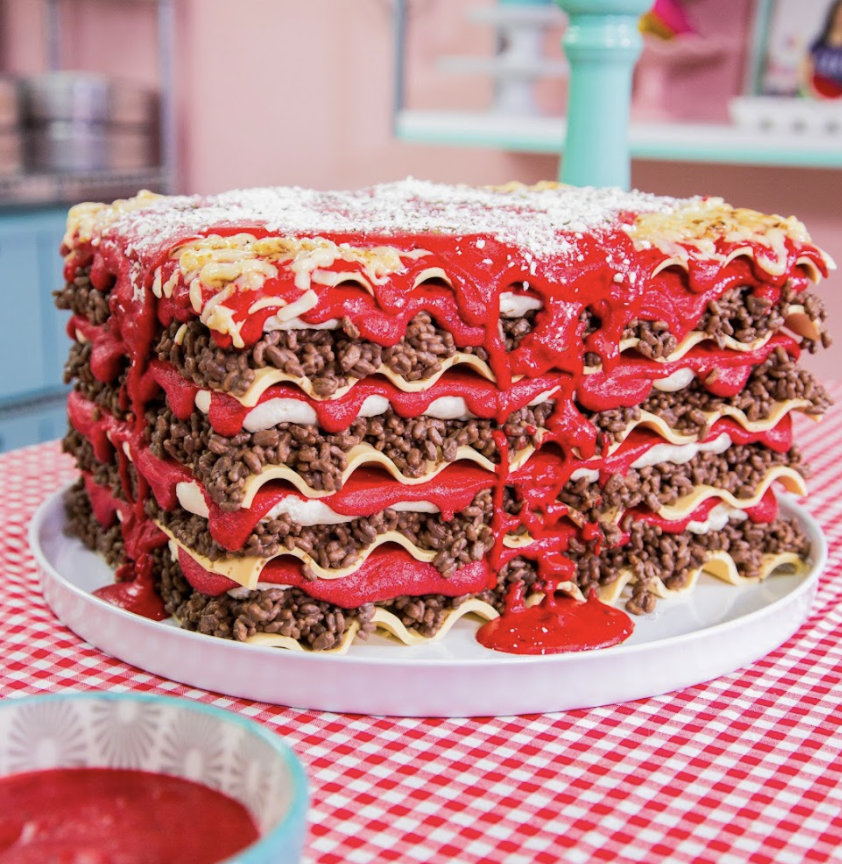 ---
8lbs Yo's Ultimate Vanilla Cake
Yo's Famous Italian Meringue Buttercream
Meringue cookies
Seedless raspberry jam
Dried Mint
Red gel food colouring
Simple Syrup
White Fondant
White Gumpaste
Ivory Gel Food Coloring
Golden Yellow Gel Food Colouring
Buttercup Yellow Gel Food Colouring
Cocoa Rice Puffs
Milk Chocolate Candy Melts
White Chocolate Candy Melts
Black Chocolate Candy Melts
White Modelling Chocolate
White Chocolate Shavings
The day before you make your cake, create your lasagna noodles by mixing 50/50 (half fondant, half gumpaste) with ivory, buttercup yellow, and golden yellow gel food colouring. Divide into 6 sections, and roll into rectangles slightly larger than your cake layers. To create the wavy pattern, evenly space wine corks under your noodles. Remove once your noodles are a little bit set, ensuring that the curl still holds. Leave in a cool dry place to set.

Pour your batter into an 11x15" pan and bake at 350 degrees for 1 hour 40 minutes minutes

Level your cakes, and remove the caramelization from the bottom and sides. Cut your cake in half and layer each in 2, leaving you with 4 cake layers.

Shower all of your cake layers in an even layer of simple syrup.

To make the ricotta layer of your cake, mix crumbled meringue cookies with Italian Meringue Buttercream to create a lumpy texture.

Combine melted milk chocolate, white, and black candy melts into a "meaty" color, and mix into your cocoa rice puffs to create "ground beef"

Mix together Italian Meringue Buttercream, seedless raspberry jam, and red gel food coloring into the perfect "tomato sauce" for your cake. Add a little dried mint for seasoning!

Lay a cake layer on top of your fondant noodle, and add a border of "ground meat". Repeat with all layers and chill for 5 minutes. Once the "meat" is set, apply a layer of ricotta buttercream to each layer, making sure you also cover the "meat".

Begin stacking your cheesy, meaty layers, ladling tomato sauce between each, allowing it to drip down the sides, and sprinkle a little dried mint. Place one last noodle on top, and spread on more tomato sauce.

Grate some white modelling chocolate, and apply a thin layer to the top of your cake. Use a blow torch to gently melt and brown your cheese.

Ladle one last layer of "tomato sauce" in the center of your cake, controlling the drip down the front, and sprinkle white chocolate shavings on top for parmesan cheese.
#howtocakeit
Sunday,Monday,Tuesday,Wednesday,Thursday,Friday,Saturday
January,February,March,April,May,June,July,August,September,October,November,December
Not enough items available. Only [max] left.
Add to Wishlist
Browse Wishlist
Remove Wishlist