It's THAT Jif'ing good! My Jif Squeeze bottle made pulling together this #PeanutButterLasagna (yup) a breeze. I'm talkin' layers of chocolate cake smothered in my velvety peanut butter frosting, spoonfuls of sweet jam, salty pretzels, crunchy PB cookies and even more peanut butter. It's THAT Jif'ing good you'd use it in every layer of a 5 layer cake. @jifbrand you really came through on this one! What would YOU put Jif Squeeze on??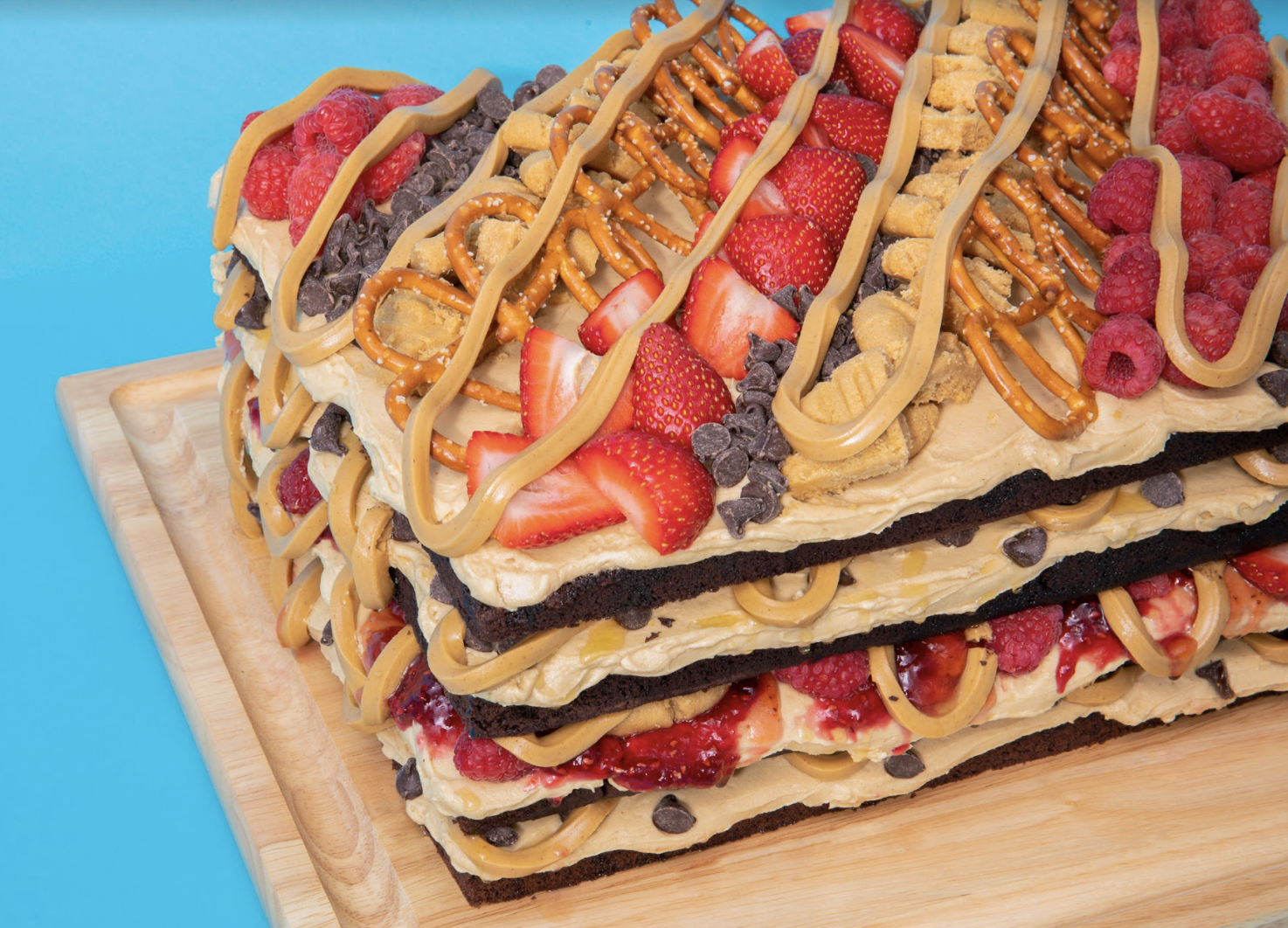 ---
3 Batches of Yo's Ultimate Chocolate Cake
1 Batch of Yo's 3 Ingredient Peanut Butter Cookies
1 Batch of Yo's Simple Syrup
1 Batch of Yo's Peanut Butter Frosting
1 kg. Jar of Peanut Butter
300 gr. Semi Sweet Chocolate Chips
200 gr. Salted Pretzels
340 gr. of Fresh Strawberries
750 gr. Fresh Raspberries
2 cups of Honey
1 cup of Strawberry Jam
1 cup of Raspberry Jam
Bananas
For your Chocolate Cakes, preheat the oven to 350°F and line two 9x13" pan with parchment paper. Prepare 3 batches of Yo's Ultimate Chocolate Cake and weigh out 5 pounds of batter per pan. Bake for 80 minutes or until a toothpick inserted into the center comes out clean, rotating the pans halfway through.

Transfer your cakes to a wire rack and let cool completely in the pan(s). Cover tightly with plastic wrap and refrigerate overnight.

Remove the chocolate cakes from their pans by loosening the edges with a straight spatula and invert the pan(s). Then carefully peel off the parchment.

Use your large serrated knife to level and layer your chocolate cakes. You should now be left with 4 layers of cake!

Use Sir Squeeze-A-Lot to soak all of your leveled layers with simple syrup, then let them sit for a few minutes to absorb.

Have your peanut butter in a piping bag ready to go before layering your lasagna!

To being layering this lasagna, put down your first layer of cake and spread on a luscious layer of peanut butter frosting with an offset spatula. Make sure the frosting goes slightly over the edge of the cake layer.

Lay down a layer of salted pretzels and sprinkle on chocolate chips. Quarter your peanut butter cookies and fill in the gaps. To help the next layer of cake stick together, pipe peanut butter across the whole layer in a diagonal pattern.

Add your next layer of cake, and spread more peanut butter frosting. Start by spooning on your strawberry and raspberry jams, and lay on sliced strawberries and fresh raspberries. Don't forget your peanut butter cookie pieces! Squeeze more peanut butter over the layer.

You know what to do! Lay on your next chocolate cake layer and spread more peanut butter frosting. Next, drizzle honey over the frosting. Slice up your bananas right before placing onto the cake to avoid oxidation. Lay them into your frosting, and add peanut butter cookie pieces. Sprinkle on more chocolate chips, and squeeze more peanut butter on top.

For the final layer of "lasagna", line up your ingredients and create rows along the top of the cake, and finish with a final squeeze of peanut butter!
#howtocakeit
Sunday,Monday,Tuesday,Wednesday,Thursday,Friday,Saturday
January,February,March,April,May,June,July,August,September,October,November,December
Not enough items available. Only [max] left.
Add to Wishlist
Browse Wishlist
Remove Wishlist