I'm using my Blood Red Velvet cake recipe once again, and filling it with a burgundy chocolate ganache. Red and blue fondant veins, pink flesh coloured fondant to cover the whole heart and red food colouring mixed with raspberry jam to make a lot of blood. This cake can serve many purposes. It can be used as an assignment for health class, or you can leave it on your ex's doorstep (and then take it back to eat, because it will taste delicious)!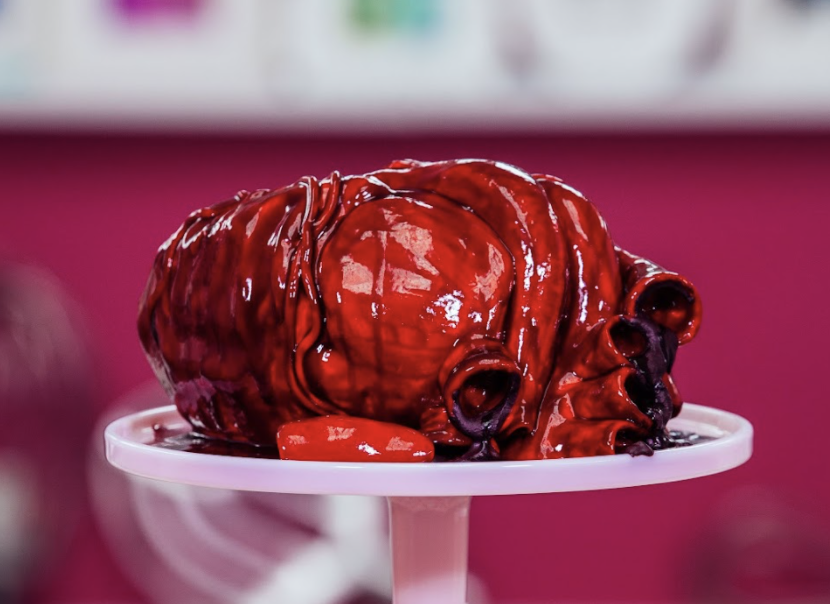 ---
1 x recipe Blood Red Velvet Cake
1 recipe of Chocolate Ganache
Italian Meringue Buttercream
Icing Sugar
Simple Syrup
1 ½ lbs White Fondant
¼ cup Seedless Raspberry Jam
2 oz Red Fondant
2 oz Blue Fondant
Vegetable Shortening
Ivory Icing Colors
Burgundy Icing Colors
2 x Red No Taste
Prepare your Deep Red Velvet batter. Divide it evenly between two stainless steel bowls. Bake at 350 for 1 hour and 10 minutes. Always test your cakes with the toothpick method. Let cool completely in pans.

Prepare your Italian Meringue Buttercream and Simple Syrup. Set aside.

Level each bowl cake, cutting off all the way around while still in their bowls.

Stack the two cakes on top of each other, with the flat tops meeting in the middle. It will look like a not so perfect ball. Begin to carve the shape of a human heart Carve the base of the heart first by trimming the sides. Then carve out the indentations.

Prepare your chocolate ganache. Add in a teaspoon of your Wilton Burgundy, mix together. Let the ganache set at room temperature overnight or at least for 6 hours so that it is thick enough to spread.

Soak both halves of your heart cake with simple syrup. Fill the inside of your cake with the burgundy chocolate ganache.

Crumb coat the entire cake with Italian meringue buttercream and chill for 20 minutes. Ice the cake again, chilling for 20 minutes.

Knead shortening into the red and blue fondant to make it soft. Roll your red fondant into a tub, thin enough to fit in the clay extruder. Use the round faceplate on the clay extruder, and begin making long tubes of red fondant.

Cut pieces of the long red fondant tube and add your veins to the top of your heart cake. Press the veins down slightly to help them stick to your buttercream. Repeat this process with the blue fondant.

Knead the Wilton ivory and burgundy into white fondant. Roll out 1lb as thinly as possible. Drape it over your heart cake and smooth it onto the cake with your palms and fingertips.

Sculpt the opening of the valves by pinching all around the top of your tubes of fondant with your fingertip. Add all of the valves to your heart.

To make the extra parts and valves appear as if they are seamlessly stemming from the heart, use a wet brush to blend the fondant together.

Soften a bit of the pink flesh fondant and fill your clay extruder. Place the 1/8 circle faceplate onto the extruder and push out long thin tubes of fondant. Add the veins, using a little water as your glue.

Mix the two containers of red food colouring together with the raspberry jam. Add a few tablespoons of water, and paint onto the heart.

Melt your leftover burgundy chocolate ganache in the microwave and spoon it into the valve openings.
#howtocakeit
Sunday,Monday,Tuesday,Wednesday,Thursday,Friday,Saturday
January,February,March,April,May,June,July,August,September,October,November,December
Not enough items available. Only [max] left.
Add to Wishlist
Browse Wishlist
Remove Wishlist