Spice it up this holiday season and pair this delicious Holiday Spice Buttercream with any cake! Flavored with nutmeg and (optional) rum, this buttercream is the yummiest way to add some festive cheer.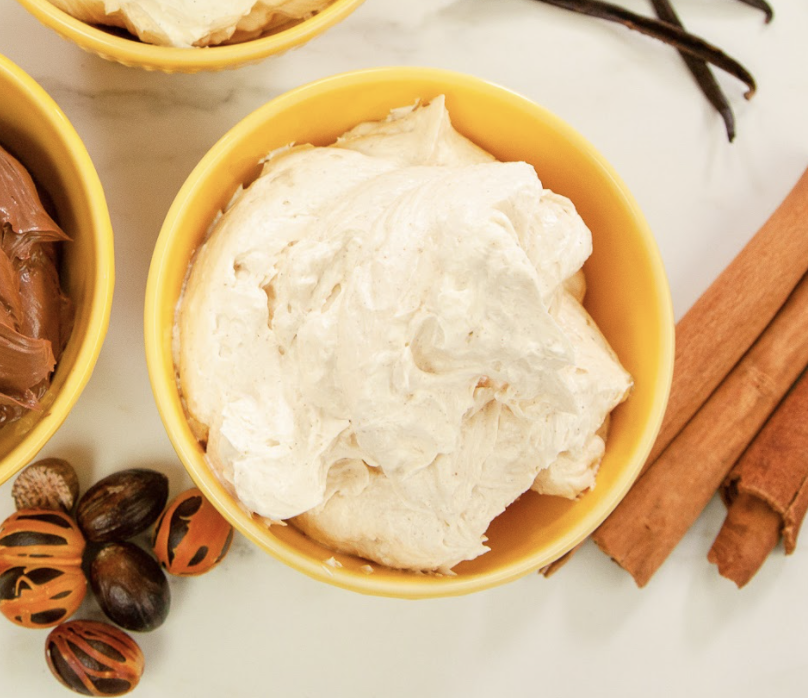 ---
1 3/4 cups granulated sugar (400g)
1/2 cup water
5 large egg whites
1 1/4lbs unsalted butter, room temperature
1/4 tsp ground nutmeg
Cinnamon
1oz rum (optional)
In a small saucepan over medium heat, bring sugar and cup water to a boil.

Place the eggs in the bowl of a standing mixer fitted with the whisk attachment. When sugar reaches about 230 on the candy thermometer, whip the eggs at high speed.

When sugar reaches 240 remove it from heat immediately, and with the mixer running, add it to your eggs in a steady stream.

Continue to whip eggs until no heat remains in the bowl on medium-high speed until stiff but not dry; do not overbeat.

With the mixer still running, add your butter bit by bit, whipping until spreadable, 3 to 5 minutes.

Add rum, cinnamon and nutmeg. Add your brandy (to taste) with a whisk, and then fold in your freshly grated nutmeg and cinnamon.
#howtocakeit
Sunday,Monday,Tuesday,Wednesday,Thursday,Friday,Saturday
January,February,March,April,May,June,July,August,September,October,November,December
Not enough items available. Only [max] left.
Add to Wishlist
Browse Wishlist
Remove Wishlist