Deck Your Cakes With Holiday Buttercream! If only all the swirling snow was rich, dreamy Italian Meringue Buttercream! Could you imagine rolling a giant snowman out of buttercream? And don't even get me started on buttercream ball fights…A less messy way to make your Italian Meringue Buttercream more festive is by infusing it with holiday flavours, three ways! Flavouring buttercream is all about your tastebuds. Add the flavours bit by bit and taste along the way. How's that for holiday fun!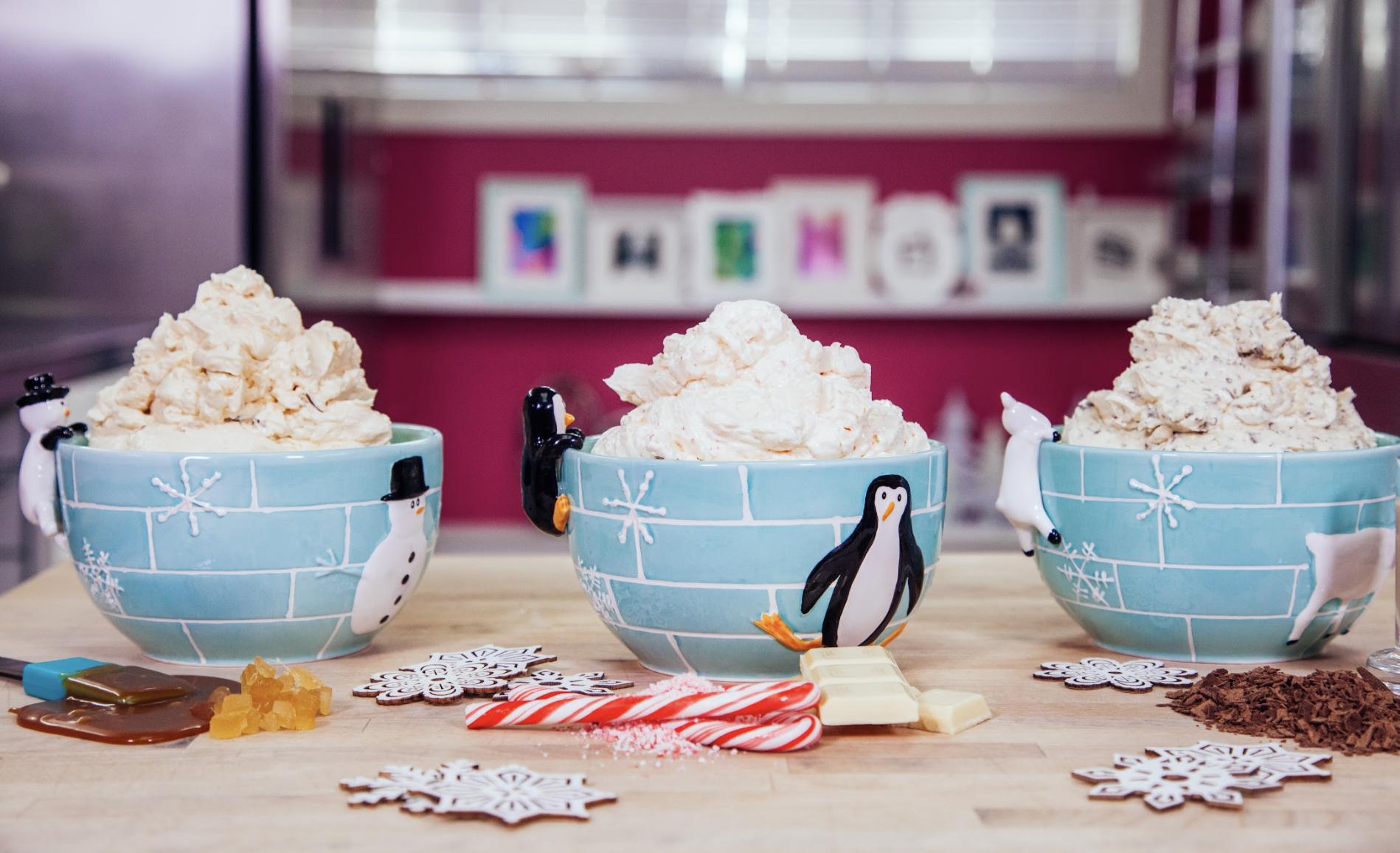 ---
1x portion of Italian Meringue Buttercream (divided)
After The Kids Are Tucked In Buttercream
¼ cup Chocolate Shavings
¼ cup Bailey's Irish Cream
Holiday Cheer Candy Cane Buttercream
¼ cup Candy Cane
4 oz White Chocolate (I used a Lindt bar)
Kris Kringle-worthy Caramel Ginger Buttercream
¼ cup Yo's Rich Caramel
2 tablespoons Candied Preserved Ginger, In Syrup
Feel free to flavour your buttercream a day before, or even a month before and freeze it. Then all you need to do is defrost your

If you are flavouring a whole batch add the flavours to your stand mixer once your buttercream is complete. Less work for you!

Start by making a base batch of my Italian Meringue Buttercream, and dividing it into 3 parts. One recipe will yield 6 cups, so if you're measuring you'll have three 2 cup portions of buttercream.

Now we're ready to mix in our holiday flavours!

Take one of your 2 cup portions of buttercream, and stir in your Bailey's Irish Cream to a little bit at a time. I used ¼ cup, but you might like a little bit more or a little bit less. When I add liquids to my buttercream, I prefer to stir them in with a whisk. Gently fold in the chocolate shavings with a rubber spatula.

Crush your candy canes using a food processor, and set aside. Put your white chocolate in a microwave safe bowl, and microwave in 20-second increments. Stir between heating. Set aside to cool. Once completely cool, fold both white chocolate and candy cane into buttercream with a rubber spatula.

Having the candy cane crushed really fine gives your buttercream a nice pink hue and the sweet minty dust melts in your mouth easily.

Prepare your caramel, and set aside until completely cool. Chop the ginger finely. I chopped mine in a food processor, but by hand will do. I chose the preserved candied ginger in syrup because it had a soft texture and gives the buttercream a nice bit of heat. Sweet heat – yum! Dried candied ginger has nice flavour too, but will be a little harder in your buttercream.

Stir caramel into your buttercream with a whisk, and then gently fold in your candied ginger with a rubber spatula.
#howtocakeit
Sunday,Monday,Tuesday,Wednesday,Thursday,Friday,Saturday
January,February,March,April,May,June,July,August,September,October,November,December
Not enough items available. Only [max] left.
Add to Wishlist
Browse Wishlist
Remove Wishlist