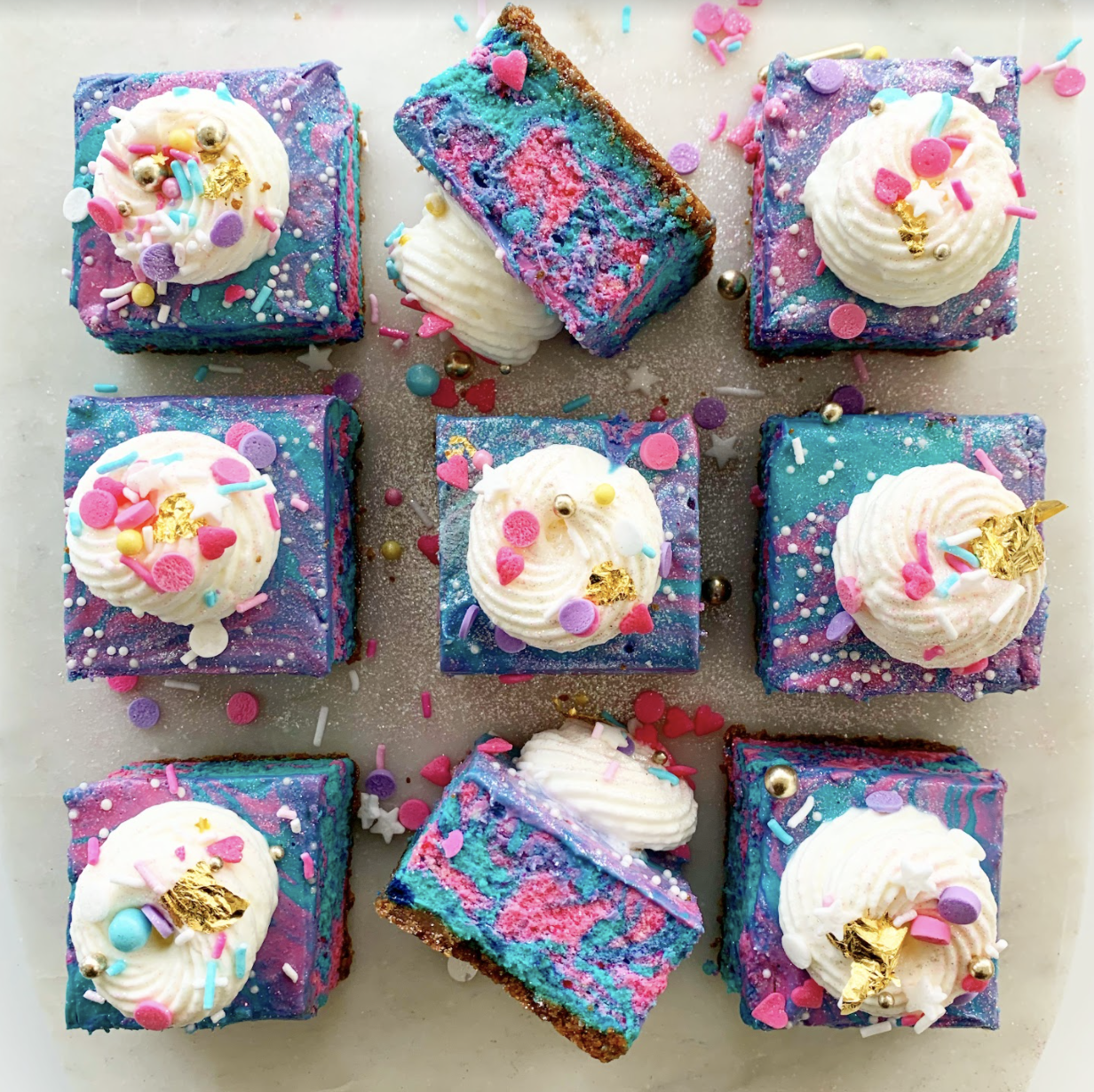 ---
450 g cream cheese
170 g sugar
15 g a/p flour
2 eggs
1 yolk
60 g sour cream
1 1/2 tbsp vanilla
1/2 tsp lemon zest
1 tbsp heavy cream
1 tbsp condensed milk
25-30 g cotton candy
1 tsp cotton candy oil
Pink and blue food gels
130 g crushed Biscoff cookies
Pinch salt
45 g butter, melted
1 tsp cinnamon
150 g white chocolate
70 g heavy cream
15 g cotton candy
Grease and line an 8" x 8" square pan with parchment and set aside. Preheat oven to 325 F.

Combine crushed cookies, salt, butter, and cinnamon in a bowl and mix thoroughly.

Line the bottom of your square pan with the mixture. Press in evenly.

Bake for 15 minutes. Remove and let cool.

Fit your mixer with your paddle attachment, and combine cream cheese, sugar, and lemon zest. Mix until they are thoroughly combined and smooth. Add eggs and yolk one at a time. Mix between each addition. Add sour cream, flour, heavy cream, condensed milk, vanilla, and cotton candy oil. Scrape your bowl and mix until smooth and combined.

Divide cheesecake batter into two bowls, and colour one bowl with blue, and the other with pink. Before you mix, add your cotton candy into each. Mix gently as you do not want to over mix at this stage.

Once colours and cotton candy have mixed in, pour a couple tbsp into your pan. Repeat this until all your batter is in your pan. Swirl with a butter knife until happy with the pattern.

Bake for 40-50 minutes, or until cheesecake is no longer jiggly. Bake with an empty tray above to prevent direct heat.

Once cheesecake is baked, turn oven off, and let it cool in the oven for an hour. This will prevent any baking.

Prep your ganache by melting cotton candy into your cream and then pouring it over your chocolate. Divide ganache, colour it, and pour it once your cotton candy cheesecake has fully cooled.

Pop into freezer for 4-5 hours.

Cut into squares, top with whipped cream, and sprinkles.
#howtocakeit
Sunday,Monday,Tuesday,Wednesday,Thursday,Friday,Saturday
January,February,March,April,May,June,July,August,September,October,November,December
Not enough items available. Only [max] left.
Add to Wishlist
Browse Wishlist
Remove Wishlist