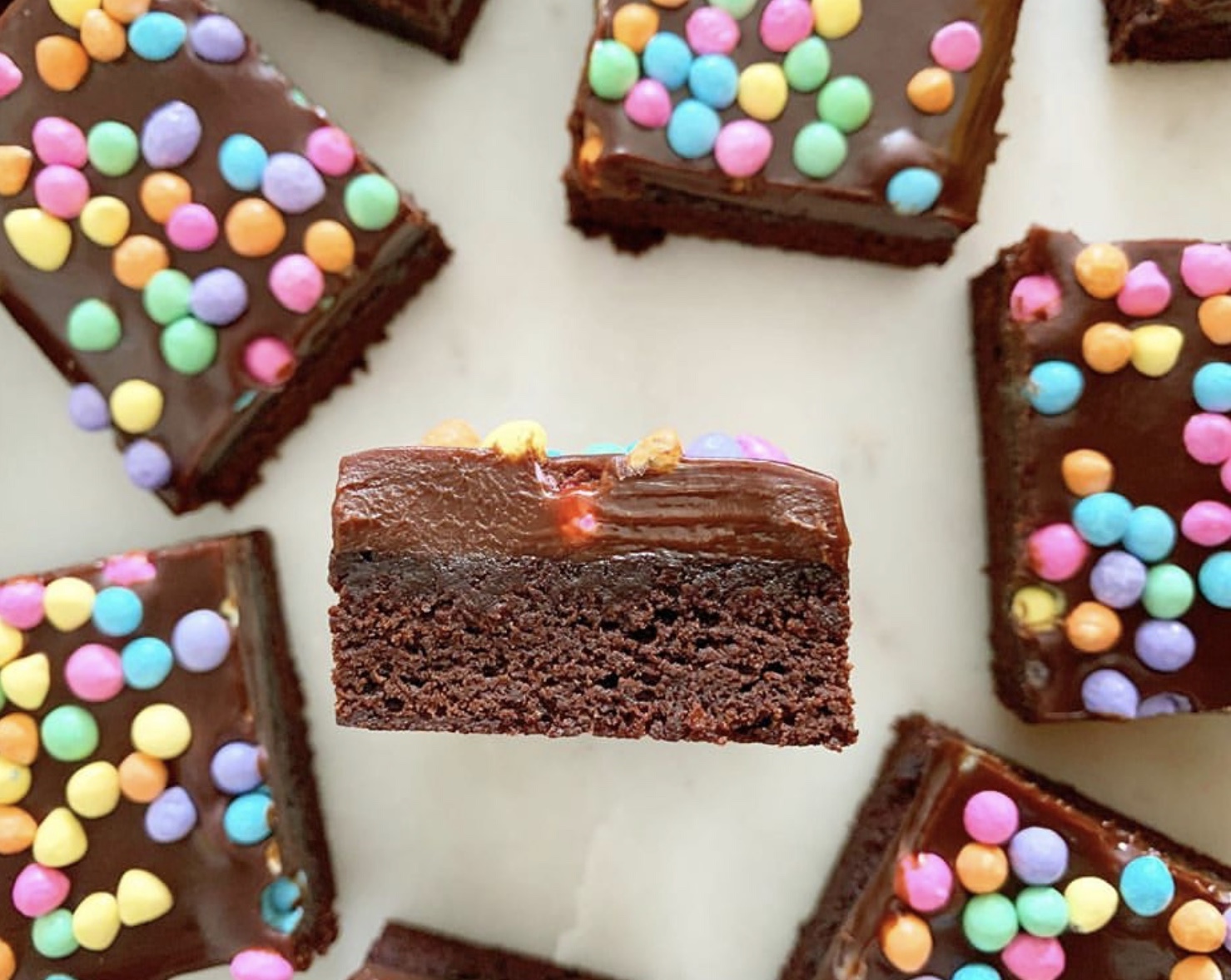 ---
Brownies
85 gr Unsalted Butter, melted
185 Granulated White Sugar
2 Large Eggs
1 tsp Vanilla Extract
65 gr All Purpose Flour
50 gr Cocoa Powder
Pinch of Salt
2-3 Tbsp Milk
Bit Chips
Ganache
100 gr Dark Chocolate
100 gr Milk Chocolate
½ cup Heavy Cream
Use a high quality dark chocolate (between 56% and 72%) for your ganache. This ensures a glossy, rich, and delicious ganache for these brownies!

Preheat your oven to 325°F and line a 9x9" pan with parchment paper.

In the bowl of a stand mixer fitted with the whisk attachment, combine the melted butter and sugar, and whisk until combined and light in color.

Add in the eggs and continue to mix until the mixture is pale and light.

Add the cocoa, flour and salt, mixing until just combined (be careful not to overmix!). Add milk and vanilla and whisk until the batter is slightly loose, and well combined.

Spread the batter into your prepared pan, and bake for 20-25 minutes. Remove from the oven to cool.

For the ganache, chop your dark chocolate and place into a heat safe bowl. Warm ½ of heavy cream in the microwave in 30 second increments until hot. Pour it over your chocolate and let it sit for 5 minutes. Once the chocolate has melted, gently whisk the cream and chocolate together until combined. Let it cool slightly.

Once the brownies have cooled, pour your ganache on top and use an offset spatula to spread over the top.

Sprinkle on bit chips and place brownies in the fridge for 1-2 hours to set.

Once set, cut the brownies with a warm knife, cleaning the blade between each cut.
#howtocakeit
Sunday,Monday,Tuesday,Wednesday,Thursday,Friday,Saturday

January,February,March,April,May,June,July,August,September,October,November,December

Not enough items available. Only [max] left.

Add to Wishlist

Browse Wishlist

Remove Wishlist

--> {{#tiers}}
{{{quantity}}}+
{{{price.title}}}
{{/tiers}} -->