Nothing more classic than cheesecake! Are you looking for the perfect cheesecake recipe? Look no further! This recipe makes for the ultimate cheesecake with its pretzel and graham cracker crust, cream and mascarpone cheese filling, and even a hint of fresh vanilla bean! This cheesecake is creamy but also light and makes for the perfect base for a ton of toppings like in my Hibernation Mega Treats!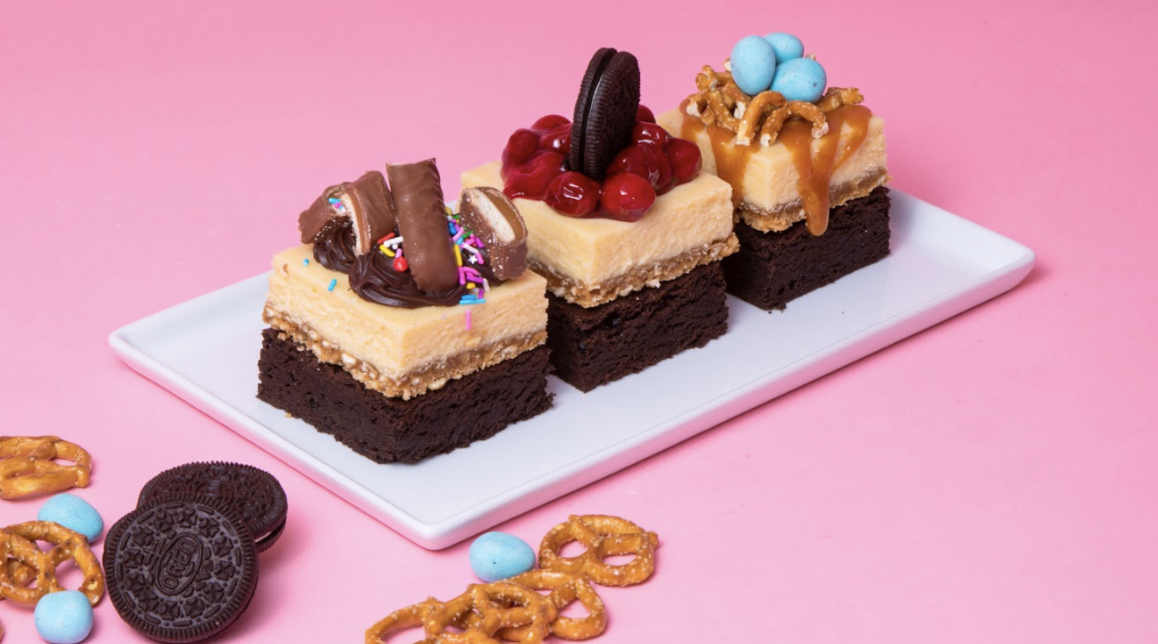 ---
2 cups cream cheese
1 ⅓ cup granulated sugar
1 cup mascarpone cheese
3/4 cup sour cream
1 tsp vanilla
1 vanilla bean
3 eggs, room temperature
½ all purpose flour
½ cup graham cracker crumbs
¼ cup of granulated sugar
Salted pretzels
6 tbsp unsalted butter
To create the crust of your cheesecake, begin by crushing up your salted pretzels in a food processor (you'll need about 1¼ cup of crumbs). Add your crushed up pretzels to a mixing bowl and add in your graham cracker crumbs and sugar then mix them together. Melt your butter and pour it in then continue to mix. Once combined, pour your mix into a 9x13" rectangular pan then press it all down firmly.

In the bowl of your stand mixer, add in your cream cheese and granulated sugar then cream it together on low then slowly work your way up to high speed. Once combined, turn your mixer off and add in your vanilla extract and mascarpone cheese. Carefully cut your vanilla bean open then take your knife and scrape the back of the bean and add the tiny little seeds to your sour cream. Add your sour cream to the mixer bowl as well and start mixing on low again working your way up. Lastly, add in your eggs and turn your mixer onto 'stir' until fully incorporated.

Pour your cheesy mixture over your cheesecake crust then use an offset spatula to level it out evenly.

You'll need to bake your cheesecake in a waterbath so to do so, place the pan with your cheesecake in it into a larger pan so that it sits comfortably then once you place it on the oven rack, fill the outer pan with hot water about an inch up. Bake your cheesecake at 250 degrees Fahrenheit for an hour and 40 minutes.




TIP: The best way to bake a cheesecake is at a low heat for a long time. The time may vary depending on your oven so be sure to check every so often.
#howtocakeit
Sunday,Monday,Tuesday,Wednesday,Thursday,Friday,Saturday
January,February,March,April,May,June,July,August,September,October,November,December
Not enough items available. Only [max] left.
Add to Wishlist
Browse Wishlist
Remove Wishlist