Bake these in the morning for an instant wake up call for anyone in your household. These cinnamon rolls get people out of bed! I used these flaky, buttery rolls to top my Mega Breakfast Cake, but theyre also perfect for as a solo dessert or brunch!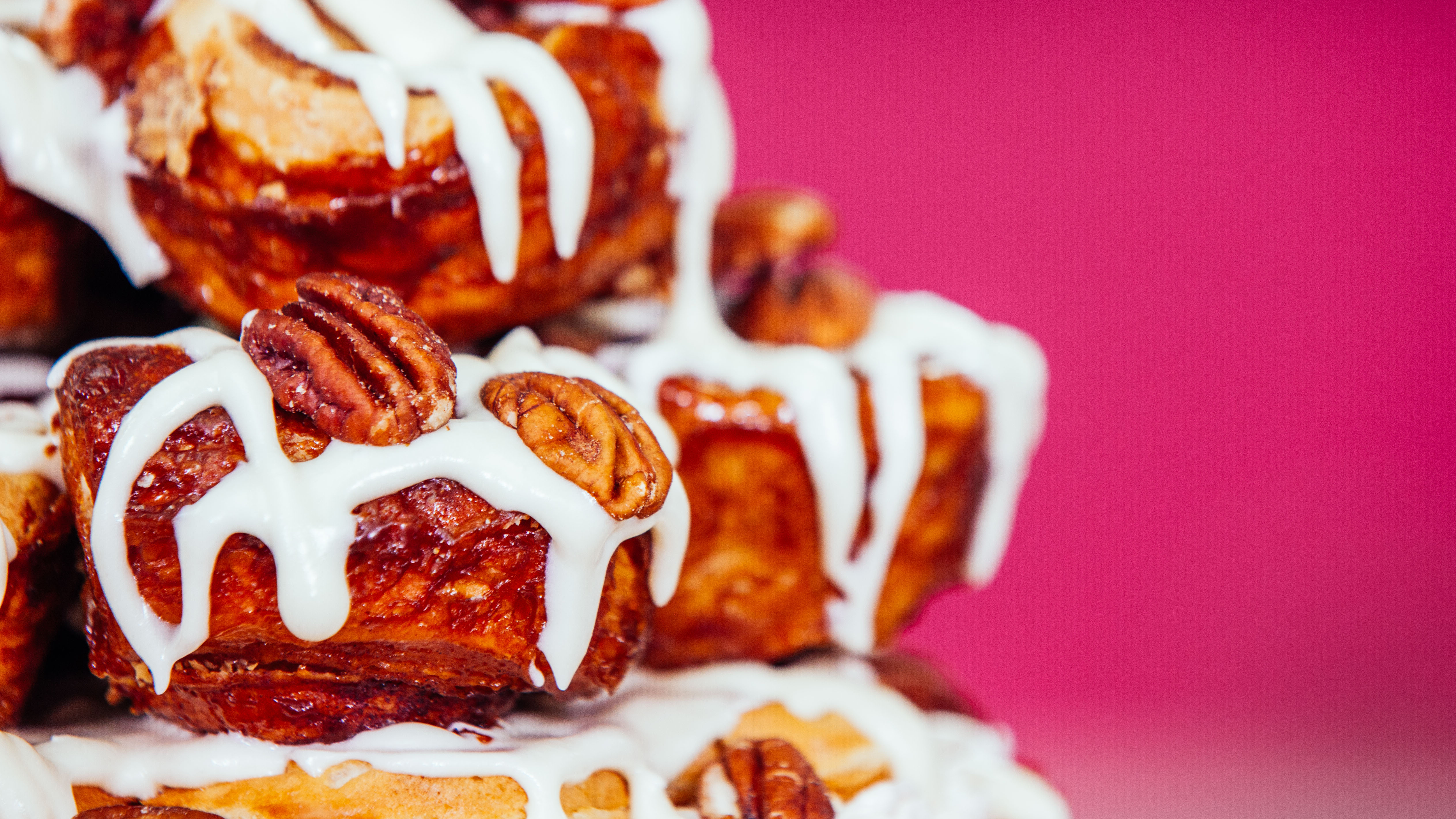 ---
¾ cup Unsalted Butter, room temperature
1 cup Brown Sugar
1 package Frozen Butter Puff Pastry (2 sheets), thawed in the fridge
2 teaspoons Cinnamon
Melt 2 tablespoons of butter in the microwave.

In a separate bowl, stir together the remaining butter with 2/3 cup of brown sugar until it forms a paste.

Fill the bottom of the 12 openings in your muffin pan with 1 tablespoon of the mixture in each tin. Spread with your fingertips.

Mix the rest of the brown sugar with your cinnamon.

Roll out the first sheet of puff pastry, leaving parchment underneath. Brush melted butter across the entire surface.

Sprinkle half the of the cinnamon sugar mixture over the surface, leaving a 1 border along the top.

Roll up the pastry with the bottom edge closest to you. Use the parchment paper to help you press and roll the pastry away from you.

Cut off the uneven ends of the pastry with a sharp knife. Cut the roll evenly into pieces about 1 thick. Place the pieces into the muffin pan with the cinnamon sugar spiral facing up.

Bake at 400 degrees for 30 minutes, until they are golden brown. Allow to cool for 5 minutes before removing from the pan, and onto a lined tray to finish cooling.
#howtocakeit
Sunday,Monday,Tuesday,Wednesday,Thursday,Friday,Saturday
January,February,March,April,May,June,July,August,September,October,November,December
Not enough items available. Only [max] left.
Add to Wishlist
Browse Wishlist
Remove Wishlist