Whoever coined the term, "if it ain't broke, don't fix it" clearly hasn't met Yo, because she's back at it with another recipe that has somehow made something we didn't know could get any better, well, way better.
These cinnamon bun cookies are everything we love about a classic cinnamon bun - they're chewy, they're sweet, and they're just the rightttttttt amount of spice - but you can eat them without getting your hands and every other surface in sight covered in icing! Oh, and you can also eat more than one in one sitting without feeling sick to your stomach…but you didn't hear that from us. 🤫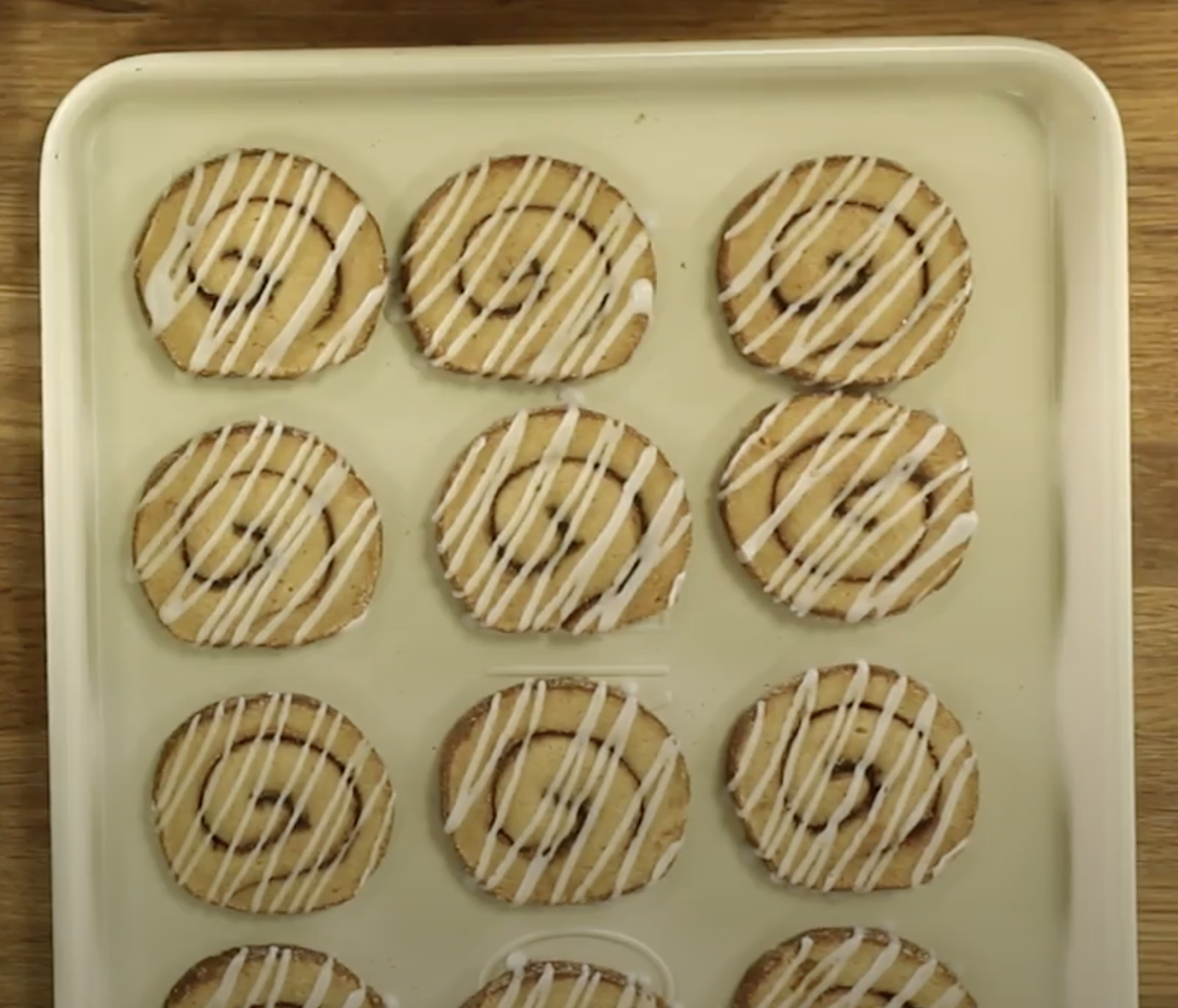 ---
1/2 cup sugar
2 Tbsp ground cinnamon
3 cups all purpose flour
2 tsp baking powder
1 tsp ground cinnamon
1/2 tsp salt
1 cup unsalted butter, room temperature
1 cup brown sugar 2 eggs, room temperature
1 tsp vanilla extract
1 cup powdered sugar
1/4 cup warm water
1/2 tsp meringue powder
Combine the sugar and cinnamon for the filling, then set aside. Whisk together the flour, baking powder, 1 tsp cinnamon, and salt together in a bowl. Set aside.

In a large bowl, cream the butter and brown sugar in a bowl with a mixer until smooth. Add the eggs and vanilla and mix until incorporated. With the mixer on low speed, add the dry ingredients, blending just to incorporate. Be careful not to overmix!

Trace a 16 x 9" rectangle on a sheet of parchment paper. Pat the dough into the rectangle using your hands, then sprinkle half of the cinnamon-sugar mixture over the dough.

Beginning on the long side and using the paper to help you, roll the dough into a log, then dust the outside of the log with remaining cinnamon-sugar mixture. Wrap log in plastic and chill for at least 3 hours.

Preheat the oven to 350F, and line two baking sheets with parchment paper.Slice the chilled dough into 1/4" thick slices and arrange on prepared baking sheets, spacing 1" apart. Bake 10-12 minutes, or until golden brown. Let cookies cool on the pan for 5 minutes, then transfer to a rack.

While cookies are cooling, make the icing! Combine the ingredients in a bowl and drizzle over cooled cookies. Let stand at room temperature until the icing dries.
#howtocakeit
Sunday,Monday,Tuesday,Wednesday,Thursday,Friday,Saturday
January,February,March,April,May,June,July,August,September,October,November,December
Not enough items available. Only [max] left.
Add to Wishlist
Browse Wishlist
Remove Wishlist