Look, not everyone loves Margaritas, but we do. We love them a lot. A LOT. Whether frozen and blended, classic or with funky flavors, nothing feels like a beach resort in a glass quite like a Margarita. But since we do cakes around here, not drinks, we figured we'd funnel the feel and flavor into a batch of zesty sweet cupcakes.
They're alcohol free, so everyone including kiddos can enjoy them, but no judgment if you want to toss a little tequila in the frosting or have a shot of Mezcal while waiting for the cupcakes to cool.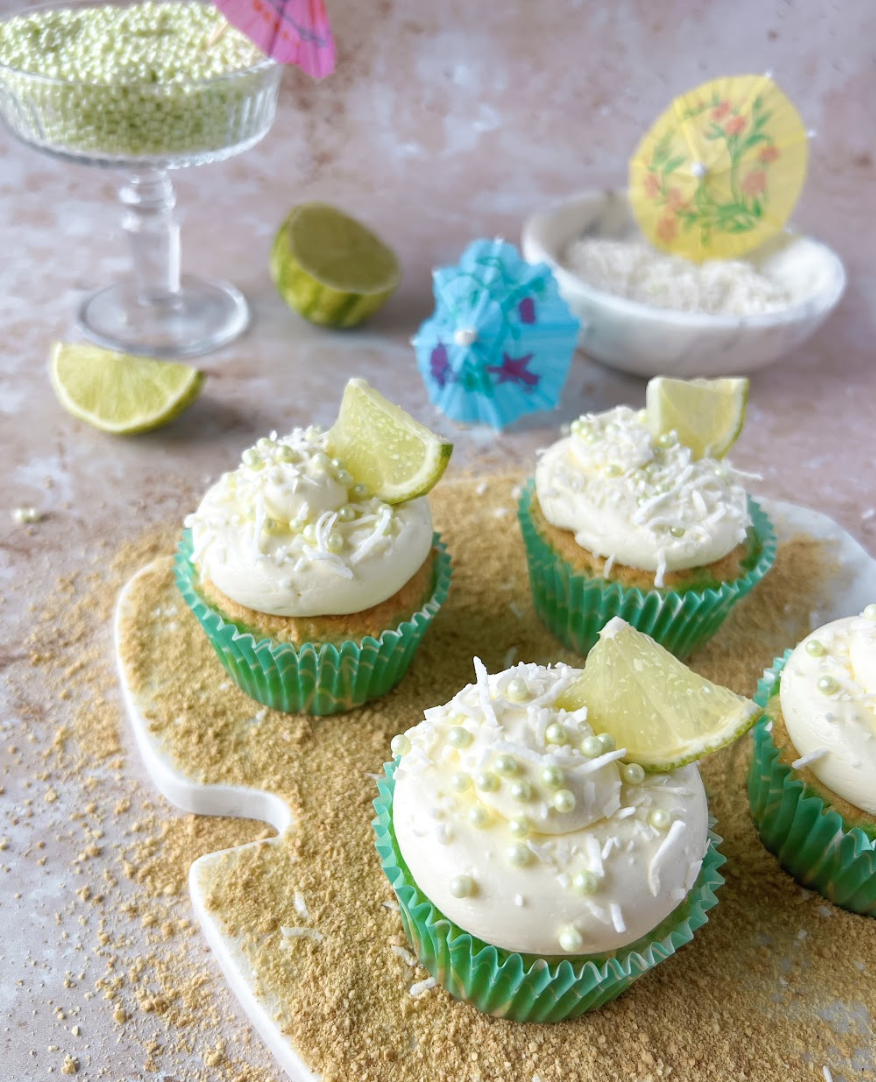 ---
1 1/2 cups All Purpose Flour
1 1/2 tsp Baking Powder
1/4 tsp Salt
1/2 cup White Sugar
1 1/2 cups melted Unsalted Butter, cooled
1 Tbsp Lime Zest
2 Tbsp Lime Juice
2 Large Eggs, Room Temperature
1 tsp Pure Vanilla Extract
1/2 cup Whole Milk, Room Temp
1 cup Unsweetened Shredded Coconut, more for garnish
Green Gel Food Coloring
1 Batch of Vanilla Buttercream (to dress it up you can mix in some lime zest and maybe a splash of tequila if you're baking for grown ups)
Optional: Fresh Lime Wedges & Sprinkles

Preheat oven to 350F and line your muffin tins with cupcake liners.

In a large bowl, combine the flour, baking powder, and salt. Set aside.

In the bowl of a stand mixer fitted with a paddle attachment, cream the sugar, butter, and lime zest together until light and fluffy.

Add the vanilla and the eggs, one at a time, making sure to scrape the sides and bottom of the bowl.

Add in your dry ingredients in four parts, alternating with the milk in three parts. Be careful not to overmix!

With a rubber spatula, mix in the lime zest, then fold in the shredded coconut.

Color the batter with green gel food coloring.

Scoop your batter into the muffin tins, filling 1/2 way up.




Bake for 12-14 minutes or until a toothpick inserted in the center comes out clean.

Once they've cooled completely, pipe on your zesty vanilla lime buttercream and garnish with a fresh lime wedge, more shredded coconut and fun sprinkles!

Let us know how yours turn out and if try any fun additions or substitutions! Maybe a dairy free version with coconut milk? Some kind of salt rim garnish? Orange Liquer Buttercream? We love seeing how our posts inspire your endless creativity! 🥥



#howtocakeit
Sunday,Monday,Tuesday,Wednesday,Thursday,Friday,Saturday
January,February,March,April,May,June,July,August,September,October,November,December
Not enough items available. Only [max] left.
Add to Wishlist
Browse Wishlist
Remove Wishlist