These deserve an extra brownie point! What's better than a warm ooey gooey brownie fresh out of the oven?... No seriously, I'm asking because I can't think of anything better! This chocolate brownie recipe will become your new go-to recipe - it's super easy to make and soooo delicious. Brownies are fantastic on their own but also stacked up with other treats! Such as a cheesecake square like in my Hibernation Mini Treats!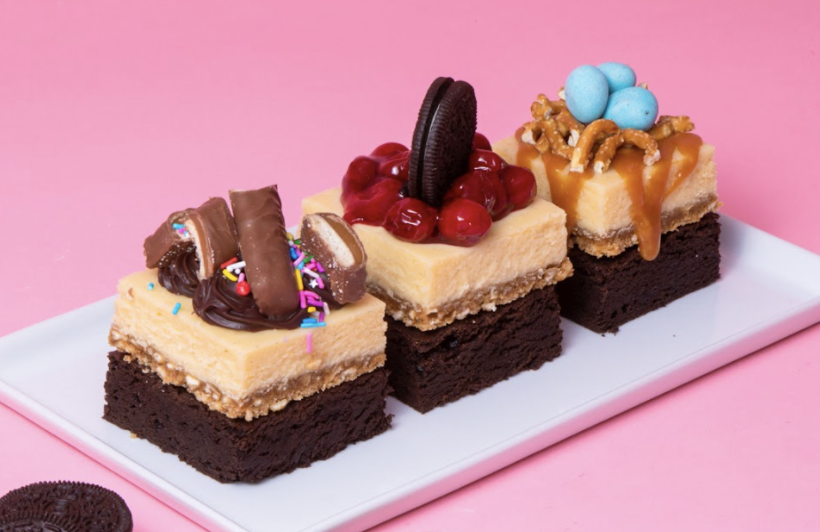 ---
11 ½ oz semi sweet chocolate
1 cup unsalted butter
½ cup granulated sugar
1 ¼ cup light brown sugar
½ tsp salt
1tsp vanilla
6 eggs
1 ¼ cup flour
¼ cup dutch processed cocoa
Oreos (optional)
Add your butter and chocolate to a heatproof bowl and place it over a pot of water. Let the water come to a boil then switch it off (the steam will continue to melt the chocolate and butter) then mix it all together with a wooden spoon until smooth.

Remove your melted chocolate from the heat then whisk in your granulated sugar, light brown sugar, and salt.

Crack 4 eggs into a small bowl. In another separate bowl, crack two more eggs but only keep the yolks. Add your eggs and vanilla in with the chocolate mixture then continue to mix.

Sift in your flour and cocoa powder on top and fold them both into the batter. Mix until all ingredients are combined.

Pour your batter into a 9x13" pan lined with parchment paper and use a rubber spatula to spread it out evenly Line Oreos on top of your brownie then bake at 350 degrees Fahrenheit for about 30 minutes.

Once your brownies have cooled, carefully remove the sheet from the pan (use a cake board to flip the sheet over to reveal the Oreos if flipped. Take a ruler and a large chef's knife and cut your brownies into equal squares.
#howtocakeit
Sunday,Monday,Tuesday,Wednesday,Thursday,Friday,Saturday
January,February,March,April,May,June,July,August,September,October,November,December
Not enough items available. Only [max] left.
Add to Wishlist
Browse Wishlist
Remove Wishlist