Making ooey-gooey brownies have never been easier! Check out our delicious recipe for the best brownies on the block featuring easy baking tips that guarantee extra chewy goodness!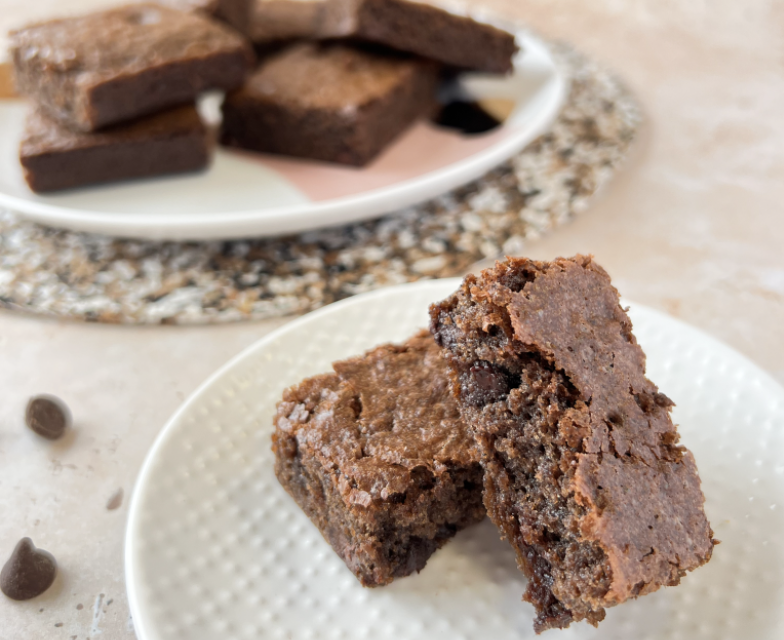 ---
300 grams dark brown sugar
112 grams unsalted butter
4 large eggs
1 tsp vanilla extract
pinch of salt
95 grams all purpose flour
15 grams dutch processed cocoa powder
1 tbsp espresso powder
1 cup semi sweet chocolate chips.
Let brownies bake in the oven for 15 minutes

Then remove from oven, and let them rest on the counter for another 15 minutes

Then put them *back* in the oven to finish off remaining bake time.

Preheat oven to 350F, and grease a 8x13-inch brownie pan. Set aside.

In a medium sized bowl, whisk together the flour, cocoa powder, and espresso powder until combined. Set aside.

In a large bowl, use a hand mixer to blend the dark brown sugar and butter for about two minutes. Add your eggs one at a time, then your vanilla and salt.

With a rubber spatula, fold in the dry ingredients, being careful not to overmix!

Pour your batter into your prepared brownie pan, and use an offset spatula to smooth out the top. Sprinkle on your chocolate chips.

Bake for 15 minutes, then remove the pan from the oven! Let it cool for another 15 minutes, then finish baking them off for the final 15 minutes.




Cool completely in the pan, then transfer to a cutting board and cut into squares!
#howtocakeit
Sunday,Monday,Tuesday,Wednesday,Thursday,Friday,Saturday
January,February,March,April,May,June,July,August,September,October,November,December
Not enough items available. Only [max] left.
Add to Wishlist
Browse Wishlist
Remove Wishlist