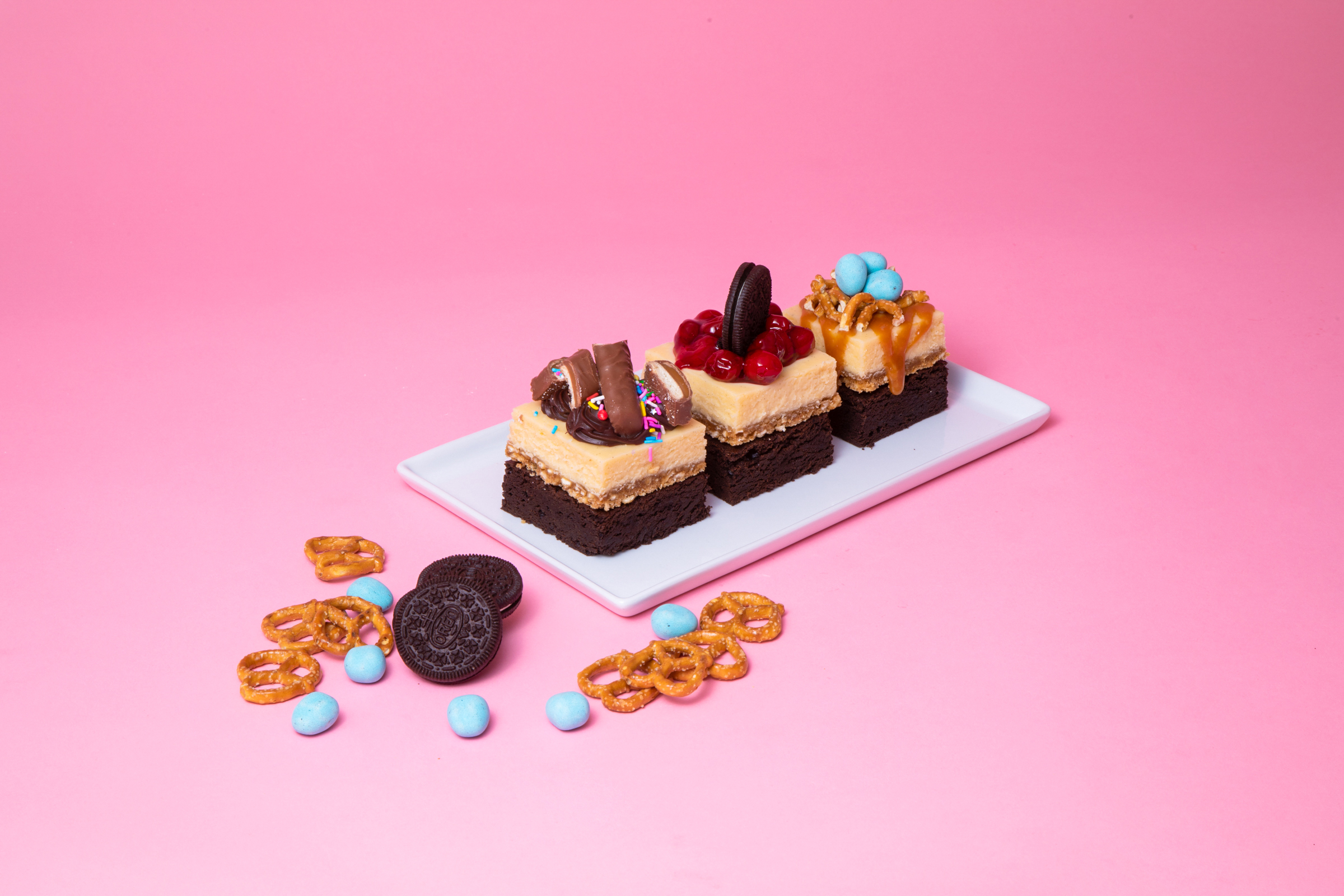 ---
11 ½ oz Semi Sweet Chocolate
1 cup Unsalted Butter
½ cup White Granulated Sugar
1 ¼ cup Light Brown Sugar
½ tsp Salt
1 tsp Vanilla Extract
6 Large Eggs
1 ¼ cup All Purpose Flour
¼ cup Dutch Processed Cocoa
Oreos
Salted pretzels
½ cup Graham Cracker Crumbs
¼ cup of White Granulated Sugar
6 Tbsp Unsalted Butter
2 cups Cream Cheese, room temperature
1 ⅓ cup White Granulated Sugar
1 cup Mascarpone Cheese, room temperature
¾ cup Sour Cream
1 tsp Vanilla Extract
1 Vanilla Bean
3 Large Eggs, room temperature
½ cup All Purpose Flour
½ batch of Yo's Dark Chocolate Ganache
Cherry pie filling
Oreos
Caramel
Twix
Pretzels
Mini chocolate eggs
Prepare a half batch of Yo's chocolate ganache recipe a day in advance, then let sit at room temperature overnight

Preheat the oven 350°F and line a 9x13" pan with parchment paper. Set aside.

Add your butter and chocolate to a heatproof bowl and place it over a pot of water. Turn on the burner and once the water comes to a boil, turn off the heat and let the steam continue to melt the chocolate and butter (make sure the bottom of the bowl is not touching the water). Mix with a wooden spoon until smooth.

Remove your melted chocolate from the heat and whisk in your granulated sugar, light brown sugar, and salt. Crack 4 eggs into a small bowl, and separate two more yolks into the bowl. Add your eggs and vanilla and continue to mix.

Sift in your flour and cocoa and fold them into the batter using a rubber spatula. Mix until all ingredients are combined (be careful not to overmix!).

Pour the batter into your 9x13" pan using a rubber spatula to spread it evenly. Line Oreos on top of your brownie then bake for 30 minutes.

Once your brownies have cooled, carefully remove the sheet from the pan (use a cake board to flip the sheet over to reveal the Oreos). Take a ruler and a large chef's knife and cut your brownies into equal squares.

For the cheesecake crust, begin by crushing up your salted pretzels in a food processor. You will need 1 ¼ cups of pretzel crumbs. Add your crushed pretzels to a mixing bowl and add in your graham cracker crumbs and sugar, then mix them together.

Melt your butter and pour it into your crumb mixture, and stir to combine.

Pour your mixture into a lined 9x13" pan, then press it all down with another pan with a flat bottom.

For the cheesecake filling, add the cream cheese and granulated sugar in the bowl of your stand mixer. Cream together on low speed, slowly working your way up to high speed. Once combined, turn your mixer off and add in your vanilla extract and mascarpone cheese. Split your vanilla bean lengthwise with a sharp paring knife, and scrape out the seeds with the tip of your knife. Add the seeds to the bowl, along with the sour cream. Start mixing on low, working your way up to high speed.

Lastly, add in your eggs and turn your mixer onto "stir" until fully incorporated.

Pour your cheesecake filling over your crust, then use an offset spatula to level it out. You'll need to bake your cheesecake in a waterbath; to do so, place the pan with your cheesecake into a larger pan so that it sits comfortably. Once you place your pan into the oven, fill the outer pan with one inch of hot water. Bake your cheesecake at 250°F for an hour and 40 minutes.

Once your cheesecake has cooled, carefully remove it from the pan and remove the parchment paper. Next, take a ruler and a chef's knife and cut the same sized squares as your brownies.

Place your chocolate ganache into a piping bag, and pipe a small circle onto each brownie square - this will act as the glue! Add a cheesecake square on top of each brownie.

Time for toppings! Use your cherries, Oreos, and excess chocolate ganache to decorate your mini treats! Get as creative as you'd like and pile on the toppings as high as your heart desires!
#howtocakeit
Sunday,Monday,Tuesday,Wednesday,Thursday,Friday,Saturday
January,February,March,April,May,June,July,August,September,October,November,December
Not enough items available. Only [max] left.
Add to Wishlist
Browse Wishlist
Remove Wishlist