This cake is bananas! B-A-N-A-N-A-S!
Since Banana cake is a very similar flavor to traditional banana bread, anddd that it's national Banana Bread Day we thought we'd share a recipe with you. The only real difference is that banana cake is not as dense or sweet as banana bread 🙂. Enjoy xo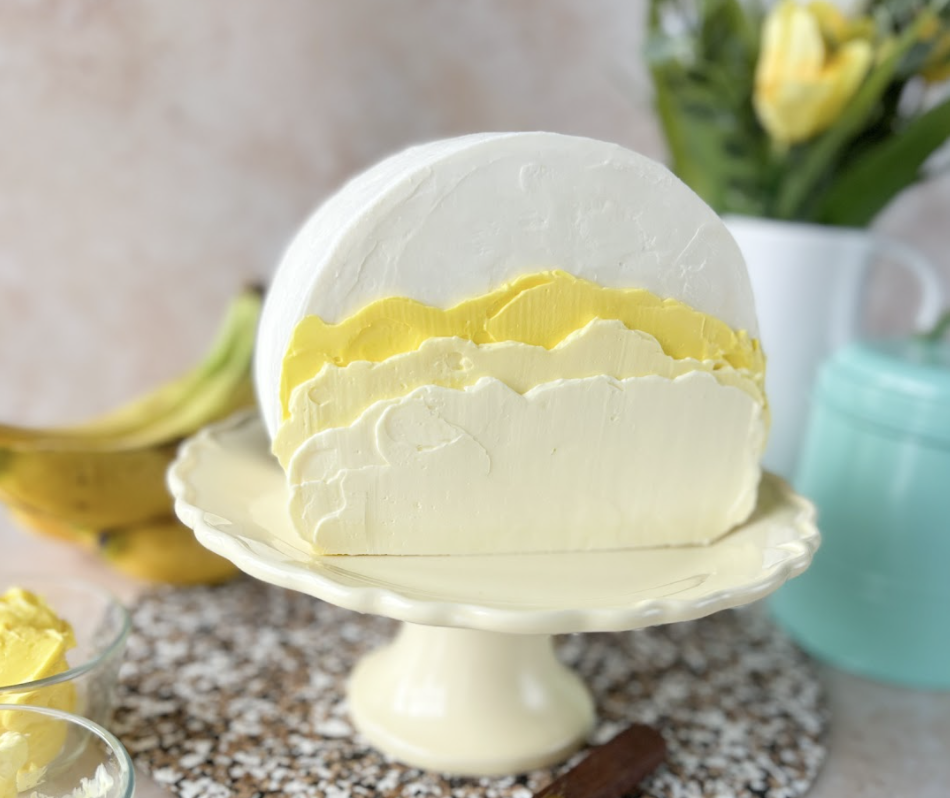 ---
200 grams all-purpose flour
1 tsp baking powder
½ tsp baking soda
¼ tsp kosher sallt
113g unsalted butter , softened
150g granulated sugar
2 lg eggs, room temp
1 ½ tsp pure vanilla extract
175g mashed ripe bananas (2-3)
90g sour cream
Preheat oven to 350°F. Line two 6-inch round cake pans with parchment paper or magic paste (see our magic paste reel) Set aside.

In a medium bowl, whisk together flour, baking powder, baking soda, and salt. Set aside.

In the bowl of a stand mixer fitted with paddle attachment, cream butter, sugar, and vanilla until smooth. Scrape down sides of bowl as needed.

Mixing on low speed, add eggs one a time. Add in mashed bananas. Mix on medium speed until well combined.

Add half of dry flour mixture. Mix on low speed until almost incorporated. Follow with sour cream. Mix. Then, add remaining half of dry flour. Mix on low speed until just combined. Finish mixing by hand to ensure there are no longer any dry streaks of flour.

Divide batter between the two prepared cake pans (about 390 grams each). Bake in the center rack of oven for 30 minutes, rotating pans midway through baking.

Transfer to a wire rack and let cool completely in the pan(s). Cover tightly with plastic wrap and refrigerate overnight. Loosen the edges with a straight spatula, invert the pan(s) to remove the cakes.

To build the banana caramel cake, remove the cake humps with a ruler and serrated knife.

Use an offset spatula to spread a dollop of Italian meringue buttercream (or frosting of your choice) into an even layer. With a piping bag fitted with an #805 tip, pipe a fence of buttercream along the edge of the cake layer. Arrange banana slices along the inside of the fence, and drizzle with caramel.

Place the final layer of cake on top, and crumb coat the cake. Place in the fridge for 20 minutes to allow the crumb coat to chill.

Using a large straight spatula, ice the cake with a final layer of buttercream, and allow to chill in the fridge completely.

Once the buttercream has set, use a ruler and large chef's knife to cut 1/4 off of the edge of the cake. Hold a bench scraper against the side of the cut cake, and transfer to a cake board to make the cake "stand up".

Color your buttercream in three shades of yellow (or any color of your choice), and use a small offset spatula to "paint" an abstract pattern on the cake. Chill in between each color of buttercream to make sure the colors do not smear!

TIP: once you are happy with each layer of buttercream, use a clean metal bench scraper to smooth out the surface.

Chill the cake completely to help set the buttercream.

Once you are ready to serve, bring the cake to room temperature, slice and enjoy!
#howtocakeit
Sunday,Monday,Tuesday,Wednesday,Thursday,Friday,Saturday
January,February,March,April,May,June,July,August,September,October,November,December
Not enough items available. Only [max] left.
Add to Wishlist
Browse Wishlist
Remove Wishlist