Loaded with Buttercream, Cookies, Doughnuts, and Coffee Crisp. Whats better than a nice, hot cup of coffee? Easy. A nice, hot cup of coffee baked INTO a cake! I originally made this cake as a treat for dads on Fathers Day, but this cake can easily be made for any occasion. I mean, everybody loves coffee, and chocolate, and cookies, and doughnuts - right?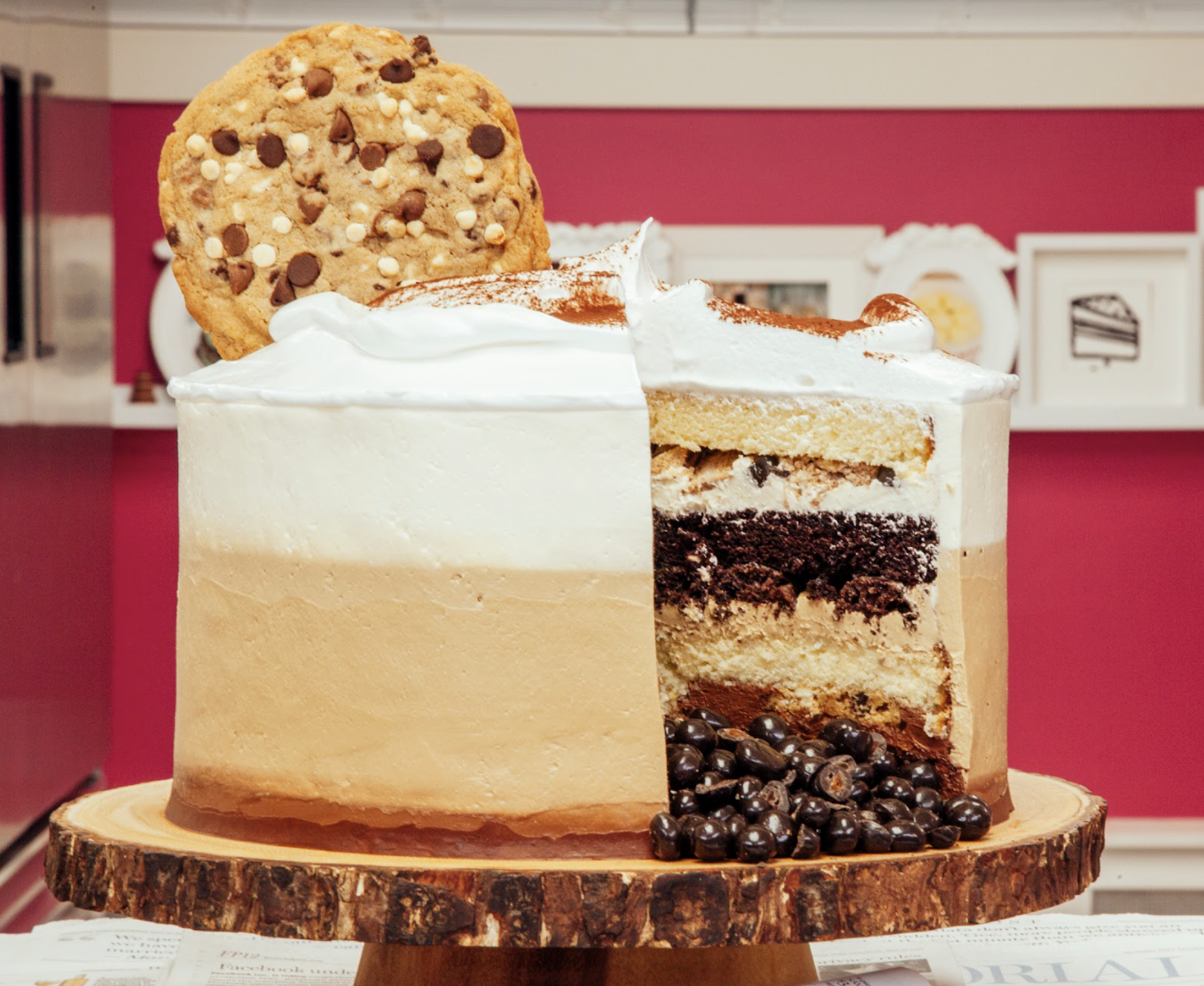 ---
4lbs portion of Yo's Ultimate Chocolate Cake
4lbs portion of Yo's Ultimate Vanilla Cake
1 batch of Yo's Buttercream
1 batch of Yo's 7 Minute Frosting
1 batch of Yo's Chocolate Chip Cookies
1/2 dozen of your favourite Doughnuts, sliced horizontally
3 Latte Coffee Crisp bars, chopped
1/2 cup Dark Chocolate Covered Espresso Beans, chopped
Instant Coffee
4oz Semi Sweet Chocolate
Prepare both your vanilla and chocolate cake batters. Bake at 350 degrees for 1hr and 20 minutes, or until an inserted toothpick comes out completely clean. Let cool completely in their pans.

Bake a batch of Yos chocolate chip cookies. Substitute the two cups of semi-sweet chocolate chips with one cup of white chocolate chips, one cup of milk chocolate chips and one cup of semi sweet chocolate chips. Bake cookies at 350 degrees for 10-12 minutes, or until the edges of the cookies become golden. Let cool.

Prepare your buttercream. Set aside.

Remove your cooled cakes from their pans, leveling them, and cutting them in half horizontally.

Divide your buttercream into 3 portions. One portion will remain untouched, while the other two will be flavoured. One with concentrated coffee, and one with semi-sweet chocolate.

Place instant coffee in a jar, and pour in boiling water. Close the jar, and shake until the coffee dissolves. Let cool. Whisk some concentrated coffee into your buttercream, a little at a time, until you reach your desired flavour.

Repeat this method to make your semi-sweet chocolate buttercream. Melt your chocolate in a microwave. Let cool, then stir into your buttercream.

Begin with a layer of the chocolate cake on the bottom. Fill your piping bag with chocolate buttercream. Pipe around the circumference of the cake and continue in circles until the entire layer is covered. Arrange your triple chocolate chip cookies on top, and pipe buttercream into the empty spaces.

Now place a layer of vanilla cake on top. Use the same piping technique to fill this layer with coffee buttercream. Arrange a layer of doughnuts on top.

Place a second layer of chocolate cake on top, repeating the process with vanilla buttercream. Toss a mixture of chopped Coffee Crisp and espresso beans on top. Finish the cake with the final vanilla layer.

Crumb coat the entire cake, and let chill for 30 minutes

Begin applying buttercream to the outside of the cake. Starting at the bottom, pipe 2 rings of chocolate buttercream., then 4 rings of coffee buttercream, and finally 3 rings of vanilla buttercream.

Using a long palette knife, smooth the buttercream all the way around the cake. Scrape any excess buttercream into the centre of the cake to smooth out the top.

Prepare your 7 minute frosting. Spread the frosting on top of your cake, trying to form a peak in the middle of the cake. Use a brulee torch to brown the frosting.

Sprinkle the cake with cocoa, or cinnamon.
#howtocakeit
Sunday,Monday,Tuesday,Wednesday,Thursday,Friday,Saturday
January,February,March,April,May,June,July,August,September,October,November,December
Not enough items available. Only [max] left.
Add to Wishlist
Browse Wishlist
Remove Wishlist