Look, a mini blowtorch is objectively cool, but it can also be a great tool for adhering fondant and sprinkle decorations to chocolate dipped treats like cakesicles. We're trying really hard not to make a "fire" pun, and you are so welcome for our restraint.
Using the torch to melt the chocolate shell just a little can help your decorations get super secured as the chocolate firms back up! The steps are super simple, you can also check out our instagram for some video references- if you, like us, spend way too much time scrolling over there.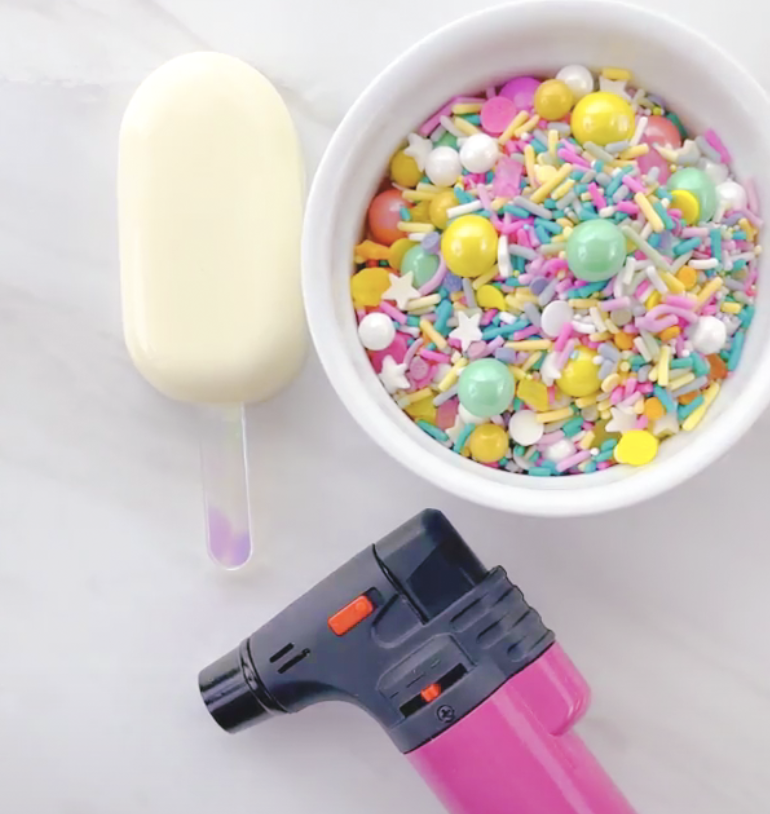 ---
Mini Blow Torch
Chocolate Dipped Cakesicles
Gourmet Sprinkles, various sizes and/or small fondant decorations.
Mini Fondant Decorations
Use the lowest setting on your torch to lightly melt the chocolate on the front of your cakesicle.

For sprinkles: Use kitchen tweezers to gently place your sprinkles onto the melty cakesicle surface. Start with your biggest sprinkles and work your way down to the smallest. You can also pour them on if they're all super small. Carefully shake or brush off the excess.

For fondant decorations: Gently place your tiny treasures on the melty cakesicle surface with kitchen tweezers or your fingers.

Troubleshooting: If your torch setting is too high and you melt the chocolate too much, pop your cakesicle in the fridge for a few minutes to firm up so your sprinkles don't slide off.




And that's that. Just a fast, simple way to decorate chocolate covered desserts, and more than enough excuse to treat yourself to a fire new kitchen tool. Whoops, fire pun came through after all.
#howtocakeit
Sunday,Monday,Tuesday,Wednesday,Thursday,Friday,Saturday
January,February,March,April,May,June,July,August,September,October,November,December
Not enough items available. Only [max] left.
Add to Wishlist
Browse Wishlist
Remove Wishlist