There's PLENTY of monkeying around with this banana toffee cake! Okay YoYo's, don't get me wrong I LOVE making crazy sculpted novelty cakes for you, but there is also something so SUPER fun about stacking up an ooey-gooey mega cake. It's where I get to play with some of my fave flavors, and present them in a pretty magical way!
Starting with 6lbs of my Ultimate Banana Cake, 2 of my layers get baked up with a crunchy sweet graham cracker crust! Stacked up with lucious Italian Meringue Buttercream, caramelized bananas, dulce de leche, and toffee candies, I'm playing with texture through a banana and plantain chip coating to make this one cake that's ready to monkey around!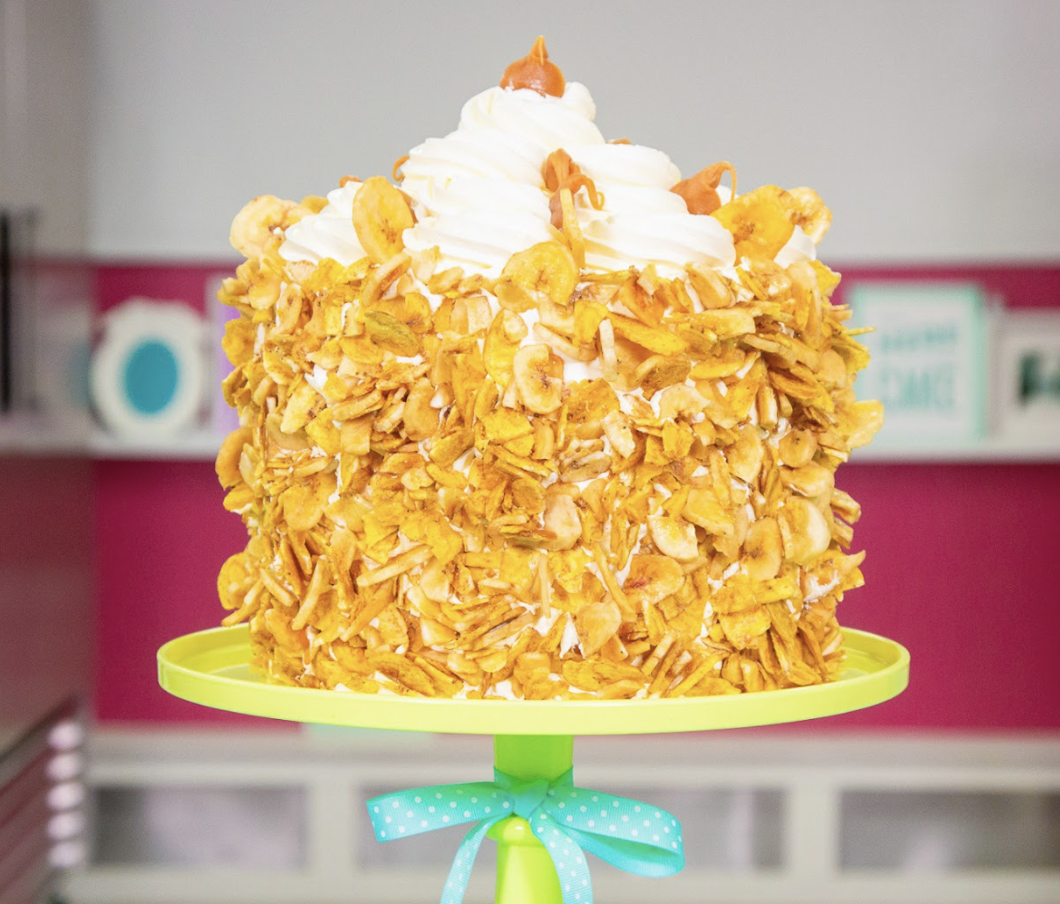 ---
6lbs Yo's Ultimate Banana Cake
2 Cups Graham Cracker Crumbs
⅓ Cup White Sugar
¾ Cup Melted Butter
Yo's Simple Syrup
Yo's Famous Italian Meringue Buttercream
6 Bananas
Brown Sugar
2 Cans Cooked Condensed Milk
½ Cup Soft Toffee Candies
3 Cups Banana Chips
3 Cups Plantain Chips
Combine your graham cracker crumbs, sugar, and butter. Divide in 2, and firmly press into the bottom of 2 8" cake pans and chill for 20 minutes

Pour 1 ½ pounds of banana cake batter into each of your graham cracker crusted pans, and 3lbs into your 3rd 8" round cake pan. Bake at 350 degrees for 1 hour.

Use a ruler and serrated knife to level your cakes, and remove the caramelization from the bottom. Use a cake pan to guide you in removing the caramelization from the sides.

WIth your one non crusted 8" cake, divide in half to create 2 layers.

Shower your cakes with simple syrup, and allow to absorb for a few minutes before continuing.

Slice your bananas and lay out in a single layer on a sheet pan. Sprinkle with brown sugar, and use a brulee torch to carefully caramelize.

Build your cake as follows:




Graham crust cake

Buttercream

Bruleed Bananas

Piped Swirl Dulce De Leche

Cake




Repeat, ending with your second graham cracker crusted cake inverted on top.

Crumb coat your cake with Italian meringue buttercream and chill for 20 mins before icing with more buttercream and chilling for another 20 mins.

Press a mixture of plantain and banana chips onto the outside of your cake.

Pull toffee candies into swirls, and add pipes of more buttercream to finish decorating your cake.
#howtocakeit
Sunday,Monday,Tuesday,Wednesday,Thursday,Friday,Saturday
January,February,March,April,May,June,July,August,September,October,November,December
Not enough items available. Only [max] left.
Add to Wishlist
Browse Wishlist
Remove Wishlist