What do you get when you combine chocolate cake, ice cream, and Italian meringue buttercream?
Half points if you guessed heaven, but the correct answer is Baked Alaska!
It doesn't stop there. Not only does Baked Alaska combine all of our favorite flavors into one decadent dessert, but with its marshmallowy meringue top and perfectly creamy chilled center you'd never guess it's a breeze to make! We made ours using half a slab of frozen chocolate cake and some leftover ice cream (helllloooooo freezer space!) If you want to bake a fresh cake for the occasion, be our guest…actually, maybe we should be your guest because we definitely want a slice once you're done baking up a storm! 😋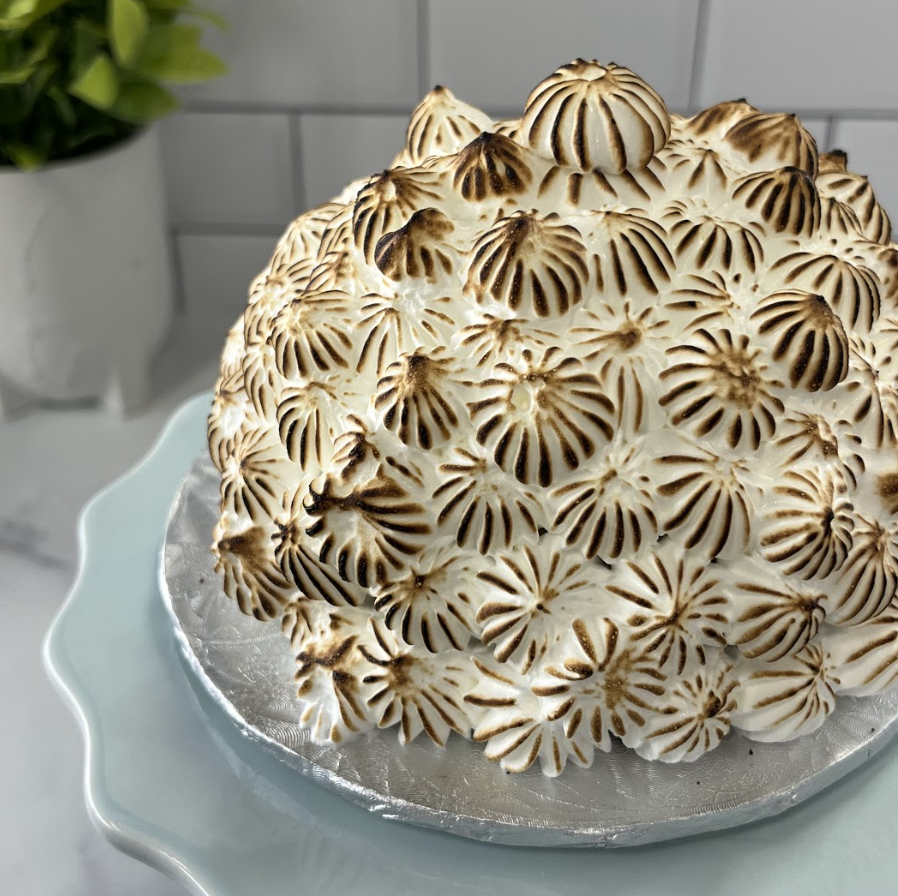 ---
1/2 + 1/3 cup white granulated sugar
1/4 cup water
4 large egg whites, room temperature
1/2 tsp vanilla extract
Ice cream
Cake of your choice!
Line a half-sphere pan with plastic wrap, making sure it is long enough to be able to wrap the ice cream later.

TIP: lightly grease the pan so the plastic wrap sticks.

Find a round cutter that is the same size as the bottom of the half-sphere pan, then cut out your cake rounds. Set aside.

Fill the half-sphere pan with ice cream, filling with cookies or chocolate half-way. Cover the treats with ice cream and place the cake round on top. Make sure to gently press down the cake to ensure it sticks to the ice cream. Cover with plastic wrap and freeze overnight!

Right before assembling, make the meringue.

To make the meringue, start by bringing the water and sugar to a boil in a heavy bottom pot.

While the syrup is cooking, start by whipping your egg whites in a stand mixer fitted with a whisk attachment until stiff peaks.

When the meringue reaches 240F, start slowly pouring in the syrup down the side of the mixer bowl while it is still on high. Be careful not to let the syrup hit the whisk or it will splatter! Add the vanilla.

Once the syrup is all incorporated, keep whisking until the outside of the bowl is no longer hot and cool to the touch.

Transfer the meringue to a piping bag fitted with your tip of choice.

To assemble the baked alaska, start by placing your ice cream dome on a cake board or plate. Pipe or spoon the meringue all over the dome, making sure not to leave any open spots exposing the ice cream! We don't want the ice cream melting.

With a blow torch on low, start toasting the meringue. Once you are happy with your toasted meringue, it is ready to be served!
#howtocakeit
Sunday,Monday,Tuesday,Wednesday,Thursday,Friday,Saturday
January,February,March,April,May,June,July,August,September,October,November,December
Not enough items available. Only [max] left.
Add to Wishlist
Browse Wishlist
Remove Wishlist