I'm a HUGE coconut fan. I am half Grenadian, so I think it's in my blood. I love the subtly sweet taste of coconut cake as well as its richness. This recipe uses both coconut milk and sweetened desiccated coconut for a double dose of flavor—no coconut extract needed. I'm crazy about it and I have managed to convert many coconut haters with this delicious cake. If you're making one of the novelty cakes, use the pan sizes and baking times specified in the novelty cake recipe.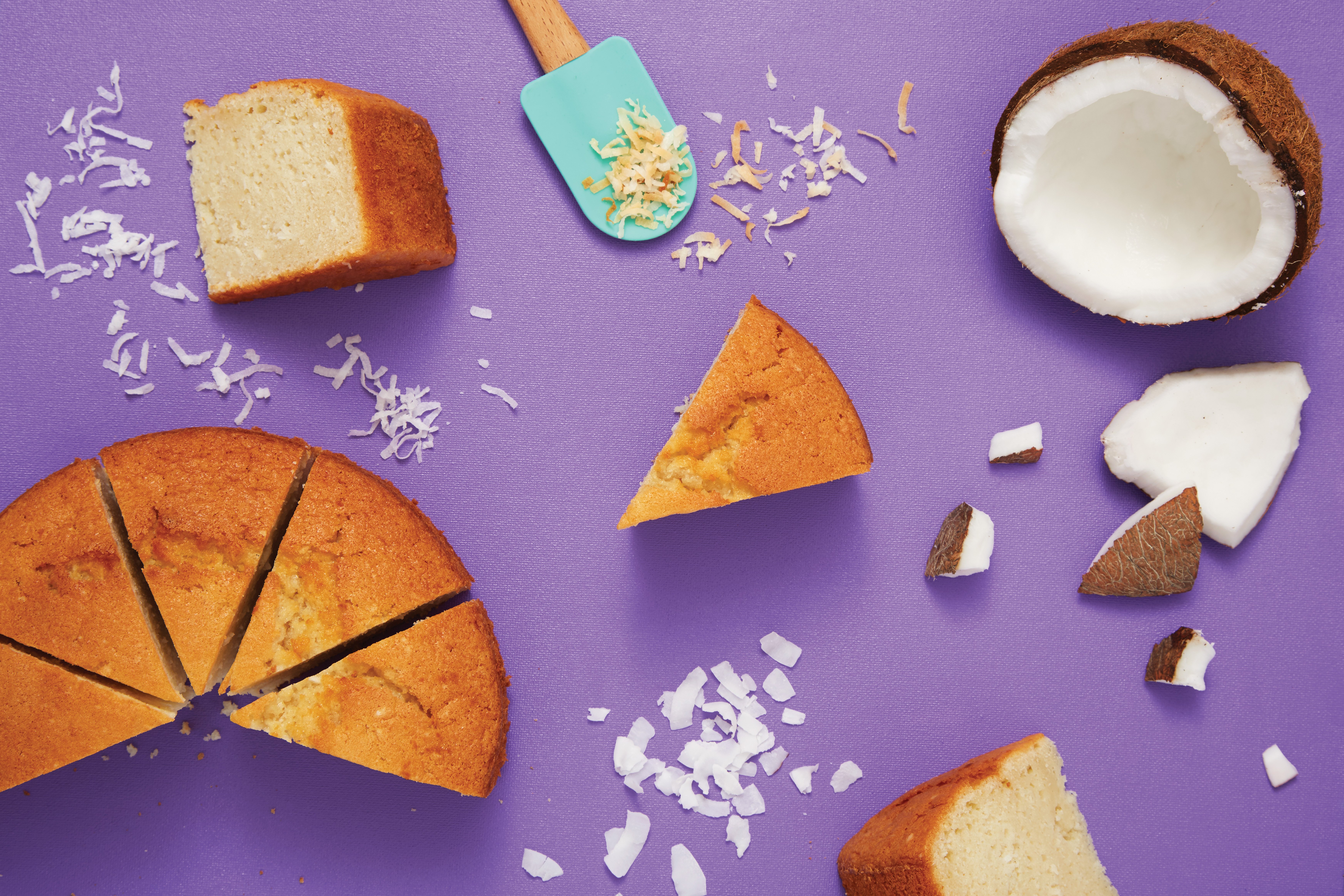 ---
3 Cups All-Purpose Flour

1 Tablespoon Baking Powder

1 Cup Sweetened Dessicated or Shredded Coconut

1 Cup (2 Sticks) Salted Butter, room temperature

2 Cups Sugar

2 Teaspoons Pure Vanilla Extract

4 Large Egg Whites, room temperature

4 Large Whole Eggs, room temperature

2 1/3 Cups Unsweetened Coconut Milk (a bit less than 1 1/2 [13.5 ounce] cans)
Preheat the oven to 350°F. Line the bottom of each cake pan with parchment paper.

Sift the flour and baking powder into a medium bowl, then whisk in the desiccated coconut. Set aside.

In the bowl of a stand mixer fitted with the paddle attachment, beat the butter, sugar, and vanilla on medium speed until light and fluffy, about 8 minutes.

Add the egg whites and whole eggs, two at a time, beating until each addition is incorporated before adding the next. Scrape down the sides of the bowl with a spatula when necessary.

Add the flour mixture in four parts, alternating with the coconut milk in three parts, beating just until each addition is incorporated before adding the next; do not overmix.

Scrape the batter into the prepared pan or pans and spread it so that it is smooth in the pan(s). Bake until a toothpick inserted in the center comes out clean, about 45 minutes for the 9 x 13-inch pan or 55 minutes for the 8-inch pans, rotating the pan(s) halfway through.

Transfer to a wire rack and let cool completely in the pan(s). Cover tightly with plastic wrap and refrigerate overnight. Loosen the edges with a straight spatula, invert the pan(s) to remove the cake, and peel off the parchment.
#howtocakeit
Sunday,Monday,Tuesday,Wednesday,Thursday,Friday,Saturday
January,February,March,April,May,June,July,August,September,October,November,December
Not enough items available. Only [max] left.
Add to Wishlist
Browse Wishlist
Remove Wishlist