Pizza has a PIZZA my heart! Its the perfect, never let you down kind of meal that you can always customize to your taste just like cake. So you know I couldnt resist the chance to turn my favourite vanilla cake recipe into a pizza cake! Using a vanilla cake base, a raspberry buttercream sauce, toasty fondant crust, modelling chocolate cheese and a variety of fruit snacks and candy toppings I am going to make my very first pizza cake. Come and get it while its hot!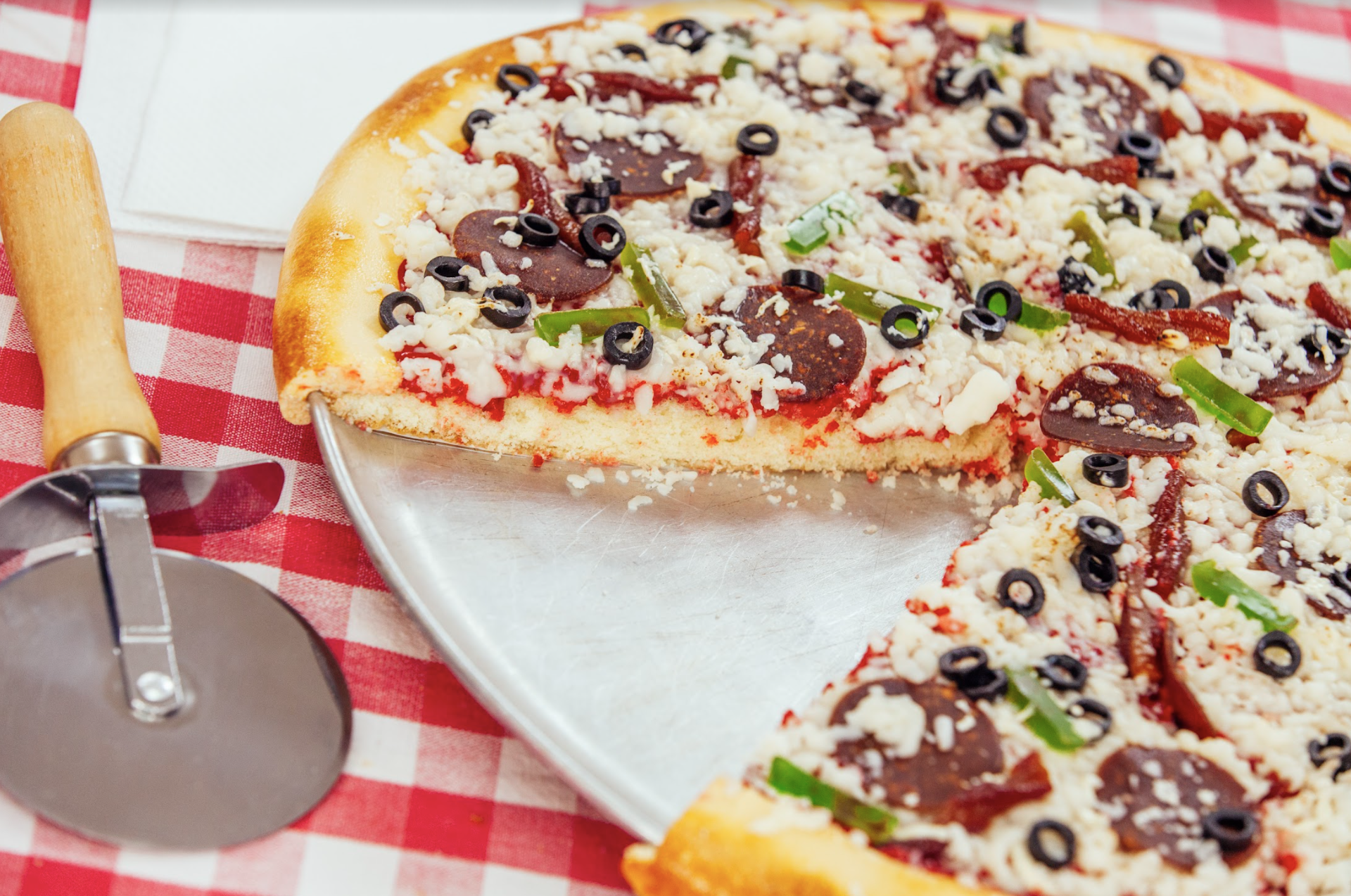 ---
1 x 4lb portion of Yos Ultimate Vanilla Cake
Italian Meringue Buttercream
Simple Syrup
2lb White Fondant
Clear Piping Gel
1 x 350g jar Smuckers Seedless Raspberry jam
Half recipe modeling chocolate
2oz white chocolate
Fruit Rollups, or fruit leather snacks
Green Wine Gummies
Fruit twists
Black licorice
Ivory Icing Colour
Red No Taste Icing Colour
Prepare your modelling chocolate. Let set overnight.

Line your pizza pan with a circle of parchment paper, and grease around the edge liberally. Prepare your vanilla cakes, and pour into pan. Bake at 350 degrees for 35-40 minutes, or until a cake tester comes out completely clean. Let cool completely on pan.

Prepare your Italian Meringue Buttercream. Set aside.

Prepare your Simple Syrup. Set aside.

Once cooled, use a serrated knife to remove the caramelized crust of your cake. Mark a 1 border around the top edge, where the crust would lay, and skim the cake away within the border.

Colour your white fondant with Wilton Ivory Icing Colour until you have reached a crust colour.

Measure the perimeter of your pizza and divide the number in half, dividing your fondant in half, rolling one half into a tube long enough to cover half the perimeter. Brush piping gel around the edge of your pizza. Repeat this process for the other half of your pizza crust. Press the fondant down with your fingers to create little dimples and smooth out your two seams.

Set your pizza cake onto a cake pan to raise it off your table top. Using your brulee torch, caramelize your fondant. Using a small paring knife, carve away any burned vanilla cake.

Measure cup of buttercream and dye deep red using Wilton Red (No Taste) Icing Colour. Whisk in your jam and mix together.

Take your modelling chocolate and grate. Sprinkle on top of your sauce. Use your brulee torch again, and heat your modelling chocolate to look like melted cheese.

Use a circle cutter to cut disks out of fruit strips to create pepperoni. You can thin them out using a rolling pin.

Thinly slice your green wine gums to resemble green peppers. Rub shortening or vegetable oil on your knife to prevent sticking.

Cut your fruit twists into four pieces, cutting both horizontally and vertically to resemble bacon.

Using a chefs knife cut your black licorice into slices, then use a #12 round piping tip to cut an inner circle to resemble olives.

Grate more modeling chocolate over your toppings, and melt again with the brulee torch.

Grate white chocolate over the whole pizza to resemble parmigianino cheese.
#howtocakeit
Sunday,Monday,Tuesday,Wednesday,Thursday,Friday,Saturday
January,February,March,April,May,June,July,August,September,October,November,December
Not enough items available. Only [max] left.
Add to Wishlist
Browse Wishlist
Remove Wishlist