Blueberry Muffin Cakes with Cinnamon Rolls, Waffles, and Maple Syrup! I love waking up to have breakfast. I am especially fond of the sweet type. Crumble topped muffins, waffles that have been buttered and drizzled with maple syrup, cinnamon buns, pastries all the good stuff. My Mega Breakfast Cake is the perfect combination of my favourite breakfast foods rolled into one cake. With yummy strawberry buttercream holding it all together and cream cheese frosting drizzled on top. Dont worry, Ill make sure to have some fresh berries on the side for good measure.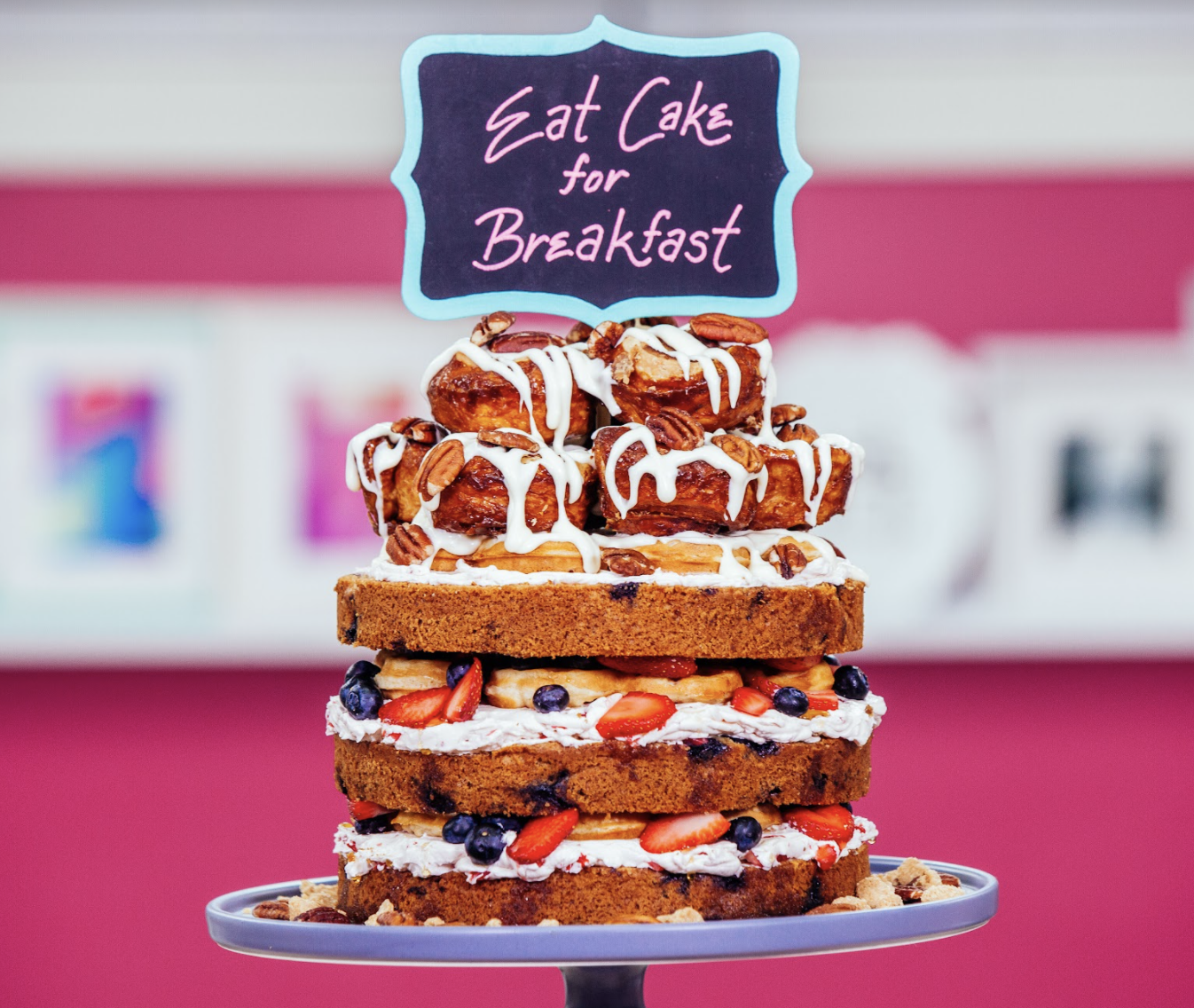 ---
3 x 8" round Blueberry Buttermilk Muffin Cakes
3 x 8" round Waffles (homemade or storebought)
Simple Syrup
Crumble Topping
Maple Syrup
Cream Cheese Frosting
Strawberry Buttercream
2 Tablespoons of Whipping Cream
Cinnamon Rolls
½ pint Strawberries
1 pint Blueberries
¼ cup Melted Unsalted Butter
Prepare your waffle mix and cook according to your waffle makers directions. Let cool.

Prepare the Cinnamon Roll Pastries. Bake the pastries at 400 for 30 minutes until they are golden brown. Let cool for 5 minutes before removing them.

Prepare the crumble topping and set aside to cool.

Prepare the Strawberry Buttercream and Cream Cheese Frosting. Thin the cream cheese frosting out by adding 2 tablespoons of whipping cream at the end.

Prepare the Blueberry Muffin cakes. Bake at 350 degrees for 35 - 40 minutes, and allow to cool in pans.

Level all three layers of your Blueberry Buttermilk Muffin cakes, and cut a thin layer off the bottom to remove the caramelization. Shower lightly with simple syrup.

Slice your strawberries. Melt butter.

Place a blueberry buttermilk cake layer down first. Spread a thin layer of strawberry buttercream onto the cake. Sprinkle the baked crumble topping onto the buttercream and press down. Spread more strawberry buttercream to fill in the gaps and create an even layer.

Brush the melted butter into the nooks and crannies of a waffle and place it on top of the buttercream layer. Pour on maple syrup, and top the waffle with blueberries and sliced strawberries.

Repeat this process one more time with a blueberry buttermilk cake layer on top of the fresh fruit.

Place your final cake layer on top of the second fresh fruit topped waffle. Spread your remaining buttercream on top. Lay down a buttered waffle, and spread cream cheese frosting onto the surface.

Fill your piping bag with the rest of the cream cheese frosting and cut the tip open.

Pile the top of your cake with a ring of cinnamon pastries and drizzle with cream cheese frosting.
#howtocakeit
Sunday,Monday,Tuesday,Wednesday,Thursday,Friday,Saturday
January,February,March,April,May,June,July,August,September,October,November,December
Not enough items available. Only [max] left.
Add to Wishlist
Browse Wishlist
Remove Wishlist