With Vanilla Cake Plate Weights, Dumbbell, and a Kettlebell! Every year I tend to make New Years Resolutions, and it usually is the same one. Exercise. Whenever I ring in the New Year, I always promise myself to workout more. I often feel like the only exercise I get is chasing my son around or lifting heavy cakes. Then I had a thought! What if I lift cake weights? That has to count for something, right? I decided to honour my common resolution, and cake weights, a dumbbell and a kettlebell all out of vanilla cake. Let the workout begin!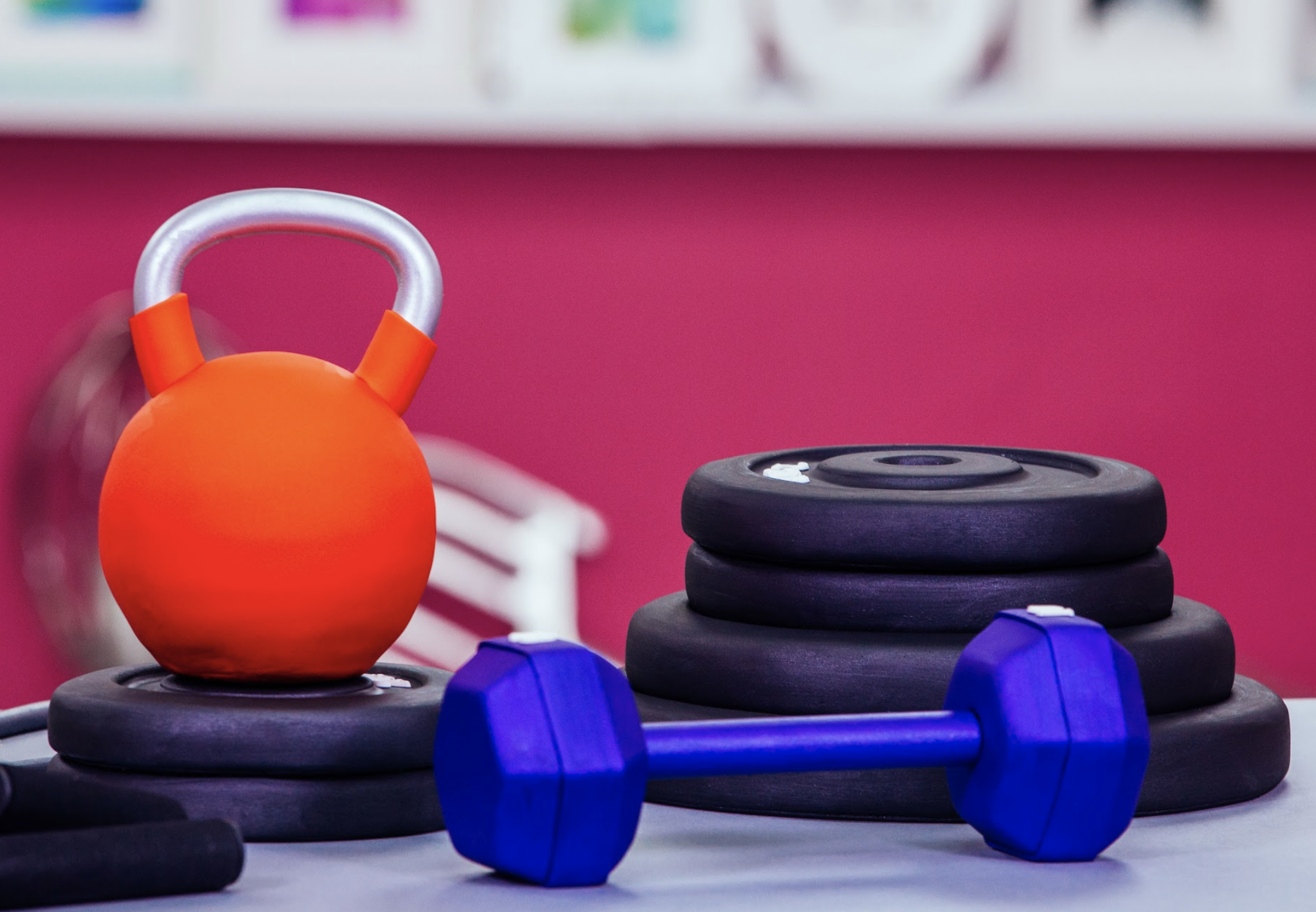 ---
2 x 6lb portion of Yo's Vanilla Cake
Italian Meringue Buttercream
Simple Syrup
5 lbs Black Fondant
1 lb Orange Fondant
½ lb Red Fondant
¾ lb Purple Fondant
Icing Sugar
Clear Piping Gel
3 oz Gumpaste
Black Pearl Dust
Silver Highlighter
Black Petal Dust
Purple Luster
Blue Luster
Clear Food Grade Alcohol (Like vodka or white rum. Lemon extract is a good alcohol free substitution.)
Vegetable Shortening
Prepare your vanilla cake batter and fill your cake pans as follows:

lb into each 4 square cake pan

1 lb into each 5 sphere half pan and 7 round pan

1 lbs into the 8 round pan

2 lbs into the 10 round pan

3 lbs into the 12 round pan

Bake cakes at 350 for the designated baking time below, or until a toothpick inserted into the centre comes out clean. Let cool completely in their pans.

15 minutes - 4 square cake pans

40 minutes - 5 sphere half pan

40 minutes - 7 round pan

50 minutes - 8 round pan

1 hour - 10 round pan

1 hour, 10 minutes - 12 round pan

Prepare your Italian Meringue Buttercream and Simple Syrup. Set aside.

Level the 7 and 8 round cake to 1 height, and cut them into two layers. Level the 10 and 12 round cakes to be 1 high. Level both 4 square cakes and cut them into a hexagon shape. Use a template to help you. Cut off the edges of the hexagon to bevel them.

Drizzle all of your cakes with simple syrup, crumb coat them and chill for 20 minutes.

Use the 1 circle cutter to cut a hole out of the centre of all six round cakes. Take the two half spheres and fill each bottom layer with buttercream. Fuse together to create a ball.

Ice all of your cakes, and chill for 30 minutes.

Knead the orange and red fondant to create a bright colour. Roll out six black fondant circles that are a little larger than each one of your round cakes. Use your cake pans to cut each circle to the exact size of your cake.

Lay each fondant circle onto the corresponding chilled round cake. Place a cake pan on top of the fondant that is 2 smaller than the size of your cake. Trim around the cake pan with your knife, removing the inner circle of fondant.

Cut a strip of fondant that is the height of your cake as well as a ring to place at the centre of your cake. Cut a circle with the 3 cutter and then cut out an inner circle with the 1 circle cutter. Cut a strip of fondant that is the height of your cake. Roll up the strip and place it into the centre hole of your cake. Use your finger to press it into the cake.

Place the fondant O onto the top centre of the cake. Use your paring knife to trim a slight bevel on the top edge of your fondant all around the circumference each cake. Fill any gaps between the outer fondant circle and the cake with buttercream.

Cover all six weight plates with black fondant rolled out to be 1/8 thick. Cover your two hexagon cakes in two parts. Cover one side and then the other cutting a clean seam where the fondant meets.

Roll out purple fondant, and cut two bands that are the width of the sides of your hexagon cakes. Brush water onto the sides of your cakes, over the seam, and cover it with the band.

Cover your plastic dowel rod with the same purple fondant, leaving 3 exposed on both ends. Secure the fondant to the dowel with piping gel. Cover your kettle bell.

Paint all six weight plate cakes with a combination of black pearl dust, silver highlighter and a matte black petal dust. Mix all powders together and dilute with white rum. Use a block letter and number Tappit to cut out the weight increments and label the weight plates. Use the #7 piping tip to cut out the decimal points.

Paint the two hexagon cakes and the dowel with a combination of purple and blue luster, diluted with white rum. Once dry, carefully poke each end of the dowel into a hexagon cake.

Make the handle of your kettlebell using a mix of black fondant and gumpaste to create a grey base.

Roll out a thick tube and guide a 20 gauge floral wire all the way through the centre of the tube. Bend the tube, with the wire inside to create what looks like a handle and set it aside to dry. Once dry, brush on a thin layer of vegetable shortening and use a dry brush to polish on some silver highlighter. Press the handle down into your ball cake until the base and the top of the cake meet.

Roll out some leftover orangey red fondant, cut two strips, and wrap them around the handle base.
#howtocakeit
Sunday,Monday,Tuesday,Wednesday,Thursday,Friday,Saturday
January,February,March,April,May,June,July,August,September,October,November,December
Not enough items available. Only [max] left.
Add to Wishlist
Browse Wishlist
Remove Wishlist