A cake to blow your mind! This cake could be the most delicious science project ever. The inside of the brain is a deep red velvet cake, iced lightly with Italian Meringue buttercream, and topped with brain tissue fondant patterns. Its amazing what a little raspberry jam can do. This human brain looks fresh from a skull!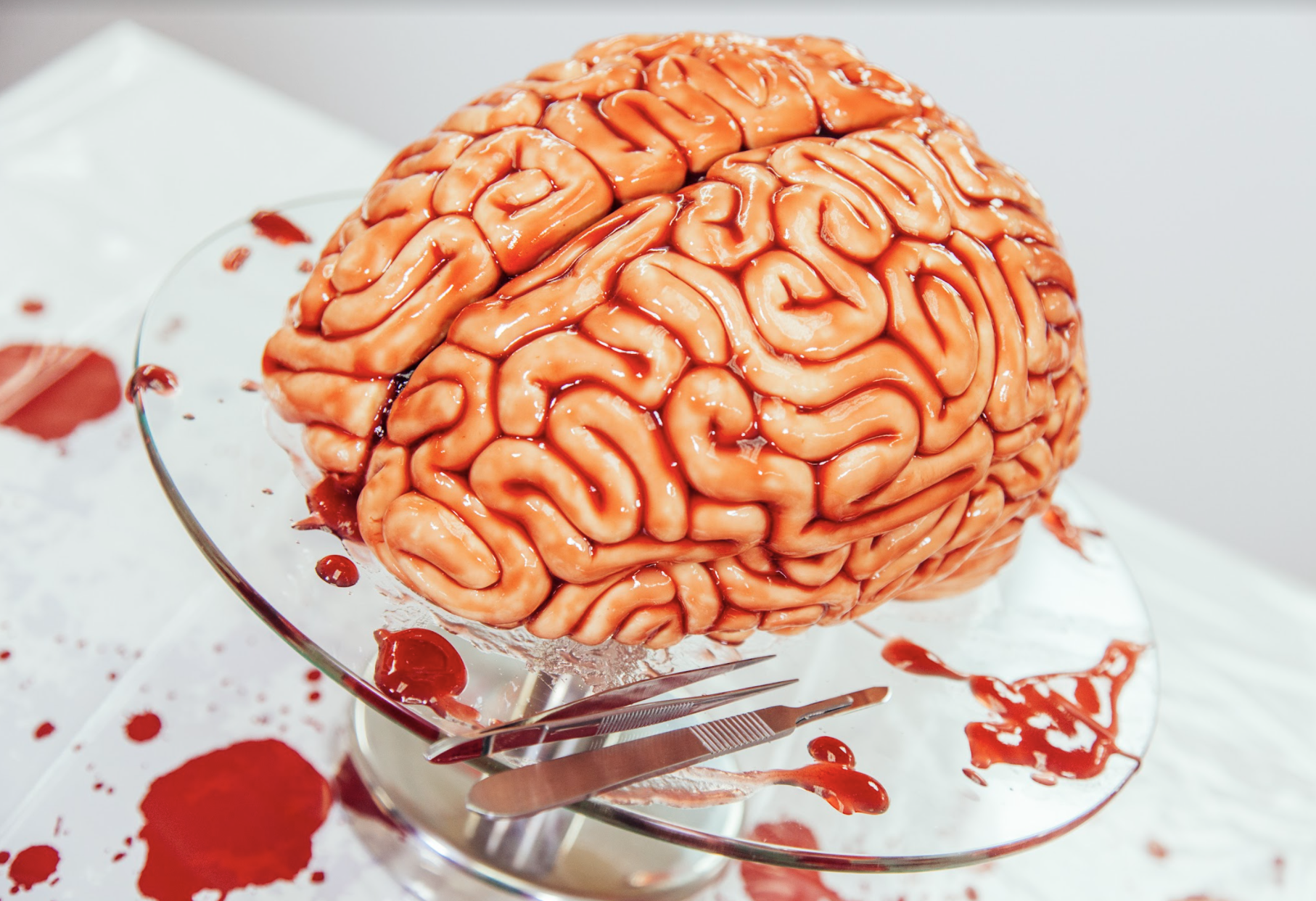 ---
4lb portion of Yos Deep Red Velvet Cake
1 x recipe Italian Meringue Buttercream
Simple syrup
31/2lbs Satin Ice White Fondant
Burgundy Icing Colour
Golden Yellow Icing Colour
Black Icing Colour
Seedless Raspberry jam
Prepare your red velvet batter and pour into prepared pans. Bake at 350 degrees for 1hr and 40 minutes, or until a cake tester comes out completely clean. Let cool completely in their pans.

Prepare the Italian Meringue Buttercream & Simple Syrup. Set aside.

Using a serrated knife, carve your cake into a rounded brain shape. Carve small slivers at a time. Carve out a dividing line in the center of the brain where the hemispheres would be divided. Repeat the same process horizontally along the back of the brain.

Soak with simple syrup, crumb coat, and chill in the fridge. Then apply another thin layer of buttercream to really get the fondant to stick.

Use coloured fondant rolled into tubes to create the wavy pattern of the human brain, approximately 1cm in diameter. Use your paring knife, or a scalpel, to trim your fondant tubes and fit them in place.

Leave definition between the two hemispheres of your brain. I placed a small ruler in the crevasse to help guide my fondant tubes.

Use the remaining fondant to sculpt the cerebellum. Lay your cerebellum onto your cake board or stand first. Then rest your red velvet brain cake on top.

Use a sculpting tool to further indent the corners and curves in your brain wave pattern.

Stir any lumps out of your seedless raspberry jam with your brush. Then paint the jam onto your brain cake.
#howtocakeit
Sunday,Monday,Tuesday,Wednesday,Thursday,Friday,Saturday
January,February,March,April,May,June,July,August,September,October,November,December
Not enough items available. Only [max] left.
Add to Wishlist
Browse Wishlist
Remove Wishlist